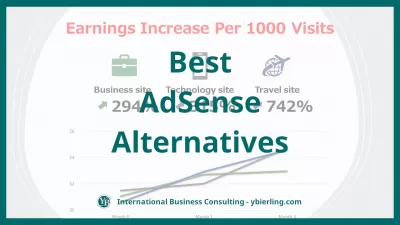 ---
---
Every webmaster knows firsthand what GoogleAdsense is. This ad network is the most popular PPC (pay-per-click) program in the world. It is used by over 10 million websites. It is a convenient and reliable way to monetize your website. You get a reasonable payment for every click on the link to the advertiser's website.
But there are tons of other alternatives that you can use for your site if for some reason you can't / don't want to join Adsense. In this article, you will find the 5 best Adsense alternatives that not only match, but in many ways even surpass the popular program.
What could be the reasons to look for AdSense alternatives?
Your site does not qualify for membership in the program.
Your site is classified as non-competitive (such as forums, file sharing, and others). With high traffic, organic traffic remains fairly low.
You are not satisfied with the earnings, and you are looking for higher paying advertising.
You were banned from Adsense for some reason.
You would like to have more granular control over the ad settings displayed on your site and its content.
You are comfortable with Adsense, but you are looking for a program that will be optimized for the needs of you and your audience.
You are not satisfied with the minimum payout amount, as well as its regularity. GoogleAds has a minimum payout of $ 100, which is a lot compared to some of the other alternatives.
Or you may want to find an additional source of ad monetization in addition to Adsense.
If you find yourself in any of the points, I invite you to familiarize yourself with these five alternatives that you might not know about.
Disclaimer: I am an affiliate of the Ezoic platform and other AdSense Alternatives listed below. If you click on a link and create a free account, I will earn a commission from your earnings. If you do, let me know and I'll be glad to guide you and help you to monetize your website as best as possible!
The 5 Best Adsense Alternatives
Media.net
Media.net deserves its place in the list of best AdSense alternatives. This is one of the major agencies involved in the placement and planning of advertising campaigns in the regions. This network serves large advertisers and its advertising platforms include Forbes, Elle, Cosmopolitan, Reuters and others.
The key difference between Media.net and its main competitor, AdSense, is that Media.net only pays back profit on the second click.
Very similar to GoogleAdsense. This is a Yahoo / Bing contextual advertising product. This platform is consistently in the top of the most used among webmasters.
You can completely control the ad to make it look the right one on your website. Manage which ads are placed (because no one knows your audience better than you do). You decide where and on which pages you want to advertise. Or, if you don't want to bother, you can just put the settings on the autopilot.
If you are completely satisfied with Google Ads, and for some reason you are just looking for something exactly the same - then Media.net is exactly what you need!
Media.net in a nutshell
Media.net Minimum payout: $ 100
Media.net AdType: Display Ad, Text Ad
Media.net Payment method: PayPal, WireTransfer
Media.net Payouts: every 30 days
Media.net Earning Potential: Same as GoogleAds
Media.net Requirements: good traffic, unique content
Ezoic is an increasingly popular AdSense alternative platform for monetizing your website. It has a unique machine learning system that studies your audience, so the more you work on this platform, the more your income grows. The principle of this platform is based on a selection of the highest paid ads that will appear on your site. They have a huge base of ad systems, including Google Adsense, as Ezoic is a certified Google AdExchange partner.
This platform does have stricter requirements than Adsense. However, using the unique machine learning system mentioned above, you can double your ad revenue in the first month! That's how easy it is. You can read more about how to increase your profits 2, 3 and even 7 times using Ezoic in this article.
So if your site has stable organic traffic from 10,000 visitors per month, you are basically satisfied with Google Ads in terms of its functionality, but earnings seem extremely low to you, then Ezoic will be an excellent solution!
Ezoic in a nutshell
Ezoic Minimum payout: 100 $
Ezoic Payouts: every 30 days
Ezoic Payment method: Payoneer - PayPal
Ezoic Earning Potential: 2-3x More Than GoogleAds
Ezoic Requirements: 10,000 unique visitors per month, unique content
PropellerAds, in turn, is not a complete analogue of GoogleAds, as they pay CPM (cost per thousand views). Whereas GoogleAds pays for every ad link click (CPC). If your website traffic is more or less stable, then CPM will be the best solution. Regardless of whether your visitors click on your ad or not, you are still guaranteed to get your money.
PropellerAds position itself as a platform that pays the maximum CPM (up to $ 10).
PropellerAds in a nutshell
PropellerAds Minimum payout: $ 25
PropellerAds AdType: Among others, PropellerAds offers more aggressive ad types such as push notifications, full screen ads, and so on.
PropellerAds Payment method: PayPal - ePayments - Payoneer - Skrill - Wire - Webmoney
PropellerAds Payouts: every 30 days. For some countries, every 7 days.
PropellerAds Earnings Potential: May be several times higher than GoogleAds, provided your site has high traffic. In the case when your site has a lot of visits, but organic traffic is small, then it is better to look for another alternative. Thus, in the case of non-competitive sites (eg forums), PropellerAds is inferior to GoogleAds.
PropellerAds Requirements: none! You don't even need a website
Revcontent
This platform is unique for its highly customizable ad widgets. Thanks to a thorough check of each of your visitors. Revcontent selects ads individually, which makes them as unobtrusive as possible. If the reputation of your site is in the most important priorities, then this platform will suit like no other. Revcontent will give you a very good profit compared to Adsense. But before joining this program, it is recommended to acquire a really solid attendance base.
To join this platform, your traffic must be at least 50 thousand visits per month.
Revcontent in a nutshell
Revcontent Minimum payout: $ 50
Revcontent Payment method: PayPal
Revcontent Payouts: every 30 days
Revcontent Requirements: 50,000 unique visitors per month and unique content
ylliX
Compared to Adsense, yilliX is easy to join. Thanks to her democratic approach that doesn't oblige you to have organic traffic, unique content, and easy navigation. This platform should be preferred if you own a site where visitors download media files. This article provides an example of how your chosen niche can affect your ad earnings and vice versa. The author of the article compared the profits of a business site and a movie download site. In the first case, with a traffic of 20 thousand visitors / day, the profit was about $ 2 / day. In the case of a download site, the author achieved exactly the same earnings with a traffic of only 2 thousand / day.
And here's the thing: yilliX has a huge variety of all kinds of ad placement. Including more aggressive ones. And often the user confuses the file download button with the advertising link, which brings you plus one click. Albeit a little dishonestly.
However, sites that are careful about their reputation and are concerned about the quality of their pages and the loyalty of their visitors should choose another alternative to Adsense.
yilliX in a nutshell
yilliX Minimum payout: 1 $
yilliX AdType: varied, including more aggressive
yilliX Payment method: PayPal, ePayments, Webmoney
yilliX Payouts: every day
yilliX Requirements: none
They ensure a 100% fill rate for publishers thanks to 20K+ campaigns running simultaneously.
Desktop or mobile website traffic
Do you have a News or Books website, running a Marketing or SEO blog, offering URL Shortening or File Converting services? Enjoy high CPMs like other 18K+ webmasters and affiliates do.
Social and mobile app traffic
Social media followers, whether from Facebook, Pinterest, Instagram, TikTok, Snapshat.  Mobile app developers and owners of messenger groups, chats and channels. 
URL shortener, domain parking traffic
Use various ad formats to stream you profits without annoying users. Thrive on different ad units combinations like in-page push ads and popunders, or classic banner ads mixed with short video pre-rolls.
EvaDav is another easy to join AdSense alternative with instant approval that offers various ad formats.
Native ads
Native ads are a fully compliant and highly-converting way of delivering messages. Widgets are positioned at the most viewed parts of a webpage and are fully customizable.
Push notifications
Push notifications are sent to users who have opted-in to receive notifications from a publisher's website. They are delivered on desktop, mobile and tablet devices. They even appear when a customer is not browsing the internet. You can adjust the frequency and type of push notification ads shown to subscribers.
In-page ads
In-page ads are visually similar to  push notifications   and native ads. The difference is they appear directly on a publisher's site while the user is browsing. This means that there's no need for a user to opt-in or subscribe for your message to get through.
Popunder
Popunder ads appear in a new tab underneath the main page a user is viewing. They are hidden behind the main window until that window is closed. As a format, it offers higher payouts than traditional display ads, helping to monetize all the incoming traffic.
This advertising network offers instant acception for publishers, and is probably the easiest network to join of all of them. It also offers unique features such as:
Anti ad blocking solution
Their anti ad blocking solution helps you deliver your ads to the viewers even with their Ad-Blocker active.
Ad networks rotation and eCPM real-time optimisation
This feature lets their partners with higher  CPM rates   get more traffic and high converting offers in real-time mode.Their unique internally developed optimisation system will help you optimise your ad campaigns to achieve best results.
No financial transaction fees
At HilltopAds they take care of your payment fees.
24/7 qualified support
Whether it's day or night, their experienced international team of managers is always here to help!
Payouts
Payouts are made with Net7 hold policy or per Publishers request via popular payment systems: Paxum, PayPal, Wire Transfer, ePayments, Webmoney, ePayService.
So which Adsense alternative should you choose?
There is no definite answer. It all depends on your content, the competitiveness of your niche and your priorities.
Whichever platform you choose, it is important to try and choose what works on your site. To mitigate the risks, you can still monetize some of your traffic on Adsense and some on your newly chosen platform, if you are not yet sure of the correctness of your decision.
---
---
---