---
---
A YouTube video podcast is a great way to engage with new customers in a visual way. Either called a videocast or a video podcast, the idea is to create regularly videos about a specific topic and post them on your YouTube channel.
Creating videos, for example by recording Zoom video calls and conversations, is the best way to generate interesting content to include in your podcast.
That way, you'll already have the video file created, along with the audio file, if you want to keep it to an audio podcast. Finally, if your video upload has the language set to the one used in the video, you will be able to download the text transcription of the YouTube video to publish as text.
That way, by creating a video, you will have access to video, audio, and text data of your creation.
However, recording your video isn't all you should do to create a great video, videocast or video podcast.
YouTube SEO optimization
YouTube SEO is a video optimization process by which you can improve your channel's ranking in organic YouTube search results. SEO for YouTube helps you optimize your video to get it to the top of YouTube searches.
It is SEO methods that will help you promote the video podcast on youtube. This will help you work with your target audience and monetize your work!
In order to get your videos uploaded on YouTube to reach an even larger audience, it is very important to think about the SEO optimization of your videos.
SEO means  Search Engine Optimization   and is how you will be able to get your videos to reach more people that have no idea about your creations, brand or product at all.
If you optimize correctly your YouTube videos for search engines, they will appear in search engine results more often, thus leading to an increased number of clicks from search engine results page to your videos, and ultimately to more views on your creations.
There is no only one way to do YouTube SEO optimization and there are a lot of different tips and tricks.
However, YouTube SEO optimization goes through these steps:
Create a great thumbnail that will drive more clicks per impression,
Use a title and description that are searched by users and have few competition,
Fill in all the advanced video details fields on YouTube upload options,
Get you video listed in other playlists,
Get your video linked and embedded on other websites.
These easy tricks are a a start, but are not everything, and might seem difficult to understand for newcommers in the online blogging or digital creation area and to promote your brand and products.
The next step in optimizing your YouTube video to stand out of the competition in similar search results is to create a YouTube thumbnail that will stand out and make users click on your video instead of an other one. A great way to do it is to use unusual colors that will be eye catching, along with simple to understand text and relatable image that will summarize the video topic without giving up too much of the content – there must be a bit of surprise behind it to get the user curiosity tickling. But that still isn't everything you can do to stand out!
Apps for making YouTube intros
The best open source apps for making YouTube intros to download for free and edit your Zoom video recording or other videos are the following:
Best open source apps for making YouTube intros
If you are looking to do a video editing online for your YouTube creation, then have a look at following article:
Best Online Video Editor Without Watermark (2018)
But creating your own Video Podcast on YouTube isn't an easy thing to do, and comes with a lot of challenges.
Therefore, I asked an expert for her own advice on creating amazing videos on YouTube!
Advices on creating a great YouTube video from Daisy Jing
Understand the good and bad
Being on YouTube means to put yourself out there. Take the good and the bad of social media. Take the good of making content and making a part of your life public but accept the fact that there will always be a bad side of this world (ex. negative comments, people may not support you, copycats). Understand that in life there will always be good and bad.
Collaborate with micro influencers
Because I am an influencer and a YouTuber, I didn't spend much on marketing and ads. Whenever I make content, I don't spend much on decors or pay a lot on big influencers. I collaborate on micro influencers and really spend time engaging with their/our followers. I also didn't spend on ads but did my best to be featured for free by publishers online/offline. I did my best to PR myself and company in the most inexpensive way I can.
Sell your products on your videos
To generate more income, make a YouTube video and use it to sell your products as well. Mini videos are helpful to use as content on Instagram or Facebook too. Repurpose videos for ads, stories, etc
Look for influencers
Through my YouTube channel, I educate my customers about skin issues, other skin care products and any topic about my skin care line. I also look for influencers who can make more videos about my products and at the same time take care of my customers' questions
An interesting thumbnail matters
An interesting thumbnail matters for it drives customers to click the authentic content made by a credible source or reposted from a credible blogger we collaborated with. We make sure that though the thumbnail is a major clickbait, the content is educational, sincere and authentic. The heart and soul of the brand must be seen and everyone's comments should be replied to.
Show your real self
Show your real self, be vulnerable and discuss the ugly truth about life and some experiences others might be afraid of sharing. Be the mouthpiece when others are afraid to talk and open up. It is important that when we are vulnerable, we only share what's important and highlights the topic. Do not overshare for it might also cause you some disrespectful comments in the future.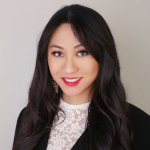 Daisy Jing here, a YouTube vlogger and a soon to be mompreneur who founded and bootstrapped a now multi-million beauty product line named Banish. I have knowledge and experience in business and marketing. My business is ranked #152nd fastest growing company in INC500. I was also included in Forbes 30 under 30 in manufacturing.
---
---