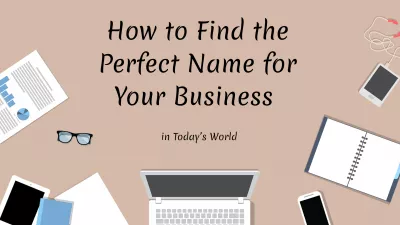 ---
---
Although a lot of entrepreneurs don't give it the serious attention it deserves, finding the perfect name for your startup is as important as picking a lovely name for your newborn baby, because the perfect name can positively shape the future of your business.
Every successful company in the world has a unique, catchy, and memorable brand name. So if you want your business to succeed, you must dedicate time to finding a powerful brand name that'll help it stand out in the market.
In order to finding a business name, you need to thoroughly approach this. Conciseness and sonority. The name should not only be clearly pronounced, but also easy to write down, preferably even on a transcript. The name reflects the style, essence of the product or service, as well as the field of activity, so there can be no mistakes.
But how do you find the perfect name?
Stay with us because we're going to be looking at a few tips that'd help you find the best company name.
Why the Perfect Name Matters to Your Business
Every entrepreneur must take the time to find the best name for their company because a company's name has a direct influence on its financial performance. Your name can mean the difference between making a lot of money and losing a lot of money.
So make sure you get a powerful brand name because it can help you:
Attract customers: A great name will help your company stand out from the crowd and attract the attention of your audience.
Bond with your customers: It'd help your company engage with your audience on a deeper level.
Build a great team: It can attract great employees that'd help your company grow.
Encourage customer referrals: Customers find it easier to recommend a company with a memorable brand name.
Increase sales: It'd boost the sales of your products and services.
Even if you need a title for your own business if you move a lot‌ you will need to come up with a perfect name to properly market your business. Think about finding leads, discussing with peers, invoice your clients and finding collaborators once your business will take off: in all these cases, a great business name can make the difference with your competition!
Now, let's dive into how you can find the perfect name for your company.
6 Tips to Unlocking the Perfect Name for Your Company
1. Get a Deep Understanding of Your Company
If you're going to start a company, you'll need to have a deep understanding of it, and you can achieve that by gathering every concept about your business and narrowing them down to extract the most important ones.
Remember, great brand names are created from strong brand visions, and that's because well-defined ideas are much simpler to name than ambiguous ones.
Now, write a one-sentence value proposition that integrates your key concepts, because this will assist you in establishing your brand's tone.
This is the first step to start a small business‌ – but it is important to follow the next ones in order to get it growing.
2. Set Your Brand's Tone
A name loses its power if it doesn't emotionally connect with its target audience, which is why adopting a proper tone for your brand name has a direct effect on how it's seen by your target audience.
But before you choose your brand tone, you must know who your clients are, what interests them about your brand, and why they should care about your company and its products.
Also, research your competition to see what sorts of brands they have and how your company can either blend in or stick out. This will assist you in deciding if your tone should be fun, classical, or innovative.
3. Know Your Brand's Elements
Don't stop at having a great tone; you also need to be aware of your branding elements, your company's big ideas, the feelings you hope to evoke in your audience, your company's values, and the benefits your customers stand to gain from using your brand.
So grab a pen and paper and jot down some ideas for each of them because your knowledge of these factors will help shape your company's identity.
4. Craft a Project Statement
The next stage is to create a project statement, which will enable you to figure out exactly what your name should accomplish. Here's a great example of what a project statement looks like:
We need a classy name that immediately conjures images of a luxury women's fashion brand.
5. Brainstorm
Now is the right time to get your creativity into action and write every unique name that corresponds to your project statement. While brainstorming, remember to choose names that are strong, distinct, and intriguing.
6. Stuck? Get Help
Even for seasoned entrepreneurs, coming up with a fantastic brand name may be a challenge. So, assemble a team; they could be your friends, family, or colleagues. Explain your company's visions and goals, and get them to take part in a brainstorming session to generate a great brand name.
After you've done your brainstorming, go through each name to make sure it fits your company's demands. If it doesn't, adjust it so it matches your business and customers.
And just in case the entire process seems like a massive challenge, then the best way you can get the perfect brand name for your business is by using a powerful  business name generator. ‌ 
All you have to do is go on the website   Business Name Generator, ‌  and enter a few keywords that describe your general business idea.
The generator will instantly give you hundreds of business name ideas that are related to the keywords coming from your brainstorming – all you have to do is select the one that will be best for your new business!
Test Your Ideal Name
Every entrepreneur must take the time to find the best name for their company because a company's name has a direct influence on its financial performance.Check out StartMyLLC‌ for the best ideas.
Don't conceal the names you got from brainstorming or using a business name generator. Talk to your family, friends, and relatives about it. This would help you know if it generates a great first impression because their response might just mirror how your target audience will react after hearing your company's name.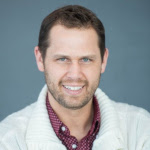 Get inspired by exploring these winning business name ideas.
Grant Polachek is the Head of Branding at Inc 500 company Squadhelp.com, the worlds #1 naming platform, with 30,000+ customers from early-stage startups across the globe to the largest corporations including Nestle, Philips, Hilton, Pepsi, and AutoNation. 
---
---
---
---