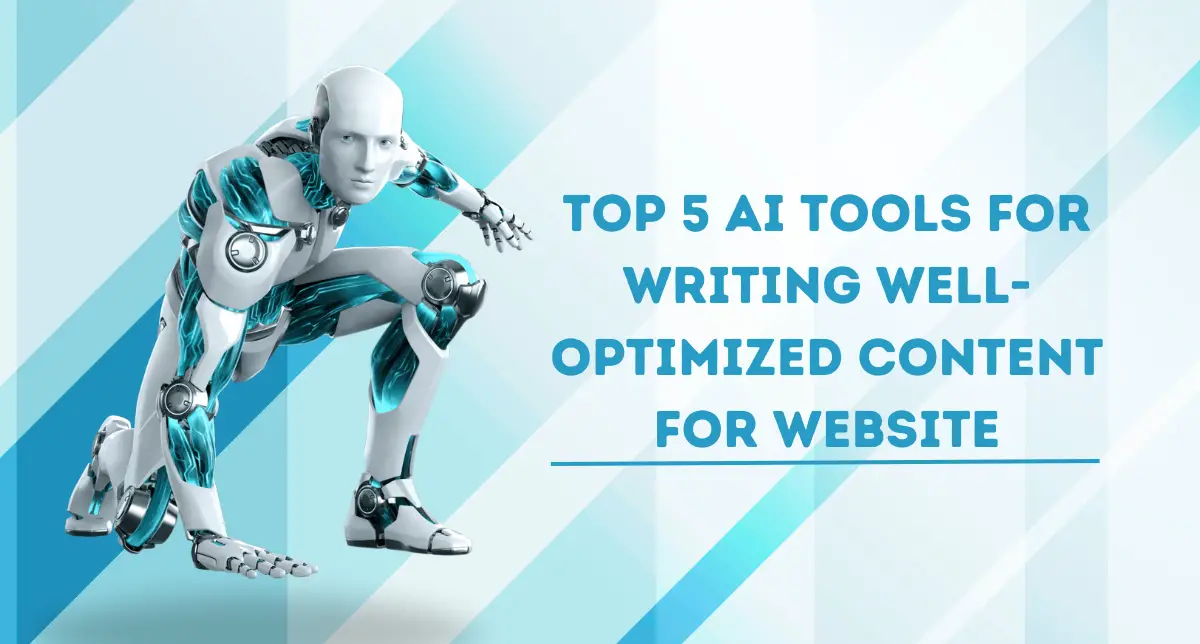 ---
---
Websites have evolved into an essential platform for both individuals and businesses due to the transformation that the internet has brought about in communication. However, it might take a lot of time and effort to produce content that is both interesting and search engine friendly. Writing AI technologies come into play in this situation. The generation of high-quality, SEO-friendly content is made simpler for website owners by these technologies. Which uses artificial intelligence to aid in the process.
The quality of the material on a website can make or break its success, in industries where a company's online presence is crucial. In addition to drawing in more visitors, well–optimized content also performs better on search engines. It can be difficult to achieve this level of optimization, but fortunately, there are AI technologies available to assist. The top 5 AI tools for creating compelling content, for your website are examined in this article.
What is AI Writing?
Artificial intelligence (AI) writing is the practice of using technology, to facilitate writing. These programs can create content, edit it, and even make suggestions for improvements. They are made to seem like human–writing but with the added advantages of speed and efficiency.
What is Well-Optimized Content?
Well–written material that is also geared to rank highly, on search engine results pages (SERPs). It also is referred to as well–written content. It comprises the intelligent use of keywords, readability, and audience–appropriateness.
Why is it Important to Write Well-Optimized Content for Your Website?
Writing content that is well-optimized for your website is vital for a variety of reasons. Some of the most significant ones are listed below:
Increased Visibility: Well–optimized content ranks higher on search engines. Increasing, the likelihood that your website will draw organic traffic.
Better user experience: Visitors are engaged by quality–content, which lowers bounce rates and keeps them on your site for longer.
Credibility and Authority: Well–optimized content makes your website appear authoritative in your niche and promotes. Its credibility as a source of information.
Higher Conversion Rates: Whether it's completing a purchase or signing up, for a newsletter. It also Engaging content, can also increase conversion rates.
Competitive Advantage: Well–optimized content can make your website stand, out from the crowd in a crowded digital environment.
Benefits of Using AI Writing Tools
Let's first examine the advantages of employing these tools for content production before moving on to the top 5 AI tools:
Efficiency in terms of time: AI technologies can produce material far more quickly than people, saving you time and effort.
Consistency: AI tools make sure your content is of the same high calibre and design throughout.
Keyword optimization: These technologies are capable of finding and smoothly incorporating pertinent keywords.
Grammar and Spelling: Spelling and grammar problems are caught. AI algorithms, raising the overall quality of your material.
Topic Suggestions: Some AI solutions may even recommend content themes for you. Which streamlines the topic-generation process.
Top 5 AI Tools for Writing Well-Optimized Content for Website
The top 5 AI tools for creating well-optimized content are as follows:
Paraphrasing.io - Your Easy-to-Use Text Rewriting Solution
The best option for simple and convenient text paraphrasing is Paraphrasing.io. Whether you're a writer, a student, or a professional, online tool makes the process of rewriting material easier while preserving its uniqueness and clarity.
The simple UI of this tool makes, navigating through it a snap. Just enter your words, and our cutting–edge algorithms will produce precise and understandable paraphrased content. It functions as an effective sentence rewriter and paragraph rewriter, allowing you to easily change the wording of both short and long–form content.
Our program makes sure, that your writing is original, making it perfect for both academics and content creators. Take advantage of online tool simplicity and improve your text–rewriting experience right away.
Copy.ai - Simplifying Content Creation
An intuitive and user–friendly platform called, Copy.ai was created to make creating content easier. Copy.ai enables anyone to effortlessly create high–quality, engaging material, regardless. Writing experience or previous experience with content generation.
Copy.ai offers a seamless experience from start to finish because of its user-centred UI. With just a few clicks, you can create blog entries, marketing copy, social media content, and more. The platform's AI-powered tools offer recommendations, templates, and original ideas to help you save time. It also effort while still producing material of a high standard.
Jasper - The User-Friendly Solution
Jasper is an intuitive software program made to streamline difficult activities. It also increases the effectiveness of your work.
Jasper is the ideal tool for both novices and experts due to its simple functioning and easy layout.
This tool's easy-to-navigate menus and well-organized functionality make it simple to use. Online tool user-centric design ensures a seamless experience. Whether you're managing data, producing reports, or evaluating trends.
Use this tool in your workflow to improve efficiency, streamline operations, and gain easy access to strong tools. Jasper offers a more straightforward, user-friendly alternative to complex software. Start enhancing your work right away.
Rytr - A Simple and Effective Writing Assistant
Rytr is a user-friendly writing tool that makes the process of creating material easier. Rytr provides an easy-to-use and clear solution, regardless. Whether you're a professional writer, marketer, or just someone trying to enhance your writing talents.
You can rapidly create a variety of content with Rytr's user-friendly platform. Including blog entries, marketing copy, and more. Because of its user-friendly layout and helpful suggestions that walk you through the writing process. It is usable by users of all levels of experience.
Try Rytr out for yourself to increase your writing productivity. Writer's block can easily be said to be over, and polished, interesting work can be welcomed.
Grammarly - The Effortless Way to Improve Your Writing
Your go-to tool for simple writing improvement is Grammarly. This tool is a simple tool that elevates your writing, whether you're a professional, a student, or anyone else who writes.
This online tool's user-friendly UI and in-context suggestions make it simple to use. It ensures your work is clear and error-free. Checking for grammar, spelling and punctuation, and even suggesting style enhancements.
This online tool easily integrates into your writing workflow thanks to browser extensions, desktop applications, and an online editor. It's your constant writing partner, ready to support you as you express yourself clearly and convincingly. With online tools, you can effortlessly improve your writing.
Conclusion
Using AI writing tools has completely changed how we produce content for websites. These tools ensure that your material is properly optimized for search engines while also saving time and effort. Consider things like your budget, the kind of material you produce, and the particular. SEO features that are most important to you when selecting the best AI writing tool for your requirements. With ongoing developments in machine learning and natural language processing, the future. AI writing tools are bright. The capabilities of AI writing tools will advance along with technology. Making them even more crucial for website owners and content producers.
---
---
Explore Your Business Potential: Discover Our Range of Transformative Courses Today!
Unveil the power of knowledge with our diverse array of courses, from Operational Procurement in S/4HANA to SEO essentials. Elevate your expertise and drive success in your business ventures.
Get your course
---