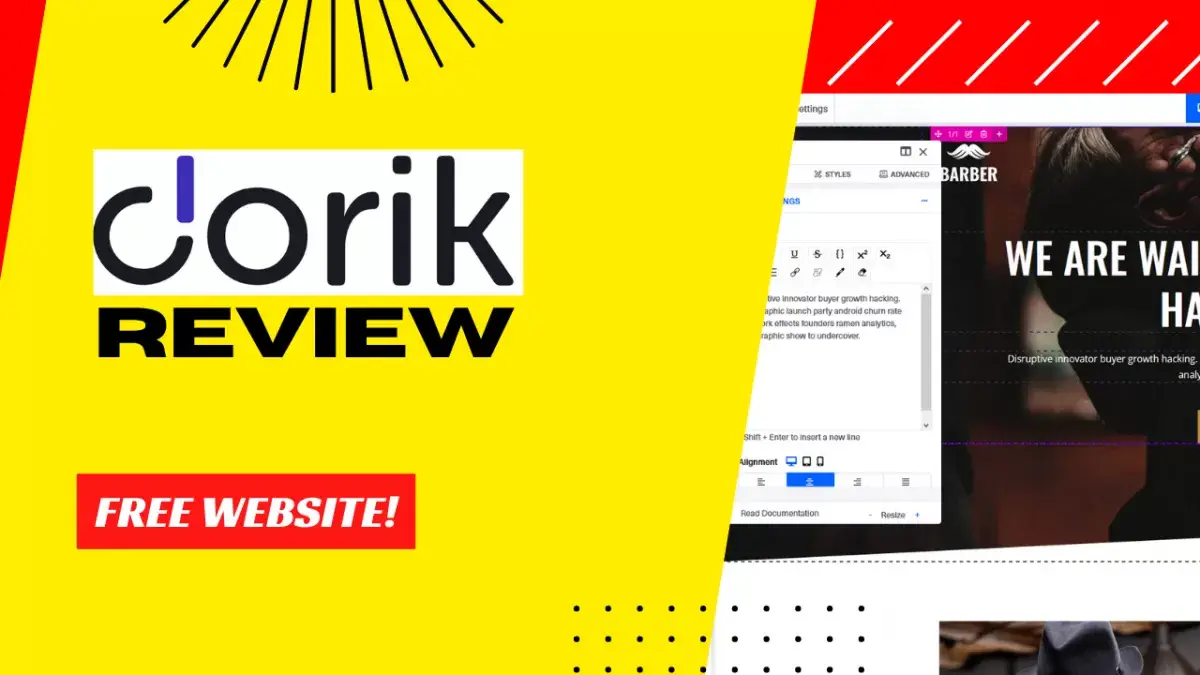 ---
---
First, let's talk about what a static site is. A static website does not require a backend system to run it; somewhat, you can edit it directly in a text editor. It makes them extremely lightweight and great for hosting on smaller sites (or even your computer).
You can also use them to host individual blog posts or other content that you create yourself!
Static site hosting is ideal for anyone looking to build a professional-looking website without getting bogged down in complicated software or design. Dorik is better than most paid hosting options out there.
Dorik is the best free static site hosting because they offer more features than any other free service. Dorik is a free static site hosting service that allows you to create your website and publish it on the internet. You can use Dorik to write blog posts, create landing pages, and even sell products online.
With Dorik's free plan, you get access to all of the above features and more. So, in this post, we'll explore why Dorik is the best free static site hosting today.
1. It's easy to use—no coding required!
With Dorik, you can create a beautiful website without installing any software or making any changes to your computer's settings. Just sign up and start building!
Dorik is for non-technical people who want a website that doesn't require any technical knowledge or experience. You enter your content into the drag-and-drop editor and upload it to your account; then, you can start building your site immediately.
2. It's free—no credit card is required!
Dorik is one of the only free static site hosting services that don't require a credit card. It makes them perfect for people just starting their online business and wants to see if it works before committing any money.
3. It's fast—no waiting for your site to load!
Dorik uses a CDN (Content Delivery Network), which means that your website will be hosted on servers worldwide. It helps make it faster than other static site hosting providers, which only have one server location.
4. It's secure—they protect your site from hackers!
Dorik uses state-of-the-art technology to keep your site safe from malicious attacks. They also have a 24/7 support team on standby in case anything goes wrong, or you need help getting started.
Dorik also has a free SSL/TLS Certificate, even on a free plan. It means that your content is encrypted and secure, and you can rest assured that the information on your site is safe from hackers.
5. It's fully customizable—it comes with built-in templates!
Dorik makes it easy to create a website and doesn't require any technical skills. You can create a website or blog in minutes using one of our professionally designed templates, which need no technical knowledge to customize.
They have over 50 beautiful templates you can choose from, and they're all fully customizable.
6. It's mobile optimized—works great on mobile, tablet and laptops!
Dorik is one of the best free website builders that makes it easy for you to create a mobile-friendly website. Dorik specializes in responsive web design, so your site will look good on any screen size.
7. Unlimited pages, galleries, blogs and more!
Dorik gives you complete control over your site. You can create as many pages as you want, upload unlimited images, add video files and even create a blog with their easy-to-use interface.
8. It's SEO-friendly—great for search engine optimization (SEO)!
You can easily optimize your website for search engines, and Dorik makes it easy by offering a selection of SEO tools. Dorik offers many SEO tools that can increase your site's ranking in search engines, thus increasing traffic.
9. It's image-optimized— which helps increase website speed!
Dorik includes built-in image optimization technology. This technology is excellent for websites that contain a lot of images.
It allows you to optimize your images before publishing them on your site, which helps increase the speed at which your website loads.
10. It's customer friendly— they care about you as a client!
Dorik offers its customers several ways to contact them, including live chat and email support. Their customer service representatives are available by email or live chat to help you with any questions or concerns.
Conclusion
Dorik is an excellent tool for any website owner to have. It's easy to use and reliable, which makes it a perfect tool for beginners.
If you're looking for a fast, efficient CMS that can help you create beautiful websites without much effort, then Dorik is the way to go as the best free static site hosting!
You may want to look at Dorik's website builder, which you can find at this link:
---
---