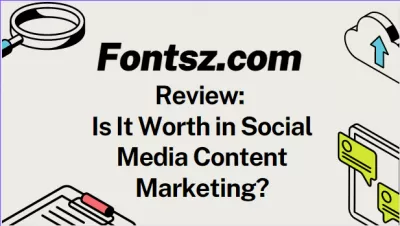 ---
---
Social media content marketing is one of the most effective ways of generating leads, and here is how Fontsz.com plays a vital role in making it more interactive.
Startups and businesses are always looking to gain more recognition among their targeted audience in an interactive way. The idea is to relate to the user's problem, generate a solution, and then uniquely present that solution to the audience through content marketing. And what better way to promote your content than social media platforms?
However, the challenge to stand out from the rest of the audience remains as startups and businesses are always in large numbers, and the audience would only prefer someone if they have something unique to offer. Hence Fontsz.com plays a vital role in making your content look unique, readable, and creatively different from the rest of the competitors online.
What is Fontsz.com?
Before we start discussing the roles and benefits of Fontsz.com, let's talk a bit about the platform itself. Fontsz.com is a free online text generator that provides dozens of options to create unique Fancy and readable-looking content. Hence, it's a great way to make your content unique in the simplest way.
How to Use Fontsz.com?
Generating marketing content for social media platforms using Fontsz.com is pretty straightforward, and it only takes a few minutes to do so by following these steps.
1. First, you have to choose a font style tool, such as the Cool Text Generator in this example.
2. Enter the text in the input box or click the upload button to input a text file.
3. After getting the input, it will automatically appear in the output box.
4. Once it gives you the output, simply click the 'clipboard' icon to copy the text.
Why is Fontsz.com Worth Using for Social Media Content Marketing?
Here are a few reasons why Fontsz.com is worth using for social media content marketing which will ultimately help your brand to get recognized more prominently among the competitors.
1. Wide Range of Options
With Fontsz.com, you get a wide range of options to customize your text in 29 different unique-looking font styles. It presents you with multiple options for each font style with a unique output to offer from all. Plus, it gives the ability present results in real-time with multiple ranges, so you can see how the tool is performing and how your text will appear on social media platforms. In this way, you get the freedom to play with the font styles without switching tabs or running new tools.
2. No Usability Limitations
Another reason to use this tool for social media content marketing is the unlimited usage without any word or character limit. You can enter a brand name or a full motto to get the output, and it will show you the same efficiency in either case. There are no daily or weekly limitations either, which means it is the perfect tool to meet the content marketing pace of your social media campaign.
3. Free to Use
Unlike many social media marketing tools, there are no login or sign-up limitations with this one. You can access it directly from any web browser without providing any credentials. Plus, you get access to the full features of this tool, and it will not ask for any payment details at any point.
4. Supports Resizing
Can't find the right fit for your social content marketing? No worries, Fontsz.com allows you to resize any type of font style content in real-time, with its easy-to-adjust slider bar above every interface. Hence you can change the font size and find the right fit for your captions, header page designs, or about pages, to kick off your social media marketing campaigns in the most noticeable ways.
5. Unicode Generated Text
The Unicode Text generation support makes it possible for the unique text to appear in any text field, whether you're writing this text in a text editor or pasting it directly to the social media platform. In this way, you don't have to worry about incompatibility of content to appear on an interface.
Final Words
Content marketing is an essential part of social media, email marketing, and blog marketing campaigns. The best way to get your audience's attention is by creating brand recognition with the help of unique fonts, as presented by Fontsz.com. This article elaborated on how Fontsz.com is beneficial in content marketing on social media and why it's worth using. Hopefully, you got some valuable information on the usability of Fontsz.com.
---
---
Explore Your Business Potential: Discover Our Range of Transformative Courses Today!
Unveil the power of knowledge with our diverse array of courses, from Operational Procurement in S/4HANA to SEO essentials. Elevate your expertise and drive success in your business ventures.
Get your course
---