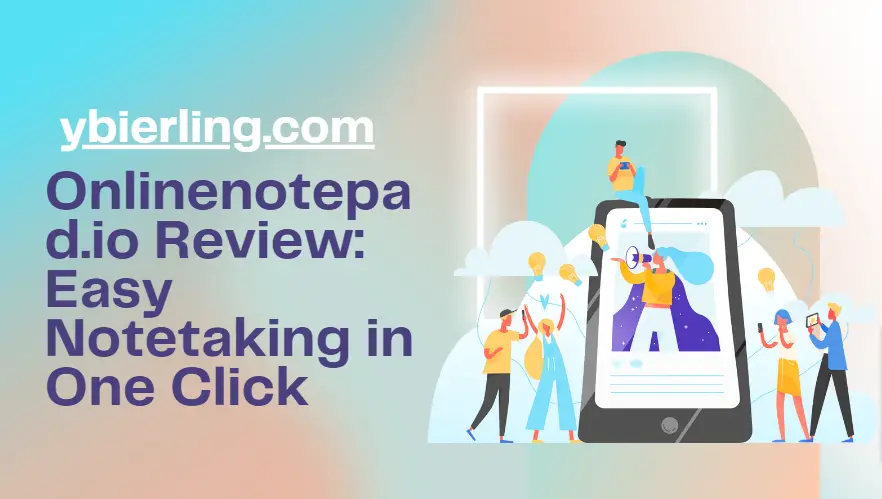 ---
---
Notetaking is a huge part of many people's lives. Especially for students, this process is a part of their daily lives. However, over the years, this process has not remained the same. People have grown out of the traditional pen-and-paper method of notetaking.
Now, the era of digital notes is rising. But what platform should you use for this purpose? To answer that question, we will review a relevant platform. Today, we will discuss an online tool that can solve all your notetaking problems.
This tool is known as Online Notepad. Through the art of simplicity, this tool has created a one-in-all platform. A detailed breakdown of all its features is given below so that you can get a clearer idea of what this tool is all about.
Features of Online Notepad
We have created separate sections for different features for an extensive experience. These are explained below:
1. Beginner-Friendliness
The most distinguishing feature of Online Notepad is its ability to be usable for all types of users. It doesn't matter if you have taken notes on a digital platform before or not. This tool can be a safe pick for you.
There are no extra or distracting features that confuse you. You can start taking notes as soon as you land on the tool page. No sort of setup is required for accessing this tool's services. Also, the interface of the tool is minimalistic, so the overall feel of the tool seems simple. In short, you can get accustomed to using this tool just after one or two uses.
2. Formatting Features
There are quite a few text formatting options available as well. These mainly include:
Bullet Lists
Headings and Subheadings
Numbered Lists
Bold, italicize, and underline
So basically, you have all the basic formatting options readily available. These options can make your notes much more organized and easier to understand. These options make this tool a great platform for more than just notetaking. Because of these options, you can also create highly personalized documents in it.
Additionally, these formatting options can even be applied using keyboard shortcuts to make the notetaking process even faster. For example, you can click CTRL+B to bold a selected piece of text instead of pressing the button for bold.
3. Document Storage and Auto-Save
Since Online Notepad is an online platform, one might think that you would have to export files from physical storage every time. However, that is not true. Online Notepad has its own cloud storage where textual files can be saved.
So, you can take notes, close the tab, and come back to find out that the document is already saved there. Also, this tool provides an Auto-Save feature that keeps saving your progress every few seconds. This saves you from manually saving your work after every small change.
4. Easy Sharing
Online Notepad provides many features in terms of sharing content. You can download your notes and then share them manually. Or you can share content directly to a few platforms like:
You can even copy the link of your notes to share them on any platform of your liking. In short, there are tons of options when it comes to sharing your notes with others, and all of these options are easily accessible.
5. Image Addition
One great feature of online notepad is its ability to add images to your notes. This means that you can paste or insert images into your writing using this tool. This can be extremely useful when you want to add reference images to your write-up for clear understanding.
Images can complement any type of content, not just notes. So, you can even use this notepad for creating write-ups other than notes.
Pros and Cons
To give you the overview of the whole tool, we will share a pros and cons list. This list will help you better understand the tool's capabilities.
Pros and Cons
The tool is highly beginner-friendly. Even if you haven't used a digital notepad before, you won't face any barriers.
There are many useful features that can make your notes look organized.
The tool is completely free to use.
Online Notepad has its own data storage facilities for ease of use.
There is no downloadable application for this tool.
There are no aligning or indentation options.
Final Verdict: Is Online Notepad a Good Option for Easy Note Taking?
Yes, online notepad is one of the best tools out there in terms of simple and accessible note taking. This browser tool is a great option for any sort of notetaker. The ease of access, abundance of features, storage facilities, and other characteristics make this tool stand out.
So, if you are looking for a platform that can fulfill your needs of digital note taking, then we recommend you start with this tool. The reason for this is that you won't face any difficulties adjusting to this tool. That's why, without any further delay, dive right into it.
---
Explore Your Business Potential: Discover Our Range of Transformative Courses Today!
Unveil the power of knowledge with our diverse array of courses, from Operational Procurement in S/4HANA to SEO essentials. Elevate your expertise and drive success in your business ventures.
Get your course
---
---