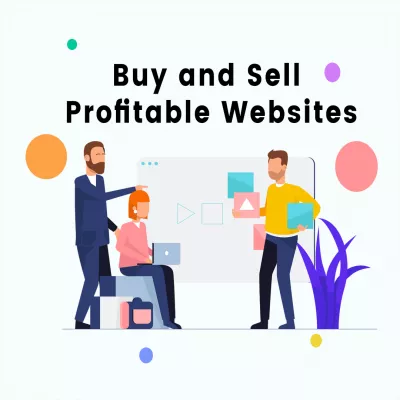 ---
---
This article describes how you can make money selling and buying websites with MotionInvest.
How can you make money using the website?
The news that you can make money on the Internet is no longer surprising, but not everyone knows how you can get income from the World Wide Web. Almost every web page on the global Internet generates income for its owner. So how can you make money with a website? First, there is advertising. Nowadays, there are many sites offering various affiliate programs, including earnings from advertising on your own site. Secondly, it is working with various affiliate CPA networks. Thirdly, it is the income from the sale of links. Fourthly, directly selling goods using the site. All existing online stores fall into this category.
Advertising is an effective way to make money selling websites. This is an opportunity to tell the audience about you and your product and interest them, and - most importantly - convince them to buy the product of your brand.
The main objective of advertising is to encourage buyers to a specific action - the purchase of a product or service. Advertising is required to stimulate demand and increase the sales market. Even a product of higher quality compared to competitors must be advertised to increase income.
Why is it more profitable to buy a website, rather than create it yourself
Quite a logical question for a person who is not very versed in the IT sphere. Naturally, you can create your own website on Word Press, fill it with the necessary content and start promoting it. This is where a beginner in this business can expect pitfalls. In addition, it is worth considering the fact that if a beginner is independently engaged in creating a website, it will take a lot of time. Nobody gives a guarantee that the site will start to make a profit, according to statistics, out of ten sites, only two or three start to make a profit.
Debate: Buying Sites Vs. Building Sites
Based on this, it turns out that having bought a site, a person buys an actually finished business, which will definitely make a profit. But when creating a site from scratch, a lot of financial resources and moral strength will be spent.
Earnings on buying and reselling sites
The principle of working with the purchase and subsequent sale of sites is as follows. By itself, a completely ready-made website generates income, but the reseller's task is to gain additional profit. To do this, after the purchase, the site is optimized, the profit from it increases, and only after that the site is resold for a greater cost than it was bought.
For a beginner in this business, you should pay attention to inexpensive and certainly promising projects. For example, after looking at the site, it becomes clear that in order to increase profits, you need to change the design, improve navigation and conduct SEO optimization. You can safely buy such a site, because after making simple actions, the income will increase significantly, and therefore the amount on the next sale.
Where to buy a website and how to optimize it in the future
Currently, there are only two ways to buy a website - with and without an intermediary. The option with an intermediary is quite risky, because if you do not know the person personally from whom you are going to buy the site, there is a high probability of running into scammers.
A broker or an exchange can be an intermediary when buying a site. It will be difficult for an inexperienced newcomer to find exactly the project on the exchange that will definitely be optimized and resold at a higher price. Aichi brokers only contact those offers that can really be called profitable.
Broker Definition and Example – Investopedia
The difference between brokers and the exchange is that the former carefully check what they offer, because their reputation depends on it. Also, the exchange does not provide training, unlike the broker. To be more precise, the training is not specifically from the broker - the contract will indicate the period during which the former owner of the site will answer questions and teach how to work with the purchased project.
Another important point concerns the evaluation of the site before the sale, which determines its value. On the exchange, this happens through an auction, but brokers look at a number of factors when assessing, and only then determine the value of the site.
If financial opportunities are limited, and buying a site with the subsequent resale is a kind of experiment, then it is worth using the services of an exchange. But if the game will be played on a large scale, then it is worth using the services of IT brokers.
After choosing and successfully purchasing a website, it's time to optimize it. In order to start this, first of all, you need to audit the site in order to understand its strengths and weaknesses. How is the site audited? There is some rough algorithm.
Next, you need to start defining traffic channels. If the former owner of the site did not use social networks to drive traffic, there is an option to fix this and thereby increase the site's profitability.
It is also important to look at conversions from search engines - SEO-indicator. If this figure is less than fifty percent, then you need to do SEO optimization. It will also generate additional income.
They also pay attention to whether the buttons on the site work normally, whether they are connected.
It is also important to determine how the mobile version of the site works, whether it looks convenient, and whether it is convenient to use it. This is very important nowadays because every second user visits websites using a mobile device.
Analytics also determine the design of the site. The bottom line is that even if the new owner does not like the design of the purchased site, this does not mean at all that the users visiting this site are of the same opinion.
For example, it turned out to deal with analytics, improve performance, and the site began to bring in more income. This does not mean at all that you need to go directly to the stock exchange or somewhere else to sell it. Usually they look at the site for half a year - it is important that the level of income during this period is kept at about the same level.
Explore Your Business Potential: Discover Our Range of Transformative Courses Today!
Unveil the power of knowledge with our diverse array of courses, from Operational Procurement in S/4HANA to SEO essentials. Elevate your expertise and drive success in your business ventures.
Get your course
After half a year, you can sell the site. There are also two options - to sell either through the exchange or with the help of a broker. It should be borne in mind that through the exchange it will not be possible to quickly sell an expensive project, you will have to resort to the services of IT brokers.
MotionInvest: what kind of company it is and how it works
MotionInvest was created by the people who were looking for such a platform to buy and sell websites. That is why every little thing is thought out here, it is convenient to both sell and buy sites through MotionInvest.
MotionInvest has a very reliable team that checks every site with high quality, and either the company buys the site itself and then sells it on its own behalf, or allows you to post a seller's ad - only if the site has passed a full check.
How to buy a website on MotionInvest
You can buy and sell sites just through MotionInvest. Below is a small overview of MotionInvest, as well as the assessment of users of this service.
On MotionInvest, only high-quality sites are presented for sale, which are checked by those people who have been working in the company for a long time and who are real professionals in their field. Therefore, when buying a website on MotionInvest, you can be sure that the website will work and will not break down in a couple of weeks after purchase.
For those who purchase a website on MotionInvest, coaching calls with consultations at a reduced price will be available. This will help the buyer of the site to be successful as soon as possible.
Pricing on the platform is based on market value, it turns out that the buyer will not bid or overpay for this or that site. Moreover, MotionInvest sells only those sites that will generate income in the first month of ownership.
The site has a system of icons:
If you see a purple listing icon next to the ad, it means that the site is not being sold by MotionInvest, but by the seller itself. In this case, the site in any case is fully tested. Buying such a site will take up to ten days.
If you see a green listing next to your ad, it means that the company bought the site from an old trusted seller and currently owns it. Such sites are also fully screened before entering the site. Buying such a site will take up to 5 days.
If you see an orange icon next to the ad - Dutch auction, this means that the initial price will be set for the site, and according to the set timer, its price will decrease by a certain price. The timer and number of site reductions will be listed on the listing pages of each of the sites that use this pricing system.
How to sell a website on MotionInvest
The site that is sold on MotionInvest will definitely be sold in a short time. The company has the ability to quickly sell a site - if the site has passed a comprehensive check and went on sale, you can get money for it within 72 hours.
When choosing the direct sale option, MotionInvest does not charge a commission for a successful sale or listing fee. This will save the seller a fair amount of money. If the site is sold through the MotionInvest trading platform, then the placement will be free, and the commission will be 15% only if the site is successfully sold, the cost of which is more than twenty thousand dollars, and 20% for those sites that cost less than twenty thousand dollars.
MotionInvest guarantees the sale of a website only if it passes a full due diligence. The evaluation for the site is given at a fair market price, so there is no need to be afraid that the cost of the site will be underestimated upon sale.
Also, when you sell a website directly to MotionInvest, you do not need to conduct ongoing training for the new owner of the website. If the ad is placed on the marketplace, and the site is successfully sold, then for the new owner it is necessary to organize 20-day support on site issues.
★★★★☆
MotionInvest Review: Buy and Sell Websites
 It is very profitable to cooperate with the company and make money selling or buying sites, and all sites are carefully checked and hand picked. However, they are usually sold quite fast, and the price tag is generally more than 3 years of earnings.
---
Explore Your Business Potential: Discover Our Range of Transformative Courses Today!
Unveil the power of knowledge with our diverse array of courses, from Operational Procurement in S/4HANA to SEO essentials. Elevate your expertise and drive success in your business ventures.
Get your course
---
---