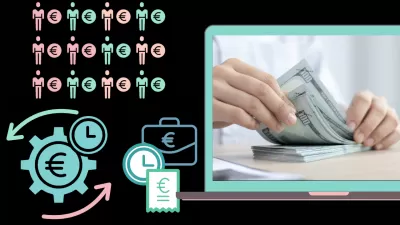 ---
---
If you've ever wondered if Quanloop is legit, then you've come to the right place. This wholesale investment firm is not a scam and offers diversification by risk factors and 24-hour liquidity to investors. It offers a EUR1 sign-up bonus and allows investors to invest in EUR1, EUR2, or EUR5 per risk plan. This investment platform eliminates the risks associated with defaulting borrowers and offers a simple way to diversify by risk factor.
Quanloop is a wholesale investment company that allows its customers to invest in a number of asset classes. Investors can select between low-risk, medium-risk, and high-risk plans, depending on their level of risk tolerance. There are also limits on how much an investor can invest in each type of plan. The lowest-risk plan is offered to those who want to minimize risk, while the highest-risk plan is available to investors who want to generate a stable income.
Quanloop invests in projects as collateral for the money that it lends to investors. This helps avoid complicated legal structures that can complicate collateral management. Quanloop manages a diverse portfolio of investments, and its investors are guaranteed a return on their investment.
It offers diversification by risk factor.
Investing platforms like Quanloop offer their users diversification by risk factors. These diversification plans are designed to minimize the risk that an investor faces without sacrificing any of the returns. Most platforms offer automatic or manual diversification. These plans allow you to choose an investment based on your background, interest target, and investment time frame. When it comes to risk factor diversification, Quanloop takes the process a step further.
Risk factors are categorized into different categories, including company-specific risks. Companies can be exposed to risks from acts of nature, legislation, and consumer preferences. For example, airline stocks are vulnerable to the same risks that affect other types of investments. To minimize the risk of these risks, it is important to diversify outside of the airline industry.
It does not offer a buyback guarantee.
In a nutshell, Quanloop does not offer a money-back guarantee on its investments. Instead, it operates a proprietary alternative lending platform that brings together commercial borrowers and loan investors. In other words, it acts as a wholesale funding source for business customers.
Quanloop offers investors three investment plans. Low, medium, and high-risk The low-risk plan is for the most conservative investors, and the high-risk plan is for those who are comfortable with a high degree of risk. However, investors are not allowed to allocate all of their investments to the high-risk plan. Instead, they are allowed to allocate up to 50% of their funds to the medium or high-risk plan. This prevents them from taking a disproportionate amount of risk.
If Quanloop cannot buy your investment back, they will use the funds to cover their costs of money transfer. You will not be charged for the buyback guarantee.
It offers a 24-hour model to provide liquidity to investors.
Quanloop uses a 24-hour model to give investors access to money at a moment's notice. The company pools its investors' capital and automatically breaks it down into single loans of 1 euro each. Upon expiry, the money is repaid in full. The 24-hour model provides investors with a steady stream of income without the need to worry about investment risk or inflation.
The company promotes responsible and sustainable investments and focuses on risk diversification. Quanloop's 24-hour model allows investors to make the appropriate amount of investment, and even if they choose a high-risk plan, they can still make a decent IRR. It offers three risk plans, and investors set their risks upfront. The low-risk plan has an interest rate of 5.5% per annum; the medium-risk plan offers a return of 9%, and the high-risk plan has a return of 13%.
It is not tax-resident in Estonia.
Tax-resident status in Estonia is a legal concept that allows non-Estonian companies to operate like local companies but still pay taxes in their home country. A fictitious tax residency is only applicable to income made in Estonia. This includes business income, casino winnings, rental profits on real estate, and certain license earnings. However, it does not apply to Quanloop's investments.
Investing in Quanloop has several advantages, including high-interest rates, a cashback program, and inflation-safe investments. It is a tax-efficient solution that allows both foreigners and local Estonians to invest in an attractive asset class. Quanloop also allows non-Estonians to earn referral income, which is a great way to offset losses from inflation.
---
---
Explore Your Business Potential: Discover Our Range of Transformative Courses Today!
Unveil the power of knowledge with our diverse array of courses, from Operational Procurement in S/4HANA to SEO essentials. Elevate your expertise and drive success in your business ventures.
Get your course
---