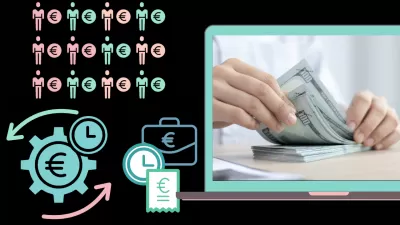 ---
---
The advent of online platforms has proved to be a boon to mankind. Visiting brick-and-mortar venues has become a thing of the past. Modern individuals prefer to carry out their chores right from their homes. Also, the net allows you to make money in many ways. Some folks host a blog, whereas others undertake freelancing work from the ever-increasing online traffic. Yet, affiliate marketing is the best way to earn big bucks. You can find various affiliate programs. However, choosing the right one such as Quanloop is the name of the game. Let's check a Quanloop affiliate program review in great detail. That should help you make an ideal decision.
When it comes to affiliate marketing, many amateurs get carried. They hardly do any legwork and join a couple of programs in haste. Sadly, a majority of such marketers end up making a measly sum. Sooner or later, they give up their efforts. Do you wish to face such a situation? Your most likely answer will be no. On the contrary, you'd like to find the best program that can meet your goals. Quanloop is one such service that lets you accomplish your financial desires.
What is Quanloop?
In simple words, it's a platform that offers a myriad of investment opportunities (Quanloop review). You may argue that many such services exist on the web. Yes, that's true! However, not all platforms are genuine. Many services disappear after a while. Then some services provide a couple of options to make money. However, the algorithm of Quanloop is entirely different from other services. You can earn money as an investor as well as an affiliate
The service offers various opportunities to investors. The biggest perk is you don't have to participate in any trading or investing activity. The platform does all the labor for you. It finds suitable wholesale funding opportunities and trading possibilities based on your investment metrics.
Simple signup, minimum formalities
When it comes to investment, people rush to banks and insurance companies. Safety and legitimacy steer investors towards insurers and banks. These institutions allow investors to earn money through fixed deposits, savings accounts, and different types of insurance policies. You may earn commissions for bringing customers to banks and insurers. However, you've to comply with a series of formalities before opening an account. What if you don't have the required documents? If so, you can't open a bank account or make money through their schemes.
Quanloop resolves this problem. Go through the features of the service at Quanloop. First of all, the service doesn't require investors to provide heaps of papers. As an affiliate, you can easily find clients for Quanloop and earn referral commissions. The signup process for investors and affiliates is straightforward. Fill out a basic signup form with the necessary details and provide a couple of documents. Within minutes, you become an affiliate of the service.
Lifetime commissions
The beauty of the Quanloop affiliate program is it lets you earn money from your clients forever. If you bring one customer who invests and earns through the platform, you automatically earn money. Other programs just provide a one-time commission. Quanloop gives you 2.5% on your client's earnings forever. For example, if your client earns $1,000 each month, you earn $25 each month from that client. If you sign up 100 clients, you end up making $2,500 each month.
The more the number of clients you bring in, the higher the earnings will be. Neither the client nor you actively participate in any investment opportunity. Your client invests money. You only bring the client to the platform. The rest of the work is done by the service. Also, the service provides much better returns than banks and other sectors. So, you're likely to get more and more clients for the platform.
Timely payment
Quanloop takes pride in making timely payments to affiliates. Earnings get added to your account and statistics update regularly. Just visit your dashboard and check your earnings.
Testimonials
Many affiliate programs carry a bad name among affiliate marketers. Check affiliate program reviews to understand this point. However, Quanloop is different from others. Read any Quanloop affiliate program review to ascertain this point. There's hardly any affiliate with any complaint against the platform. On the contrary, you'll find positive ratings and recommendations from existing affiliates.
Bottom line
Affiliate marketing is an ideal way to register your success on the web. All you should do is find the best program such as Quanloop that provides recurring commission. The above Quanloop affiliate program review highlights this point. So, don't get left out! Join the referral program and start earning money now.
---
---