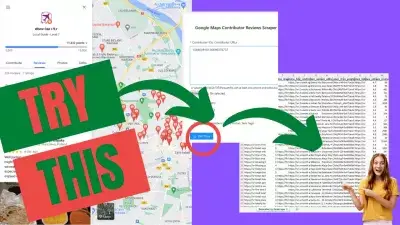 ---
---
Visiting offline venues has become history today. Modern individuals prefer web-based platforms for their chores. Online platforms allow the convenience of shopping, chatting, and trading from any place. Anticipating the trend, many businesses have switched to the World Wide Web.
However, steering traffic to your website has become a herculean task, thanks to the ever-increasing competition. As well as employing and optimizing organic SEO, you must think out of the box to gain customers. This is where reviews on Google Maps come in handy. However, you may want to download all Google Maps reviews at times. Why? Let's seek more information to arrive at an ideal decision.
Google Maps download my reviews
Before figuring out how to "scrape" reviews – meaning mass download all of them, let's understand what Google Maps review scraping is and how it can help a business. Scraping means downloading reviews for analysis. It's the process of extracting data for structuring and making conclusions. Scraping lets you understand your customers. It helps you know the taste and preferences of users and the change in their habits over time.
For example, if youngsters have an issue with your product/service, you can come up with a substitute for that segment group. That should address the issue of the said demographics and let you serve users in a better manner. The Analysis also helps you know where you stand against your competitors. Accordingly, you can take action to boost your rating and credibility.
You can also scrape reviews for market segmentation. In line with user opinions, you may adopt a suitable marketing campaign to get more customers through improvements in your items or substitutes. After understanding the importance of analyzing Google reviews, you may want to know how to download them.
How to scrape Google Maps reviews?
Google Maps listings are a wonderful way to rank higher quickly in search results. All you should do is verify the address of your venture to get listed in Google Maps. Many customers leave reviews about your products and services there. You can examine those reviews to figure out how satisfied your customers are. However, analyzing those opinions warrant structuring of reviews and proper scrutiny. That's what scraping does for your venture.
Copy and paste them manually
Let's figure out how to scrape Google reviews. You can do scraping in two ways. First, you may copy-paste each review manually. After pasting all reviews, you can sort them in whatever manner you like. For instance, you can structure those reviews in the order of regions of users. Alternatively, you can structure user opinions based on their genders and ages. Finally, you can make pragmatic decisions about your product and service based on your inferences.
However, the main downside of this option is it's time-consuming. Copy pasting each review from Google maps isn't a breeze. The situation could be more demanding if your venture receives too many reviews. Also, manual copy-pasting can keep you from other core business activities due to the time involved. No smart entrepreneur would like to do that.
Use a data scraper tool
So, what's the alternative? Using a scraping tool is another possibility. Such a service will download and present your Google Maps reviews from various perspectives. By spending a small sum, you may get the reviews downloaded and analyzed quickly. Outscraper data scraper is a special mention in this respect. The app allows you to download your Google maps reviews. Sign up for the service and get ready for scraping. The process finishes within minutes. After downloading your Google reviews, you can analyze them for betterment.
The app also allows you to download others' reviews. You may download Google reviews of your competitors and compare them against yours. Based on your findings, you can figure out where you stand in the competition and what changes are required to outsmart your contenders. Accordingly, you can take a suitable course of action.
Using Outscraper, you will be able to scrape big data from following services:
Google Maps, including reviews, maps by websites, contributor reviews, and Google maps photos,
Google Play reviews,
Google shopping reviews,
Google Maps traffic data,
Google search results, images, news, videos, and shopping search,
Amazon products and reviews,
Extract emails and contacts from a website,
Validate emails deliverability,
Validate phone numbers,
Facebook business pages content and FB pages reviews,
Tripadvisor reviews.
Bottom line
Google Maps listings let you enjoy higher rankings quickly. However, you may want to analyze reviews on Google Maps to improve your products and drive more customers. Scraping allows you to do that, download instantly a full set of structured data. Follow the advice on how to scrape Google Maps reviews.
Also, use a high-quality scraping tool such as Outscraper - it even comes with some free credit to try out the service and see if it is working out for you. With handy details by your side, you can make suitable amendments to your products to enjoy an edge in the competition.
Frequently Asked Questions
What is the main function of Google Maps?

The most powerful feature of Google Maps is the ability to use maps and navigation without an internet connection. Recently, the offline mode in the application has been greatly improved, users can save certain areas of the map on the device to build routes offline.
---
---
Explore Your Business Potential: Discover Our Range of Transformative Courses Today!
Unveil the power of knowledge with our diverse array of courses, from Operational Procurement in S/4HANA to SEO essentials. Elevate your expertise and drive success in your business ventures.
Get your course
---