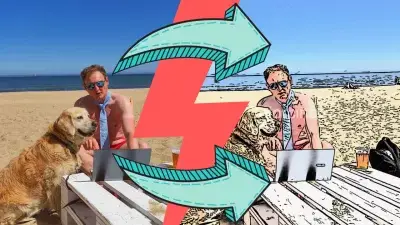 ---
---
When it comes to photos, we all want to make sure they look their best. Whether it's for a special occasion or just for everyday life, we want to be able to look back on our memories and have them look as clear and vibrant as possible. That's where colorcinch comes in. Colorcinch is a photo editing software that allows you to cartoonize your photos, giving them a unique and fun look. While it may not be suitable for every occasion, it's a great tool to have in your arsenal for when you want to add a little bit of personality to your photos.
In this article, we are going over a quick colorcinch review discussing its pros and cons, and giving it a rating out of 5.
Below are some of the critical features that Colorcinch offers:
Allows You To Cartoonize Your Photos:
With a few clicks, you can take any photo and turn it into a cartoon‌. That can be great for adding a bit of fun and personality to your photos, especially if you're sharing them online. That will be the primary focus of our review. It can also be used to create avatars and illustrations. Many editing options are available.
It Offers Various Effects:
Colorcinch doesn't just stop at cartooning your photos. It also offers various effects that you can apply to your photos. That includes filters, frames, and even text. You can also adjust your photos' brightness, contrast, and saturation. Furthermore, it offers a wide range of clip art you can add to your photos.
Integrates With Social Media:
Colorcinch makes it easy to share your photos with your friends and family by integrating with social media platforms such as Facebook, Twitter, and Instagram. That is very convenient if you want to share your photos with others quickly. Since the software is web-based, no installation is required.
Support Different Formats:
You can convert your images into JPG, PNG, TIFF, BMP, and GIF formats. That is great because you can use this software on various devices. That is helpful if you want to use your edited photos for different purposes and on different devices.
User-Friendly Interface:
The user interface is straightforward and user-friendly. You can easily find the tools you need, and the results are excellent. You can easily share your creations with your friends when you're done. Making a cartoon is very easy and fun with this tool. It can be done in just a few minutes.
Many Options To Choose From:
There are many options to choose from when editing your photos with Colorcinch. That can be both good and bad, depending on what you are looking for. If you are unsure of what you want, it can be helpful to have so many options. However, if you know exactly what you want, it can be overwhelming to scroll through all the options.
Easy To Use:
Colorcinch is relatively easy to use. The interface is straightforward, and the results are promising. That is because the software uses several algorithms to determine the best result. You only need to select the desired effect and let the software do its job. That way, you can focus on other things.
Colorcinch pros and cons:
It is cheap
easy to use
the results are great
It offers various effects
User-friendly interface
The software uses several algorithms to determine the best result, which can be time-consuming.
The software is not suitable for every occasion.
Colorcinch Summary review
Rating: 4.5 out of 5.
★★★★⋆
Colorcinch Cartoonize
 Many people use this software and love it. It's easy to see why with its user-friendly interface and great results. If you are looking for a tool to add a bit of fun and personality to your photos, then Colorcinch is an excellent option. However, it's important to remember that this software is unsuitable for every occasion. Therefore, it's essential to consider what you're looking for before using this tool.
Conclusion
Colorcinch is a great tool that offers many features. It is user-friendly and produces excellent results. However, it is not suitable for every occasion. It is important to remember that when choosing this tool. We recommend it to anyone looking for a fun and easy way to edit their photos. We hope that the article above about colorcinch review helped you learn more about this tool.
---
---
---
---