As a blogger, influencer or other lucky passive income earner, you might also be tempted to give back a little part of what you hardly earned. Thanks to new technologies, it is now possible to donate to charities effortlessly. See below how we already donated a full day of passive income, and are planning to donate another full week of advertisement earnings!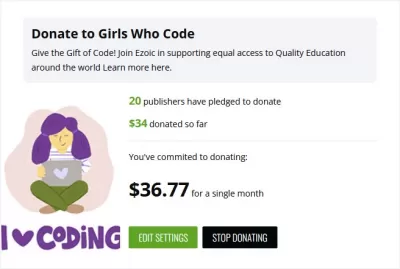 ---
---
With the recent focus of Ezoic on Corporate Social Responsibility they have implemented various in-house ways to give back to their local communities and global NGOs, but have also created a brand new technology that allows Web publishers that are monetizing their content with their display advertisements to donate part of their earnings to some selected charities.
How to donate tax free without paperwork?
The way the donation works on the  Ezoic platform   is pretty simple: instead of donating your own money, for which you have previously (or will, in the future) declare as your personal income, and on which you have to pay income taxes, all you have to do is let them donate the money on your behalf, instead of sending it to you with your standard income.
The donation will be deducted from the passive income you've generated with optimized display advertisements on your Web properties and video self-hosting platforms if you are using the Humix video platform tool, and will be donated to the charity directly.
Thus, preventing you from the need to declare this income, as it is not part of your earnings, lowering the revenue you are declaring to your local tax authorities, and ultimately lowering your tax expenses, while saving you the hassle to declare and perform yourself the charity donation payment!
How We Donated A Full Day Of Earnings To Girls Who Code
Uisng this amazing cutting-edge technology, we have decided to try it out by donating a full day of our earnings to the GirlsWhoCode charity, that helps closing the gender gap in technology, especially regarding programming and IT engineering.
On Christmas day, 25th December 2022, we announced on our social channels that we will be donating our full website passive income earnings to that charity.
Two days later, on 27th December, once the final earnings figure was available, after audit and reconciliation, we had a look at that figure, and used the Ezoic donation platform technology to make a one time payment to the selected charity, by entering the corresponding amount, and pledging to donate it automatically and tax free.
We also used the opportunity to share the action on all our social channels, which we invite you to check and follow to be aware of our future donation projects, as well as our other digital marketing activities.
Social shares in English: We donate our full Christmas day earnings
Social shares in French: : We donate our full Christmas day earnings
How we will donate one week passive income to Razom For Ukraine
Using this amazing and easy-to-use technology, we are also planning to give to Razom For Ukraine charity a full one week passive income earnings from our websites, targetting the symbolic dates from 7th of January 2023, the Orthodox Christmas, up to the 14th of January 2023, the Orthodox Former New Year Eve, as these dates are meaningful for people that are being supported by this charity.
On the day on which our donation begins, we will announce it on our social media.
On every single day during this donation event, we will announce how much dollars we gathered passively and will donate to this charity.
Finally, on the last day, we will announce how much money overall we will donate, and will finally use the  Ezoic platform   to donate the final amount, tax free, to the charity.
In conclusion: How a blogger can easily donate to charity and reduce its taxes
As we did explain and show with our own donation examples, the  Ezoic platform   can be used to perform a donation based on passive website optimized display advertisement earnings, thus reducing the income that is declared to the local tax office, and performing effortlessly a charity donation, making the world a better place while easily reaching targets such as Pledge 1 percent and even allowing any blogger, influencer, or company that owns a website to exceed this target.
---
About the author - YB Digital
Yoann is an International Business Consultant, facilitator and coordinator. He worked more than 10 years in global business, supply chain, financial, SAP ERP projects, Web and SEO optimization for various industries, such as logistics, cosmetics, consumer goods, beauty care, or fashion, in more than 30 countries around the globe. 
---
---