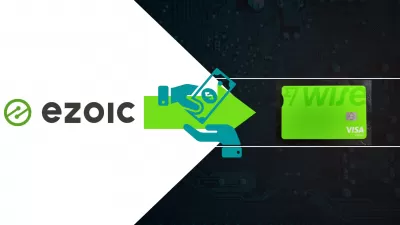 ---
---
Ezoic is a service for comparing the effectiveness of different ad networks on the publisher's sites. Thanks to the work of artificial intelligence, the level of income from the use of each specific type of ad is checked. As a result, the optimal placement of the ad unit for each individual user is selected, and the publisher maximizes its profit.
The service offers several ways to generate income:
Choosing the right way to make a profit
The choice of a suitable method of receiving money should be based on such factors as the range of possible currencies, the speed of receiving funds, the ease of conversion in the country of the publisher.
Convert USD to EUR or other currencies
Therefore, it is impossible to talk about the only correct solution, but you can choose the most appropriate method of obtaining funds for each specific case.
The best solution to receive money generally is the free WISE multi currency account in which there is no maintenance cost, and no fees hidden in conversion costs.
Let's see an example of a $2000 monthly earnings money transfer that has then to be converted from US Dollars to Euros for local spending:
With PayPal: $2000 transferred, 3% transfer fee to PayPal, $1940 on PayPal account. Transfer to EUR bank account with 4% conversion fee, result in $1,862.4 received in local EUR currency.
With Payoneer: $2000 transferred, $3 paiement fee and $3 monthly maintenance cost, $1994 on Payoneer account. Transfer to EUR bank account with 1.5% conversion fee, result in $1,964.09 received in local EUR currency.
With WISE: $2000 transferred, no fee, $2000 on WISE account. Transfer to EUR bank account with 0.5% conversion fee, result in $1,990 received in local EUR currency.
Therefore, WISE is the preferred option to receive an Ezoic (or any international payment for that matter) in local currency.
There are no maintenance fee, the 0.5% transfer fee is transparent, and the exchange rate applied is the market rate, as they are not hiding fees in this transfer rate. The only fee ever is to receive a debit card if you chose to, in which case you'll be charged a $5 posting fee – but that's the only fee ever!
Transparent conversion fees
Market conversion rate
No maintenance cost
Simple and free
Only accessible to selected countries
Payoneer
In general, it is transaction fees that are the main reason to abandon Pioneer as a payment system. The presence of a minimum wage can hardly be called a suitable reason, no one will withdraw a trifle anyway, and the threshold for getting here is small.
But the system is suitable for publishers from Canada, Europe, India, China, Pakistan, Great Britain. You can immediately receive funds in national currency without spending commissions on conversion. Even considering that the transfer from one currency to another itself may not be taxed in some countries, the publisher still pays the commission, loses money. The losses can be especially significant for small publishers who cannot yet boast of a large number of users on their sites.
Since the payment system combines an abundance of pluses, and minuses in most cases can be neglected, this option for making a profit deserves an assessment of 4 points on a five-point scale. The main drawback is the difficulty for Russians to convert income into rubles. You have to agree to a commission to receive rubles. However, this drawback still cannot be called really important, since there are many conversion fees where required, including alternative advertising services.
Pioneer is rightfully one of the most attractive ways to generate income from Ezoic.
Among its advantages - This method of obtaining funds has disadvantages:
Presence in many countries, availability of a wide variety of currencies. Among them are the Canadian dollar, British pound, euro, Pakistani and Indian rupee, Chinese yuan.
Convenience of cashing out in most countries. A payment transaction to transfer into national currency is not taxed in many countries.
High speed of translation.
Transaction fees;
The presence of a minimum amount for payment.
PayPal
PayPal is an online payment system through which individuals and legal entities can make money transfers, as well as open accounts in any currency. And also this is another option for Ezoic payout.
To start working, you need to open an account: enter your email address and password. Adding your bank card to your PayPal account is completely safe. Use your email address and password to checkout with PayPal.
The online transfer company offers the receipt of funds in US dollars. This option is most suitable for publishers from countries that use the main US currency as legal tender.
In general, the payment system can be recommended to the population of Western countries, but not to Russians. That is why PayPal should be given 3 points, since it is mainly about the interests of Russian publishers.
Residents of the former Soviet republics, whose government does not enter into too bad relations with foreign companies, PayPal is more suitable as legal tender.
In other countries, PayPal is not always a suitable tool. Given the stricter requirements in Russia for foreign companies, the lack of transfers within the country, this method can hardly be called suitable for Russians.
Among the advantages of this approach - Disadvantages:
Receiving a transfer in hard foreign currency - US dollars;
High speed.
The presence of commissions for the transfer;
Not entirely smooth relations of the payment system with the Russian state;
Prepaid cards
Payoneer prepaid cards can be used almost anywhere in the world, and balances are easily converted to local currency. The only problem is that this income option is available exclusively to publishers with privileged status.
Ezoic premium review – is it worth it?
Among the minuses, one can single out only the need to have a high level in Ezoic. However, this is not a sufficient minus to lower the score on this basis, therefore prepaid cards as a means of earning income deserve the highest rating - five.
Pros:
High speed of translation;
Ease of conversion;
The ability to be used as legal tender.
only the need to have a high level in Ezoic
Conclusion
Publishers who have managed to attract a large number of users to their resources should definitely choose prepaid cards as a means of generating income. The rest of the Russian webmasters are better off using Pioneer.
However, publishers in Western countries, residents of the former Soviet republics, and even people in developing countries should pay attention to PayPal. The time-tested payment system, with a high speed of transfer in dollars, definitely deserves the closest attention to itself.
---
---