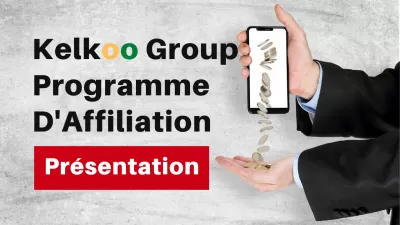 ---
---
Kelkoo was established in 1999 in France, and since that time, it has developed into a global online marketing platform that links thousands of consumers, retailers, and publishers. The Kelkoo Group‌ provides a sophisticated affiliate network that allows publishers to generate significant revenue by monetizing their viewership. The company creates traffic for thousands of merchants and manages over 275 million monthly deals in 39 different countries with great success.
An advertiser will use a link to a program to promote a product or service. It is made available to the Publisher so that they may utilize it on their website, bringing it to their audience's attention and creating revenue for themselves. The purpose of these links in e-commerce is to direct clients shopping online to a particular product page inside an online store. This cost, contained in the URL, is paid by the advertiser to the publisher in exchange for tracking the advertisement's effectiveness.
By displaying highly targeted advertisements on Kelkoo sites and across a network of premium publishers, Kelkoo helps thousands of shops in 19 countries obtain new customers and increase online sales. A network of high-quality publishers is used to deliver these highly targeted adverts to customers. Ads are only paid for when someone clicks on an ad and ends up on a product detail page in your shop, or, in other words, when someone visits your store.
Their affiliate dashboard allow to search for advertisers and shops by CPC, displayed in various categories: average desktop CPC, average mobile CPC, and average CPC per product category within the advertiser's product catalog.
Monetization of content
A means of making money off of material so that you can benefit from it while users consume it is referred to as content monetization. Users can pay you directly or do so through a third party who sells products using your content. Access is restricted solely to subscribers, and online courses‌ are currently the most common and successful ways to get paid directly by clients. Affiliate marketing, product placement, and pay-per-click advertisements are the most common forms of monetization through third parties that can be utilized.
Product placement for content monetization
In numerous ways, product placement is a relic of the past in marketing. Content is similar to film sponsorship in that you showcase a sponsor's products in your work in exchange for a flat fee. One of the benefits of product placement is that you get compensated on a per-project basis. When you upload a golf video to YouTube with hundreds or thousands of views‌, you've helped the sponsor gain reputation and revenue.
To begin monetizing and making money with your content‌, product placement is an easy way to get started. Keeping track of your finances is also simple because you're paid in one lump sum. Even if the placement is successful, you may not generate as much money as you would with an affiliate marketing plan, even if the placement is successful.
Once your content brand achieves a certain level of popularity, securing sponsors for your projects may be difficult. Cold-emailing potential sponsors and putting together a portfolio of brands are the norm for smaller organizations. Smaller businesses are frequently forced to cold-email potential sponsors and build up a portfolio of brands rather than rely on big-name influencers.
Interface Application
API stands for Application Programming Interface. It's a piece of software that allows two different programs to communicate. You utilize an API whether you use a Facebook app, send an instant message, or look up the weather on your phone.
What does an API look like?
Application opens an Internet connection and sends information to the web when a user runs it on a portable device. Afterward, the server will retrieve this data, perform any necessary analyses and processes, and eventually return the results to your phone. The application analyzes the data and presents the information in an easily readable format. An application programming interface looks like this; all of this can be done using an API.
APIs also offer security.
Both APIs use the Secure Sockets Layer (SSL) protocol, ensuring data confidentiality during the transfer process. Still, the two methods differ in several important respects. Consequently, the security of SOAP APIs, as opposed to REST APIs, depends on the particular format and semantics used.
What do we do with APIs?
Application Programming Interface is what API is abbreviated as. An application programming interface (API) is a piece of software that enables other pieces of software to communicate with one another. An application programming interface (API) is used whenever a user interacts with a mobile app such as Facebook, instant messaging, or checking the weather on their device.
What are API and its types?
The acronym API refers to the Application Programming Interface in its most general definition. An application programming interface (API) is software that enables two or more programs to share data easily. When developing a strategy for a business, API can be a beneficial tool. There are five distinct kinds of application programming interfaces:
Open API
Partner API
Internal API
High-Level API
Lower-Level API
CPC
What exactly is the CPC, and how does it operate? The CPC (cost per click) methodology is utilized in digital advertising. The CPC model requires advertisers to make a payment to publishers for each occurrence of their ad appearing in the inventory of the publisher.
Ways to make the CPC better
Improve your quality score
Use negative keywords efficiently
Test different average ad positions
Use geo-targeting
Use ad scheduling
Use different keywords to match types
Use device adjustments
Causes of high CPC
Your cost-per-click (CPC) is directly connected to the number of competitors you are bidding against and the amount they are willing to provide. This is because advertising costs are established through auctions. Because of this, an increase in platform competition is the most likely cause of a significantly increasing cost-per-click (CPC).
As a publisher, the higher the CPC, the more valuable will become the traffic you are sending to your CPC partners.
★★★★⋆
Kelkoo Affiliate program
 Thei Kelkoo affiliate dashboard allows to search for advertisers and shops by CPC, displayed in various categories: average desktop CPC, average mobile CPC, and average CPC per product category within the advertiser's product catalog.
Kelkoo Affiliate Marketplace Overview: Find High CPC Advertisers!
---
---
---
---