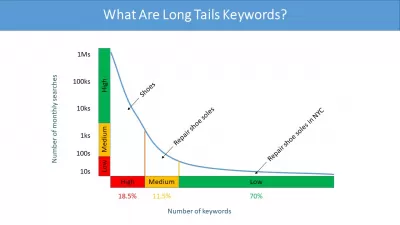 ---
---
Every site owner needs to know that many keywords seem to be popular (high-volume searches), but they are too competitive and don't bring in traffic and that the number of visitors means nothing without conversions (purchases or desired actions).
In order for the site to be successful, you need to attract a lot of visitors who will become your buyers. With the right strategy, you can achieve this. To do this, you need to use long tail keywords to target the search terms that will bring you the best traffic.
What are long tail keywords?
These are search queries, in the form of phrases, that are used to find very specific products or information. That is, regular key is short and general in nature, while long key is a more specific query that is much more likely to lead to a conversion (repair of women's shoes in London).
Long tail keyword phrases sometimes don't generate much traffic on their own. Their search volume is much lower than more general search terms, so the number of visitors these keywords can bring to your site is correspondingly lower.
Let's look at the diagram
Long tail queries are "unpopular" (low-frequency) and well-defined queries that are characterized by high conversion. These are indeed less popular keywords. Because they all fall into a very long tail on the search query graph.
We can see that a large percentage of all search demand creates a minimal percentage of the most popular keywords.
Accordingly, the remaining percentage belongs to almost all queries with a lower frequency of searches per month. In other words, long-tail queries, or low-frequency queries. You cannot determine the popularity of a keyword by the number of words in it. Short queries can be long tail and vice versa.
In other words, don't judge the popularity of a query by the number of words. And track the conversion!
Keywords increase traffic
A competitive business needs to promote a website for mid and low-frequency queries, so you need to use long tail keywords. If you optimize every page and place even one long tail keyword on your website, all those smaller search volumes end up generating significant traffic. Competitive keywords make up about a small part of all search traffic, while all long words account for the majority of all traffic.
These keywords also increase your relevancy for the main keywords that are more competitive. The more relevant you become to these keywords, the higher they rank, the higher your ranking and the more traffic.
Long Tail Keywords Boost Conversions
Certain search phrases show you exactly what you want. Optimizers call this user intent. When you know what users want, you can tailor your products, pages, and posts to show them what they need. So when search engines get to your website, they crawl it for different items. Including what you have interesting for your potential buyers.
Users who search for long keywords are already at the end of the buying cycle and have formed their buying need. Basically, they have finished their market research and are ready to buy what they need.
Since these website visitors are much closer to the end of the sales funnel, they are much easier to turn into buyers. You don't have to waste time figuring out their needs. They know what they want, they are ready to act, and you offer what they need.
With all of these traffic, conversion, and audience research benefits, using long keywords effectively is the perfect solution to increase traffic and sales.
Toolkit for long tail keywords
There are many reputable keyword tools out there, such as the Google Keyword Tool. These services help to get data by keywords.
Ubersuggest is also a keyword research tool. The downside of this tool is that it doesn't show search volume, so you need to do more research for each result.
Other Useful SEO Tools Book Keyword Tool and WordTracker. They are all available for free, although you may need to create an account or purchase an upgrade for full access.
You can also use your own data from your site's analytics search terms report, internal searches, and competitor information to find potential long-term conditions for optimization.
The need for long tail keywords
Like other keywords, long tail phrases should be used in as many places as possible on a page or post, but they should have a sense of convenience and naturalness. The best places to use them are in page titles, page or post content, internal links to other pages, posts on your site, and user-generated content such as testimonials.
Create unique, useful content regularly to attract search engines and potential customers.
Frequently Asked Questions
How to find long tail keywords for SEO?

There are many reputable keyword tools out there, such as the Google Keyword Tool. These services help to get data by keywords. Ubersuggest is also a keyword research tool.
---
About the author - YB Digital
Yoann is an International Business Consultant, facilitator and coordinator. He worked more than 10 years in global business, supply chain, financial, SAP ERP projects, Web and SEO optimization for various industries, such as logistics, cosmetics, consumer goods, beauty care, or fashion, in more than 30 countries around the globe. 
---
---