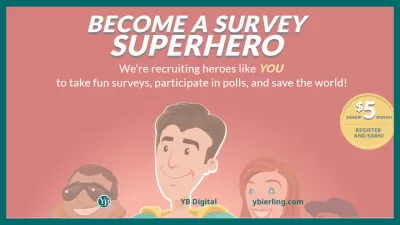 ---
---
How to take electronic surveys and make money from it.
After reading this material, you will answer the following questions:
How do survey sites work?
can you make money on surveys?
how much can you earn from surveys and what needs to be done to earn more?
what are the popular survey sites, etc.
How to make money on surveys?
In this article, we will talk about how you can make money by taking surveys on the Internet. Let's take a closer look at what this type of earnings is. After all, it has existed for many years and satisfies both parties: the organizing companies receive all the necessary information, and the performers receive payment for the submitted questionnaires.
One of the main advantages of this work is that even a beginner who does not have experience and special knowledge in this area can do it. And the lesson can become a very interesting pastime, because in the questions themselves, topical and demanded topics can be raised. In addition, the call: Take the survey and get money - can be a very real and profitable way of earning money, which does not require investments, specific skills and knowledge.
Not all paid surveys are trustworthy, and the availability of surveys and payouts varies from site to site. Get the most out of it by focusing only on the top paid surveys listed below.
Almost everyone knows that on the Internet you can get money for participating in questionnaires (online surveys). There are dozens of paid sites where you can get paid to take survey online, for example, while working from home. However, some of the sites are more profitable than others.
Choosing the right paid survey websites for you is key, as not every survey you see will probably work for you.That's why we've tried to pick the best sites for you.
Who pays for surveys?
There are special survey sites that famous companies can order certain sociological studies from. Then these resources send out invitations to participate in surveys. The main goal of such events is marketing and sociological research.
An example is the following. At one enterprise, a questionnaire was conducted in which questions were asked to the most ordinary people about the quality of the products sold. After receiving and processing the responses, it became clear to the management that they still need to be adjusted in order to fully satisfy the needs and tastes of consumers. Such feedback allows marketers to refine the necessary points in order to improve the product. After all, this is what will attract even more consumers in the future.
How is earnings carried out?
Initially, find your topic, then go to the thematic questionnaire and get acquainted with the conditions of work offered by the customer and in the same way find out the method of payment.
Go through the registration, not forgetting to enter your extensive data in the profile.
Receive an invitation to fill out a questionnaire. All of them will be marked in the inbox of the e-mail box, which you will indicate when authorizing on the resource.
To start taking surveys, you need to click on the link indicated in the message.
Only write answers thoughtfully and honestly, because companies check information and track the logic of thoughts.
An important detail is that you cannot reload the page until the survey has finished. If you do not adhere to this rule, then you can lose all unsaved data, so you have to start all over again.
After completing the survey, you should receive a reward in cash, which will be credited immediately to your account, or after a few hours.
In order to withdraw earnings, there are different options. We transfer to mobile, electronic wallets or card, etc.
Some electronic resources may give a couple of options: short and full. The first is used to select the target audience for the study. There you give answers about how old you are, what gender you are and where you live.
If you fit the main test request, you can be offered a complete questionnaire. However, the minimum reward is received for completing a short survey.
What is the amount of earnings?
Hardly anyone can give a 100% answer to such a question. After all, the final amount depends on many factors. One of which may be the same temperament of the person taking the survey.
There are different categories of people. Some, participating in surveys, set themselves the goal of earning a certain amount, and someone, having got down to business, after a while abandons their idea, never having implemented their plans. Therefore, for someone it is really possible to earn from a survey from 4000 to 6000 rubles a month, but for someone and 1000 rubles. will not be able to.
Another important factor is the time that needs to be carved out for such side jobs. But, if you have at least a minimal time resource and are eager to make money, do not hesitate, everything will work out.
Pros and cons of questionnaires.
Paid research has great benefits, including the following:
Working with a questionnaire, there is no need to invest financially. Therefore, we can say that it is quite safe.
Electronic resources are incredibly easy and accessible to use.
There is no boss and there is no longer any regime.
Some of the sites have mobile versions, so you can be unlimited in movement and go online from anywhere with access to the Internet.
Everyone gets a decent reward for completing the survey.
Be the first to learn about market and social innovations.
But, besides the pros, there are several of the following cons:
In order to make good money, you need to work hard.
You will often have to devote your leisure time to working at a computer.
If you start work, you need to bring it to the end, otherwise the rating will drop.
But, with proper self-organization and discipline, the pros will easily cover all the so-called cons.
The procedure for filling out the questionnaires.
In order to complete the Point Club surveys or any other survey sites, you need to have an understanding of simple and understandable rules that you need to know about before starting work. You can, of course, not pay attention to them, but then you are unlikely to be able to earn more than 500-1000 rubles per month.
Therefore, the following points should be observed:
When registering, be sure to fill out a profile in which we write about ourselves. If you do not, you are unlikely to receive an invitation to take a survey.
The questionnaires that come to you by mail are best filled out on a laptop or PC. It is more convenient and you will be less tired.
It is necessary to very carefully and carefully study each question before answering it, because they quite often come across so-called control ones.
As soon as the questionnaire appears in your mailbox, you must immediately start filling it out.
All your answers must be truthful, because you need to understand that this is research. It is important for marketers to get an honest opinion of the performer, because each of them can easily detect false information.
Verified and popular survey sites.
Below will be presented paid survey sites, which are considered the most demanded resources in order to start making money on the Internet. Among them, one could mention e-Rewards polls, but these will be Russian-language sites.
the site contains a variety of polls. Going through authorization, you immediately receive 10 rubles. After successfully filling out the questionnaires, they pay 40-60 rubles. You can withdraw money using PyaPal. Reliability is guaranteed by the fact that the questionnaire has existed since 2009 and is in great demand.
the main plus is that there is a lot of research here. To receive money, you need to register, a registered account and the greatest honesty when questioning.
the platform is ready to pay certain rewards for the expressed considerations, and also stores that are in partnerships deduct 10% cashback from the amount of each order.
leading site with good service. This questionnaire is used by Yandex, MTS and others. Quizzes with valuable prizes are periodically played among active users.
regularly arranged by marketers, surveys for which they award about 50 points. Once you get into the list of active participants, you will definitely receive invitations to the next questionnaires. Therefore, any participant increases the number of points, and as a result, converts them into rubles.
adolescents from Russia, Ukraine and Belarus, upon reaching the age of 14, can also participate in the polls. One survey takes from 10 to 25 minutes.
the most intuitive interface that will suit everyone. Any new participant already receives eighty rubles. for the completed profile. Money is withdrawn to WebMoney or phone.
receiving a stable salary as an additional income, only giving answers to various topics. For a month, an active participant can receive up to ten campaigns for taking surveys with decent pay.
here payment is not in money, but in bonuses, which you can use to pay for the selected product on one of the sites.
participation is available to persons over sixteen years of age. For one submitted study, they pay about a dollar. You can withdraw no more than ten dollars at a time.
international class questionnaire. A variety of companies take part in it, regardless of their location. They give the task of completing 10 to 15 surveys every month.
one of the most popular and recognizable services with a large audience. Polls are the same as the rest.
this platform was created by the Europeans for Russia. One application form is paid in the amount of 3 Euro. Additional fee 15 Euros for authorization on the site and filling out a profile. The minimum withdrawable amount is two Euros.
this resource has its own electronic application installed on a smartphone or iPhone. Money in points that are exchanged for discounts in partner stores.
the service has been operating for over 15 years and includes over five hundred participants. Earnings are transferred to WebMoney or to your phone.
the site is about ten years old, it can be considered reliable. The advantage is a very non-standard payment. Money is paid not for the number of responses received, but for their quality and statistics of views.
one questionnaire costs from 100 to 500 rubles. The site is sponsored by large investment companies. Unfortunately, it is only available to those who are familiar with the device of cars.
the most important advantage is the high pay, which is about 200 rubles. for the survey. But, this site is also available only to those who understand something about the device of computers, smartphones and televisions.
an ordinary, not distinguished, questionnaire with short tasks. Marketers use it to collect opinions about the products, goods and services of companies. Register and make money available to everyone. For one survey, the respondent receives up to 30 rubles, the minimum withdrawal amount is 250 rubles. Money is withdrawn using the Qiwi wallet.
a very promising platform for someone who wants to make money with an interesting design. The survey is ordered by different manufacturing companies. For one test, they earn about 130 rubles.
on average, a registered user receives from 15 to 50 rubles per survey. The minimum amount to be withdrawn is 500 rubles. The service is constantly being improved and developed.
The article gave a list of the most popular Russian-language services for making money on surveys and lists their main characteristics. But, there are much more questionnaire sites. Earning from surveys is a good additional income for students, housewives, retirees, as well as all those who seek to increase their income. Perhaps it will be useful to you, we wish you good luck!
Making Money From Online Surveys 2021
How to make money on surveys and not run into a scam
---
---