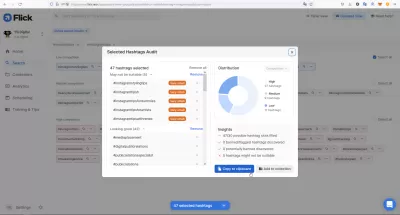 ---
---
Growing an Instagram account organically can seem like a daunting task. Using hashtags in an effective and efficient manner is the best way to get your content in front of relevant audiences. While the idea of a hashtag is pretty straightforward, there are a lot of tips and tricks business owners and influencers can use to get the most out of their Instagram account. Hashtags are a prime way that users search for content on Instagram. You can even follow specific hashtags that you are interested in. Here are some tips on how to optimize hashtags on Instagram.
Use Relevant Hashtags
There are so many hashtags to choose from for a post. Using relevant hashtags is one of the most important ways to optimize hashtags on Instagram. Start by researching what similar businesses use in their posts. Look at what related hashtags come up while searching and be sure to jot those down. Check the number of posts for each hashtag as well. Hashtags that have tens of millions of posts are probably not worth using, as the post will get lost rather quickly. If a hashtag does not have many posts in it, then users probably are not searching for that particular hashtag. A sweet spot is anywhere from 10K to 200K posts for a hashtag. It's important to research which hashtags might be shadow banned, so they are not used in any posts. Also, don't forget to use relevant hashtags in Instagram Stories.
Choose the Right Number of Hashtags
The number of hashtags that should be used in a post is up for debate. Instagram allows 30 hashtags per post. However, Instagram itself suggests only using 3 to 5 relevant hashtags. This can really limit growth, so most marketers recommend using around 10 to 15. You may find a different combination works best for you. Try combining different types of broad and niche hashtags in each post to get the most reach. This is also where using relevant hashtags becomes really important. If you are inserting spammy hashtags into your post, it will most likely get pushed out of people's feeds.
Utilize Different Types of Hashtags
There are different types of hashtags that can be used on a post. This includes location, branded, industry, community, and descriptive. These may not all be applicable to your specific business, but make sure to include a good mix of these different hashtags, especially location-based ones. For example, a food blogger might include a location, any branded hashtags of products used, food blogger community specific hashtags, and a description of what they made.
Where Do the Hashtags Go?
Instagram has stated that hashtags can go in the captions itself or in the first comment of the post. It is generally recommended that if auto-posting, keep the hashtags in the caption. Otherwise, you may miss out on prime engagement right after the post goes live. If manually posting, it is up to you if you want to put it in the caption or first comment. If putting the hashtags in the caption, make sure to put some space between the text and hashtags so that it is easier to read. Some users like to put three dots to separate the caption, or you can also use relevant emojis or space down a few times. This is a good one to test out on different posts and see if one option works better than the other for your account.
Vary Hashtag Use
Make sure you are not simply copying and pasting the same hashtags over and over for each post. This is a quick way to get flagged as spam by Instagram. Create a document with all relevant hashtags and switch up which ones are used.
Instagram Hashtag Tools can be a great resource for doing the research for you, which can free up a lot of time and help with organic growth. Tools like Flick provide not only hashtag help, but also scheduling, analytics, and resources for using Instagram effectively. Flick will recommend hashtags and show performance, so you are choosing the best ones for each post.
These are just some tips for how to optimize hashtags on Instagram. If you are feeling overwhelmed, using an Instagram Hashtag Tool can be a great resource for increasing reach and growing organically.
Frequently Asked Questions
How do optimized hashtags work on Instagram?

Hashtags are effective for getting your content in front of your audience and getting the most out of your Instagram account.
---
---