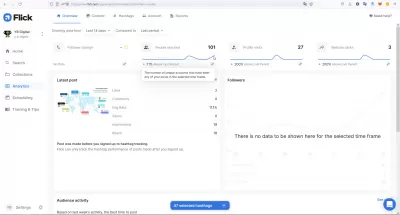 ---
---
Instagram channel, if grown appropriately, can prove to be a valuable digital asset. However, growing an Instagram channel involves a lot of different aspects like uploading the right content, engaging with your audience, using the right hashtags, and so on. Without the right tools, it is simply not possible to manage all of these.
This is where Flick comes into the picture. It claims that it can help you with all these aspects of Instagram growth.
Our Flick Instagram review today will let you know if the Flick is true to its claim or whether you should avoid this tool.
Flick is a tool that allows you to search for hashtags that are popular on Instagram and allows you to manage your content as well. It provides you with detailed analytics that will let you know whether the hashtags that you have selected are working for you or not. Other than that, it offers you a scheduling interface as well.
In a nutshell, Flick is a tool that helps you manage content on Instagram.
Now that you are aware of the basics of this tool, we will go into the features of this tool below.
Features of the Flick:
Once you go through the features of the Flick, it is easy to understand why this tool has become so popular.
Optimize hashtags
Flick helps you optimize your hashtags in multiple ways. First, it allows you to search for hashtags in its interface. Once you do so, it will let you know how many posts are for a hashtag, how many likes they receive, and so on. Accordingly, you can choose the hashtag which is not only relevant but also lucrative.
It offers you hashtag collections as well. These collections include a highly relevant hashtags that you can use for the same picture or videos.
Apart from that, it can also analyze how hashtags have performed for existing content. That will let you know which ones have performed pretty well recently.
Using these features, you can know which hashtags you should select for your content and how well they perform. There is no need to randomly choose the hashtags and hope the turnout is good enough. Simply use this tool, and you can pick the most accurate hashtags to amplify your content's reach.
Scheduling posts
Flick not only helps you with hashtags but also aids in scheduling your content on Instagram. The clean calendar interface ensures that you can drag and drop the content, which will automatically get scheduled. Of course, if you want to micromanage the time of posting and other details of the content, it is possible to do so.
The scheduler also lets you know the best time to post on Instagram according to the content you're posting.
In case you want to create a large content library, it allows you to store drops you can easily publish at a later date.
The simple interface ensures that even if you haven't used a scheduling tool before, you will be able to use this one is easy.
Check post analytics
Instagram by default, offers you very few metrics and data when you have a business account. However, when using Flick, you will not have to rely on these default statistics. It helps you measure 20+ key metrics across your entire content.
You will be able to measure the statistics in real-time and access advanced Instagram account analytics with various metrics. That is why it is easy to understand which content is performing better and how you can better optimize the content in the future.
Track website clicks
The ultimate goal of populating your Instagram account is to drive traffic to your website. Instagram allows you to add your website link to the bio. If you truly want to optimize your Instagram account, tracking the number of website clicks you get is necessary. That way, you will know which content is performing better with respect to the click-through rate in which one is an.
Flick allows you to track the number of clicks as well. It displays the same easy-to-understand format. That way, it is easy to determine which content leads to more clicks on your website. In the future, you can focus more on that content so that you can drive traffic to your website. This might seem like a small feature, but it can make a lot of difference when it comes to monetizing your Instagram audience.
View how many profile visits
The number of profile visits you get on Instagram will determine how popular your account is and directly impact the number of followers on the website clicks as well. That is why it is another important metric that you need to track.
Fortunately, Flick allows you to track that as well. It not only lets you know about the total number of profile visitors, but you can also filter them according to a particular timeframe. That way, when you're making certain changes to your content, you will know whether that particular contest has resulted in more profile visitors or less. Accordingly, you can optimize your Instagram content in the future.
Since the number of profile visits has a direct impact on the website visitors as well, you can better gauge how the current content as well as the changes you have to not performing for you. That is another way Flick can help you take your Instagram engagement to a new level.
Reach and impressions
Another advantage of using Flick is that it lets you know about your content's reach and the impressions they have received. You can view the same for individual pieces of content like images, videos, and even stories. That way, it becomes easier for you to once again understand which content is performing better. Once you get the perfect performance of your future updates, you can certainly increase the effectiveness of your account.
Once you optimize your content, you can monitor the region and impressions and consist of your Instagram once again. That certainly provides you an edge over the competition.
Simple interface
By now, you are familiar with most of the features of the Flick. This might make you think it is a complex tool offering various features. That is not entirely true. Flick's user interface is relatively simple. As a result, if you want to search for the hashtags to schedule the contest, there is a simple dashboard from which you can access all of these features.
Not only that but the individual features are also designed with a simple use user interface. For example, a schedule comes with an actual calendar where you can drag and drop the content you want to upload on Instagram.
Similarly, the hashtag search feature lists all relevant hashtags in a table format, making it easy to read the data.
Analytics have easy-to-understand graphs and pictorial form, which immediately lets you know the type of data being provided.
The Flick has worked really hard to provide a simple user interface, which is perhaps one of its best advantages.
Free training
Not everyone is familiar with the terms like profile visits, bio link, click-through rate, and so on. However, to truly optimize your Instagram content in your profile, you need to understand the meaning of all these terms. That is why Flick provides you with free training. This free training covers these terms and helps you understand how you can use Flick to grow your Instagram engagement and how you can benefit from it.
It means that even if you're new to the world of Instagram, you can use Flick and grow your channel seamlessly.
Mobile app available:
Most other tools that help you with Instagram growth have a web interface. The problem with the same is Instagram is catered toward the mobile audience. If you cannot upload or manage your content from your smartphone, it can slow down your growth.
The advantage of Flick is that it has an android or iOS app. You need not sit in front of the computer. That way, irrespective of your smartphone, you will be able to use Flick to schedule your Instagram content, choose the right hashtags, and monitor the metrics. That certainly helps you grow your Instagram account from anywhere as long as you have a smartphone and an Internet connection.
With features like that, the Flick is certainly one of the best tools to grow your Instagram account.
Summary:
Before you make up your mind about it, look at the pros and cons of Flick below.
Flick app pros and cons
Helps you monitor detailed metrics
Easy scheduling of content
Provides hashtag
Mobile app available
Offers detailed tutorials
A bit overwhelming at the start
★★★★★
Flick Instagram Analytics
 If you are truly serious about growing your account on Instagram, then Flick is a necessity rather than a luxury. It can help you with various aspects of Instagram growth, including hashtags.
Considering these factors, if you're in two minds regarding Flick, we would definitely recommend using this tool. We give it five stars out of five for its great functionality.
Frequently Asked Questions
Which app will help you manage your Instagram account?

Flick is a great tool that allows you to search for hashtags that are popular on Instagram and allows you to manage your content. This provides you with detailed analytics that lets you know if your personal community selections are working or not.
---
---