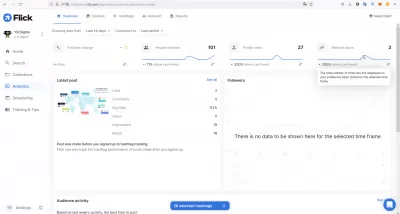 ---
---
Instagram is the second biggest social media app with over 900 million users. It's the fastest-growing marketing channel and public relations tool. But what if you have a website and you want to track your Instagram posts‌ website clicks?
Tracking your website clicks on Instagram is as easy as following some simple steps. You can get a lot of your content from the web and it will work just like a post.
We'll tell you the best way to do it and show you how to track website clicks on Instagram. If you're interested, read on!
What is website tracking?
Website tracking is the process of collecting data about how users interact with a website. This data can be used to improve the website design and user experience.
As a business owner, you want to track as much data as possible about your customers and their interactions with your brand. Luckily, Instagram provides a few different options for tracking website clicks from your posts.
Instagram Insights
If you have an Instagram Business account, you can use the built-in Insights tool to track website clicks. To do this, simply go to your Insights tab and scroll down to the Website Clicks section. Here, you'll see how many people have clicked on a link in your bio or in one of your posts.
You can also use Insights to see which of your posts are driving the most website clicks. To do this, just click on the Posts tab and then select Website Clicks from the drop-down menu. This will show you a list of your posts sorted by the number of website clicks they've generated.
Google Analytics
If you're using Google Analytics‌ to track your website traffic, you can also use it to track clicks from Instagram. To do this, go to Acquisition and then select Social, where you'll be able to see your Instagram referrals.
Third-party tools
There are also plenty of third-party tools available on the web that can be used to track website clicks on Instagram such as Flick‌. Not only can you track the website clicks but you are able to benefit from their other features such as scheduling, well-searched hashtags, and other resources that could help you grow your Instagram account.
Read our Flick tool review
Why track website clicks on Instagram?
If you're running a business on Instagram, it's important to track how many people are clicking on the link in your bio. There are a few reasons for this:
Knowing how many people are clicking through to your website can help you gauge the effectiveness of your Instagram marketing strategy. If you see a decrease in clicks, you can adjust your content accordingly.
Tracking clicks can also help you determine which type of content is performing best. If you see that a certain type of post gets more people to click through to your website, you can create more content like that in the future.
Finally, tracking clicks‌ gives you valuable insights into who your target audience is and what they're interested in. This information can be used to make sure that your future content is even more targeted and effective.
How often should you track website clicks on Instagram?
There's no magic number when it comes to tracking website clicks on Instagram, but as a general rule of thumb, we recommend doing it at least once a week. This way, you can keep an eye on your click-through rate and ensure that your Instagram traffic is still flowing smoothly.
Plus, if you notice any sudden dips in traffic, you can investigate and take corrective action as needed.
Conclusion
There you have it! By following this simple guide on how to track website clicks on Instagram‌ and knowing why you need to track them, you'll be able to come up with a better marketing plan to grow your business.
This information will be valuable in understanding which posts are performing well and driving traffic to your site. Keep experimenting with different methods and strategies to see what works best for you and your business. And most importantly, don't forget to have fun!
With proper planning and strategy using Instagram as a marketing tool, your business will thrive.
---
---
---
---