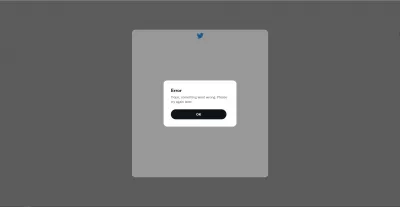 ---
---
The potency of Twitter keeps growing day by day. Thousands of new users get added to the already existing army. People use the platform to find new friends and stay in touch with folks living overseas.
Not just that, Twitter communications service lets you spread awareness and voice your concerns too. Even children use this new form of media for education and entertainment. However, the platform can present issues from time to time. People often receive messages when logging into their Twitter accounts. Common examples include something went wrong please try again Twitter or cant tweet something wrong. In such a scenario, you stay locked out of your account.
What to do if you see - something went wrong please try again Twitter?
Although Twitter is a robust platform, it faces technical glitches. You may also encounter issues due to problems on your end. When that happens, a quick solution becomes imperative. Perhaps, you want to pass on an important message to your followers. If so, you'd like to resolve the problem as early as possible. However, issues with Twitter login and posting messages need specific solutions. Here are handy tips on what to do when you can't log in to Twitter, tweet, or do anything on the platform.
First of all, try reloading the page using CTRL-R keyboard shortcur, or the reload button on your Web browser.
Secondly, if that didn't work, check Twitter status on their official website.
If that didn't work - explore below options:
Twitter won't log you in
If you face difficulty signing into your account, reset the password. Click the link that states - forgot your password. Here, you'll be asked to enter your cell phone number or email address. Enter any of these two in the form to verify that it's your account. Twitter, in turn, will send the - reset password - link to your email address entered. Follow the instructions mentioned in the email, reset the new password, and the problem should get resolved.
What if you still face difficulty logging into your account after changing your password? If so, try logging in from a different computer or browser. Make sure that the browser accepts cookies. If all goes well, you should get into your Twitter account and be ready to post messages.
Your account gets suspended
Twitter is just like a force and should be used only for good things. There are times when you may accidentally violate Twitter's terms of service or the platform feels that your account is compromised, maybe from using too many Twitter meta tags or for posting too may tweets, comments, or other actions in a short period of time. In such situations, the platform takes measures to lock the said account. What if you fall into this trap? If so, you've to confirm your identity first. Try to log in and follow the instructions by entering your mobile number to get the verification code through text.
After entering the details, the platform will confirm that you're the rightful owner of the said Twitter account. If you think that your account has been accidentally locked, reach out to Twitter support. If you see spammy messages or problematic tweets that you didn't write, your profile might have been hacked. Contact the platform and follow their instructions to secure your account.
The platform isn't loading
At times, Twitter may not load on your phone. If you encounter this issue, try turning it off and then on again. If you still face problems, log out of the platform and then add the account back. To do that, remove the Twitter account from the device's setting. Next, add the app to the device again. That should resolve the loading problem. Now, you can sign in and start tweeting as you like.
An internal error
What if the platform loads after entering the right username/password, but Twitter doesn't let you do anything? If that's the case, it may be an internal error on the platform's side. In such a case, you can't do anything. Just wait for a while. The platform might be facing an extensive technical problem. Issues such as overcapacity can also trigger an internal error. Such errors are usually addressed by Twitter within hours. So, you shouldn't face any issue logging in after a gap of a few hours.
Bottom line
Twitter is a wonderful medium to spread awareness, meet new people, promote your products, and voice your concerns. However, there are times when the platform won't let you in. When that happens, you should identify the problem to fortify the situation. Check the above option when you face issues such as twitter cant login or other problems. Within no time, you could restore your account and share your tweets effortlessly.
Frequently Asked Questions
What is the first thing to do with Twitter login issues?

First of all, try reloading the page using the keyboard shortcut CTRL-R or the reload button on your web browser. If this does not help, then move on to more serious measures.

How to fix login issues Twitter?

To get started, reload the page using the keyboard shortcut CTRL-R or the reload button in your web browser and check the Twitter status on their official website.
---
---
Explore Your Business Potential: Discover Our Range of Transformative Courses Today!
Unveil the power of knowledge with our diverse array of courses, from Operational Procurement in S/4HANA to SEO essentials. Elevate your expertise and drive success in your business ventures.
Get your course
---