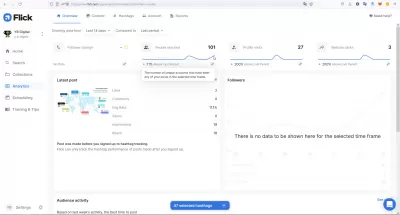 ---
---
Instagram is an excellent tool, and it's essential to plan Instgram posts. Whether a blogger or business owner, you need to know when to post to get the most relevant and engaged audience possible. In addition to this, having an official calendar on your phone and a task manager is also essential. This article will discuss some of the Best Platforms for Scheduling Instagram Posts.
Flick is a tool that allows you to schedule Instagram posts. It has a simple user interface, and it's straightforward to use. You can schedule multiple posts at once or use the tool to schedule single posts in advance. The flick also allows you to add more than one photo per post, which makes it easy to create Instagram posts that are more entertaining than just a single photo.
Pros and cons of Flick Tool
You can select the images you want to use for your social media posts.
You can easily share your images with friends and family.
The app allows you to save your pictures on the cloud to access them anytime.
You can create multiple profiles and use them with different accounts.
You will have to pay for the app and all upgrades separately, which can be pretty expensive in some cases.
The app is unavailable to download in Google Play Store or Apple App Store, so you must install it from third-party websites.
It does not support all Samsung devices, so you might experience issues while using it on your device, such as freezing or crashing.
2. Sendible
Sendible is a tool for scheduling Instagram posts. It's an all-in-one social media sharing platform that allows you to plan more.
Sendible is a tool that allows you to manage your Instagram accounts and schedule posts at once. You can create multiple accounts, which means you can post on behalf of different versions without switching between them.
You can set up post templates, including the hashtags and images you want to use. These templates are helpful if you want to repeat certain types of content or if you're trying to post consistently but aren't sure how often your followers will see it.
Pros and con of Sendible
It is easy to use.
It is simple to set up and get started with.
The customer support team is available 24/7, 365 days per year.
There are a variety of payment options available.
You can send outbound messages through the platform, connecting with your customers on different platforms and channels.
The Sendible app is not free to use.
No offline support.
You have to download the app whenever you want to send a file, which can be annoying if you're trying to send big files like videos and images.
There is no way to preview or share files before sending them.
3. Loomly
Loomly is a scheduling tool that helps users schedule their Instagram posts. The app allows users to create multiple Instagram posts and save them for later.
After creating an account, imagine what you would like your post to look like. You can either add a photo or video as well as a caption. The caption section also allows users to add hashtags and location information.
Once you're done with the post creation process, it will appear on the dashboard, where you can see all your saved posts and details about them. It also shows which post has been viewed the most recently, followed the least, liked the most, and shared the most.
Pros and cons of Loomly
Loomly is a great way to keep track of your tasks and projects. It allows you to create multiple projects, lists, and jobs. You can also add notes to each task and project.
The app has a built-in calendar that syncs with Google Calendar, so you can easily see what's coming up in the future.
You can share your tasks with friends, family members, and colleagues through social media websites like Facebook, Twitter, LinkedIn, and more.
Loomly has an integrated search feature that allows you to find any information you need immediately.
This app is free to download and use on iOS devices such as iPhones and iPads.
Loomly is an excellent tool for beginners who want to knit or crochet. It has many free patterns and tutorials that you can use. However, it also has paid patterns and tutorials.
The problem with this program is that the free designs are not always as good as the paid ones. For example, some freeways are straightforward, while others are more complicated. So if you have never knitted before, I recommend using the free patterns first until you get the hang of things.
Another con of Loomly is that it doesn't have videos for every single way available on its website! You must go through each pattern individually to find out which videos match each pattern. This can be very time-consuming if you don't have much experience with knitting or crocheting.
4. AgoraPulse
AgoraPulse is the best platform for scheduling Instagram posts because business and individual users can use it. AgoraPulse has a simple interface that makes it easy to find the right hashtags, keywords, or phrases for your brand's posts. The tool also includes some advanced features like the ability to schedule Instagram videos and livestreams, as well as the ability to export data into Excel or PDF files.
If you're looking for a tool to help you create high-quality content on Instagram, then AgoraPulse is an excellent choice. It's one of the most popular tools today and has thousands of users worldwide.
Pros and cons of AgoraPulse
It's free. AgoraPulse is entirely free to use. You don't have to pay a subscription or anything like that.
It's easy to set up and use. It takes a few minutes to get started using AgoraPulse, and then you're ready to go.
You get alerts when someone mentions you in a tweet or blog post, which helps you track how people are talking about your company without manually monitoring all the sites.
The free account is limited to only one post per day.
You can't use the analytics feature until you upgrade your plan. (There's an option to upgrade from within the app, but you'll need to know precisely what you need to do so.)
AgoraPulse isn't available on mobile devices.
5. PromoRepublic
PromoRepublic is a platform that helps you to create, manage and execute your Instagram marketing strategy. You can schedule your posts and collect your account information in the tool.
They offer a wide variety of features for their users to make it easy for them to find the right content for their audience. You can create an unlimited number of Instagram accounts or manage multiple accounts in one place.
You can create custom branded images with different sizes and formats, such as square or horizontal. You can also add text on top of them if you need to promote a product or service.
The tool has a built-in calendar where you can set up dates for your posts and then view the analytics for each. It has an easy-to-use interface where you can search for images based on keywords or hashtags.
Pros and cons of PromoRepublic
PromoRepublic is a powerful and flexible software that can create promotions on social media platforms such as Facebook, Twitter, Instagram, and more.
PromoRepublic has a very straightforward interface which makes it easy to use. It also provides clear instructions on how to set up your promotion.
PromoRepublic offers some of the most popular features in a single package, such as creating multiple versions of the same advertising, tracking results, and monitoring traffic from your advertisements.
You have to pay for their services
They don't do any customization on your product pages
They take a long time to get back to you
You are limited in what you can do with your eCommerce store
6. Brandwatch
Brandwatch is a social media monitoring tool that helps you identify your audience, track their online activities, and analyze the results. It's a great way to get an idea of what your fans are saying about you and what they're interested in.
Brandwatch gives you access to a ton of data on your Instagram account, including the most popular hashtags and the most liked posts. You can also see how many people have selected or commented on a stick and how many people have re-shared it. Brandwatch also offers insights into how your images are performing on Instagram by showing you how many likes they've received per day over the past seven days as well as how many people have viewed them - which is valuable information if you want to know whether your images are getting enough exposure or not.
Pros and cons of Brandwatch
Recognition and social proof by other users
Users can see the top brands on their platform, which gives them more confidence in the brand
The Brandwatch dashboard provides a quick insight into the most popular and trending brands on Facebook, Twitter, and Instagram, making it possible for businesses to gauge public opinion about their products or services
The Brandwatch dashboard is updated daily with thousands of data points collected from across the web, giving companies instant access to insights into what people are talking about at any given point in time
The biggest con of Brandwatch is that it can only give you a small snapshot of your brand. It can't tell you the overall health of your brand or how it's doing against competitors.
Brandwatch doesn't provide data about social engagement and conversations around your brand, so if you want to know what people say about your brand's products or services, this tool won't help you there.
It also doesn't help measure success in terms of sales or conversion rates. You can get insights into these metrics, but they will have to be manually added by a human who understands what they mean and how to use them correctly.
Wrapping Up
Instagram is a powerful photo-sharing platform and marketing resource. It has quickly become the premier social media site for brands looking to connect with customers, as many Instagram users follow brands they like. You can choose based on the number of pictures or videos you want to upload and manage per post, how customizable your layouts look, how fast your page loads, how much you pay, or the functionality you need.
Frequently Asked Questions
Which tools for scheduling Instagram posts to choose?

Flick is a tool that allows you to schedule posts on Instagram. It has a simple user interface and is easy to use. You can schedule multiple messages at the same time, or use the tool to schedule individual messages in advance.
---
---