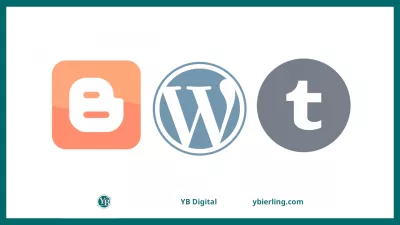 ---
---
Whether we want to share our ideas and interest or want to humanize our brand, blogging is a great option. Many successful bloggers are earning through it and have made blogging a full-fledge career.
But, before you enter into the world of blogging, you need to make one big decision regarding its platform. If we talk about the best choices, we can see Tumblr, Blogger, and WordPress as three ideal options.
However, each caters to a different audience and has unique features. Therefore, understanding each platform and deciding the best one is a key to success.
So, let us get into this detail:
1. WordPress
If we compare compare blog platforms, then today, one of the most popular content management systems for websites is Wordpress. In simple words, this is a constructor with which you can quickly create your site and edit its content.
This platform is also great for a professional blog, brand blog or news portal. On the official WordPress statistics page, you can see how the company itself positions its application.
WordPress is a content management system or CMS that is used to create websites of any kind.
When you see WordPress, you will get two options, wordpress.com and wordpress.org. You firstly need to understand these two options. So, here they are:
Wordpress.com
The first one is considered the simplest option as you just need to sign in and start blogging. The option is free to use with all basic features. However, if you want some customization, you can opt for a $13/year option.
Even in the free version, you can find tons of plugins and themes. Furthermore, there is also a premium package for $99/year. This premium package provides more features, email support, ad removal option, and much more.
Here, you need to understand that the basic version will not support third-party plugins and themes. So, if you want to use them, you need to go for a premium plan.
Wordpress.org
It is a self-hosted version where you require a hosting provider. Once, you have hosted the site, you are free to use it. Unlike wordpress.com, you can conveniently install tons of third-party plugins here. You will be amazed to know that there are above 50,000 plugins in a word press directory. So, you have endless options for customization.
Additionally, this is an open-source platform so you have full liberty on your codes. However, this freedom comes along with the additional responsibility of compliance. Yes, you need to check  the WordPress ‌  updates and be sure that all your work is as per the rules. Furthermore, open-source platforms are an easy target for cybercriminals. Therefore, you should maintain strict security measures to keep the data safe.
Apart from it, there is a free WordPress app mode that is compatible with iOS devices, Android, and Blackberry. Thus, users can manage, edit, and post even on the go.
WordPress is Best For:
Some users consider  the WordPress ‌  back-end difficult to use and do not suggest it to the newbie bloggers. However, there is a big WP community, and answers to queries are often found easily.
Since this platform enjoys a huge user base, whenever a question arises in mind, chances are that the query is already asked by someone else. So, finding solutions is easier.
  WordPress is an ideal site ‌  for those who are professionally starting from scratch and are not blogging as a hobby. Besides this, people who want to run their e-commerce sites, or those who love to use various plugins and widgets, can consider WordPress.
Notable sites around the world use WordPress CMS; Disney, Sony, and WSJ are some common examples. Software houses around the globe offer WordPress development services; a software company in Islamabad said that most of their clients opted for WordPress as it gives more design and layout options.
2. Tumblr
Just like Word Press, the basic  Tumblr plan is free ‌  for everyone. However, the platform is more related to Twitter. You can have a premium plan that ranges from $9 - $49 and allows you to use advanced features that are not present in the free plan.
Tumblr presents a minimalist approach and its user-friendliness is another reason for its fame.
Here you also get the freedom to schedule your posts. Besides this, the site is integrated with Google Analytics so it's easier to track your post reach, visitors, actions, etc.
Above all, Tumblr is gifted with a huge active community. Thus growingyour audience is not a problem on Tumblr. For a Tumblr success, you must understand its format. Tumblr is more towards imagery than content.
So, if you love to write detailed articles with no imagery, Tumblr is not for you. Furthermore, just like Blogger, Tumblr does not provide enough customization features. The absence of plugins and widgets creates hurdles for many.
Tumblr is Best for:
Tumblr is ideal for solopreneurs, hobbyists, and small-scale businesses that are visually compelling.
Big businesses will never consider it as their content platform due to limited features.
3. Blogger
Blogger has set the base of the blogging world. Among all the three sites, it is one of the oldest platforms. This site has been used both professionally and personally before the arrival of new blogging platforms.
Furthermore, the site is ideal for newbies due to its easy setup. You can easily set up an account, which is completely free. Every member of Google gets a blogspot.com domain. However, you can also select a custom domain and connect it to Blogger.
Additionally, Blogger provides you several themes, drag-and-drop options, and design features.
AdSense integration is one big reason why bloggers consider this platform. Since they do not need to invest anything and can earn something in the future, spending time on this site looks viable.
Apart from it, Google takes care of the updates and maintenance so that its bloggers can maintain focus on the content. However, the site is not free from limitations. Bloggers miss a static home page, which is not a feature of this site.
Similarly, there are restrictions in terms of customization. You need to do the CSS and HTML coding manually, which looks like a big hassle. Thus, the lack of versatility restricts bloggers to evolve their blogs into big projects.
Bogger is Best for:
Blogger is suitable for those who write for their passion. The site is suitable for newbie bloggers and once they gain experience, they wish to have more customization, which switches them towards professional sites like Word Press.
Final Thoughts
In short, every blogging site comes up with a different purpose. If you have a large-scale business, Word Press is a great option because of its customization facility, plugins, widgets, and themes. On the other hand, if your brand is related to visuals like food, photography, fashion, etc., Tumblr can be the right pick for you. Now, if you are just writing as a hobby, think no further and select Blogger.
---
---
---
---