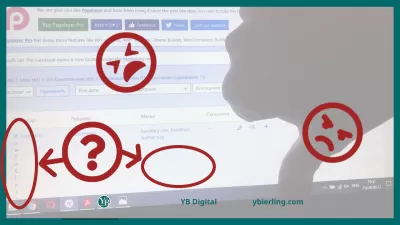 ---
---
WordPress (WP) is an effective CMS (website creation system), on the basis of which you can build a resource of almost any complexity. The platform is suitable for creating a news, entertainment, commercial or any other site.
Among the advantages of WP:
Open source code that allows you to refine the platform;
Modular structure that allows you to connect an additional plugin, expand functionality;
Easy to edit source code;
Easy to add pages.
The benefits can be enumerated further. Sometimes a webmaster faces a problem due to poor compatibility of the plugin used and the main platform.
The Column and Header Problem
Plugins like PolyLang can dramatically improve user experience. For example, PolyLang makes the site multilingual, thereby expanding the potential audience by many percent.
The problem is that the plugin distorts the CSS - the cascading style sheets of a particular site. In practice, this means that the classes that are used by the webmaster by default are replaced with newly created ones. In most cases, the webmaster has previously made changes in order to adapt the site design to their needs and ideas about beauty. Consequently, the new classes introduce distortions in the appearance of the resource, a correction is required.
It is noted that the problem of headers, lists and other similar elements is generally common among WP administrators due to the not always correct inheritance of properties of various classes.
Solution
The webmaster needs to go to the parameters or screen display section, where you can manually put a checkmark in front of those columns that are displayed in an incorrect way in order to prohibit their display. Now you need to create new columns with the settings that are suitable for the webmaster for the correct operation of the resource.
After completing the above steps, all that remains is to save the changes, update the site for verification. If suddenly the error persists, you need to clear the browser cache, refresh the page. The problem has been fixed.
Manual editing
If the webmaster has the necessary skills, you can fix the source code of the page yourself. To do this, it is enough to fix the problem with inheritance of properties of a certain class. Therefore, the webmaster needs to assign the desired class to all columns.
If the problem is not caused by improper inheritance of properties, it will take too long to understand the real causes. If you don't have time, or you don't want to figure it out, you can use the previous method.
Conclusion
Fixing the problem takes a few minutes with access to the admin panel.
Editing the source code can be an equally easy way to fix it, but the webmaster does not always have a sufficient level of competence.
---
---
---
---