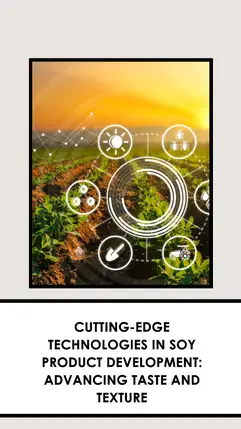 ---
---
As consumer tastes and preferences change, most will likely prefer diverse products regarding choices, size, taste, etc. Due to such changes and the desire to create the most diverse products of different tastes and textures, soy processing companies are adopting various technologies. Instead of ordinary taste and traditional processing practices, the new technologies promise to change product taste and textures to boost preference and uptake.
Due to their central role in global protein nutritional supply, companies are processing soy to produce the most diverse products to avoid overreliance on traditional products and technologies. New products, such as soy meat and vegetables, must be processed according to the meat and vegetable texture to boost preference and similarity. Here are some ways technologies are used to improve product taste and textures.
1. Cellular Meat-Based (CMB) Technologies
Cell-based meat production technologies are one of the most recent technologies that can be adopted in soy production. The technology can be used to provide some of the most innovative soy products, that tastes well.
CBM uses a 3D scaffold to support various cells during soy product processing to minimize meat's extracellular matrix. CBM is critical to boosting a move to organic and vegetarian meat, mainly produced from processed soy meat.
Further, the technology optimizes the use of optimized for 3D bovine satellite cells (BSC) is used for the differentiation process to improve the myogenic growth factors. These technologies will boost the product quality and richness of processed soy. As the concept of processed and laboratory-grown meat takes over the world, textured soy proteins are likely to be embraced fast enough.
Soy-based meat will likely be processed in laboratories using these technologies to boost product quality. The textured technology is ideal for the texture by mimicking meat properties and improving the taste greatly.
This technology is currently being sued to produce soy chunk meat, textured soy vegetables, and textured soy protein crumbles. These products are advocated for use in regions with deficiencies in animal proteins. The goal is to boost the uptake of textured soy to boost protein enrichment in countries such as Nigeria.
Processed textured soy products have been the key source of meat protein in Nigeria, and studies show that most citizens adopted the products as meat alternatives. The other benefits of these products are due to affordability and availability hence a perfect replacement for animal protein which is in limited supply in African countries.
Textured technologies are currently playing a significant role in advocating soy proteins as an ideal replacement for animal protein and an ideal source of protein. This aligns with the global strategies used by organizations such as the UN to advocate for nutritional value and protein uptake.
2. GABA generating Technologies
Traditional soy sauce processing involves two-stage fermentation, including salt-tolerant yeasts and brine fermentation. One of the challenges noted in this case is the time taken to process the products and the consistency in tastes over time. Companies are adopting various taste improvement technologies and strategies, such as genome shuffling, mutagenesis, and enzyme alterations, to improve fermentation and impact taste.
One of the benefits of modern taste improvements is reducing the salt concentration during the fermentation process, thereby improving the taste of soy sauce. Further, other companies are adopting GABA‐generating microorganisms to boost the fermentation process and improve the taste generated due to the streamlined process.
The use of GABA‐generating microorganisms has also been proven to boost the health benefits of soy products. For instance, studies show it is critical for helping those with diabetes, hypertension, cancer, and inflammation.
As an oxidant, it helps regulate blood pressure, acting as an immune stimulant, reducing anxiety, boosting sleep, and boosting muscle development. Due to the enrichment, these technologies can also be adopted for other soy products to boost consumer benefits.
3. Application of Nanotechnologies
Nanotechnology is taking over the world, especially in the pharmaceutical world, where it helps integrate various ingredients into medical products. Nanotechnology is applied at the food processing stages to add nutrients to boost quality and nutritional quantity. Nanotechnology boosts product nutritional value by adding additional nutrients to the products. It can be sued to boost nutritional benefits for products used by athletes and other nutritional needs.
Including nanotechnology in soy processing activities aims to boost product bioavailability, taste, texture, and consistency and modify the products in terms of particle sizes to make the products more suitable for consumers. Therefore, the technology can be used for coarse textured soy products. Another application is the addition of products aimed at increasing soy product shelf life and making product storage easier.
Nanotechnology alters the molecular size of products such as soy meat and proteins to manufacture fine gained soy meat and products. Further, these technologies can be used for seed development stages to ensure seed germination, yield, and quality enhancement.
During the seed development in laboratories, the team can add biotic and non-biotic products to the seeds. These products help the seeds to deal with the germination stress and other conditions likely to affect yields as the products germinate. Eventually, the harvested soy is likely to be rich in nutrients than other seeds, thereby boosting taste. In laboratory seed processing, scientists can also add certain ingredients using nanotechnology to ensure raw soy have a certain taste than ordinary products.
---
---
Explore Your Business Potential: Discover Our Range of Transformative Courses Today!
Unveil the power of knowledge with our diverse array of courses, from Operational Procurement in S/4HANA to SEO essentials. Elevate your expertise and drive success in your business ventures.
Get your course
---