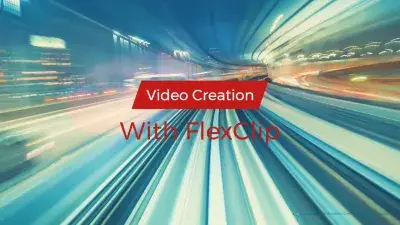 ---
---
Recording your screen content to create amazing videos to share on YouTube or include in your Microsoft PowerPoint presentations can be as simple as using an online service! On top of that, you can even edit your video recording, and the search for the ideal Screencast Software Windows 10 can be as easy as visiting a website.
But how is it possible to create amazing screencast recordings with close to no effort, and no software download?
One solution can be to use the simple FlexClip website that allows for all of that - and even more - and can easily become your favorite Screencast Software Windows 10 and is actually software free!
An easy to use solution and a great alternative to doing a Zoom video recording when you are not in a conference call, and a great way to create amazing videos for your podcast. Let's see how it works in a few steps.
Screencast Without Software Windows 10
To get a screencast to edit easily, all you have to do is to create a new project on FlexClip website and go to the media tab.
From there, choose to add media from a recording, and select the record screen option, to get the option to record either your entire screen, recording a specific application window, or even record a Chrome tab of your choice.
You can also choose to include audio, in which case it might be better to make sure that your microphone is properly recording audio, and doing a sound test first is advisable.
As soon as you have selected the portion of your screen to record, and clicked on share button, the recording will start, and can be stopped by coming back to the FlexClip tab and click on the big red stop recording button.
From there, the screencast preview will be displayed and can be replayed, to make sure that you want to include it in your project, or have the possibility to record it again or delete the recording.
Webcam recording without software on Windows 10
The same way, you can record your webcam by creating a new project, and selecting a media to add to your project, in which case a webcam recording can be added.
The webcam recording screen allows to take pictures while recording, and also to choose recording microphone - make sure that the right one has been selected.
Editing a video with local files
Once your screencast recordings are added in the project, you might want to add other pictures or videos that have been saved on your computer.
That is possible on FlexClip and after having added them, all you have to do to mix these elements together is to add them on the timeline.
By organizing them from the first to play in the video to the last one to play, you will prepare your final video export.
Stock video and photo
If you do not have enough content yourself, no worries! You can actually use stock video and photos that are included in FlexClip library and can be added in your project.
Just like any content that you would have recording from your desktop or added from your hard drive, you can mix and organize these content by added them to the project, and putting them where they should be on your project timeline.
As their collection is pretty huge, it will most likely be easier to find them by using a text search and finding a tag that corresponds to your project.
Adding text over video on FlexClip
After having done an export PowerPoint slides to get them all ready to mix with screencast video recordings and a large library of stock videos and photos, they have been added to the project and put in the right order.
By using the text tab, it become very easy to add an animated text that will appear over a video or a picture, and to control how it is displayed: speed, colors, and more.
Add watermark to video online
Another very interesting feature of FlexClip is the possibility to add watermark to video online without having to download any software, and export the video in high quality afterwards.
To add watermark to video online, simply open a FlexClip project and go to the watermark tab, where all necessary options are available to create the watermark you need:
add text watermark to video online,
add image watermark to video online.
For each type of watermark, it is possible to change its size, opacity, and position by choosing the corner in which it will be displayed. Pretty simple and easy to use!
Add music to video online
Another great option it to add music to video online from the interface of FlexClip. You can either use your own music, in which case you should make sure that you possess the rights to use it.
Or, if you do not have any music, you can again simply browser their collection of stock music to add in your video. The library is pretty huge, but it is conveniently organized by mood, genre, instrument, duration, and you can also search by text.
Again, the whole interface is pretty simple to use, and yet gives all necessary options to personalize the video with chosen music.
Export edited video online in HD or Full HD quality
Once the whole video is correctly organized - it can be checked at any time by clicking on the play button on the left of the elements timeline - simply click on the export button to create a downloadable file.
Six export formats are available for your needs:
480p MP4 video, SD Slow Definition format, 852*480 pixels in standard horizontal mode,
720p MP4 video, HD High Definition format, 1280*720 pixels in standard mode,
1080p MP4 video, Full HD format, 1920*1080 pixels in standard mode,
Proper size GIF animation, 240/10fps, for social media sharing,
Better quality GIF animation, 480p/15fps, for professional needs,
Custom GIF animation, with own resolution and frames per second.
With all these export formats, there will surely be one that will fit your needs, and can be used for professional creations such as TV advertisement, it doesn't stop to personal or podcast use.
After some video processing time that depends on chosen options, the download will start automatically, and the video will be ready to share on all medias.
FlexClip video creation pricing
That's all good, and the FlexClip Screencast Software Windows 10 without software is simple to use and amazing to create professional video montages online without experience, but how much does it cost?
There are actually four different pricing plans:
$0 per month for videos up to 1 minute in SD slow definition with 1 stock video,
$4.99 per month for videos up to 3 minutes in HD High definition with 1 stock video,
$7.99 per month for videos up to 10 minutes in Full HD with 5 stock videos,
$19.99 per month for videos up to 30 minutes in Full HD with unlimited stock videos.
You can even download the FlexClip Screencast Software Windows 10 for free and create videos from your desktop with a possibly faster experience than using a browser to edit your videos.
After having recorded your screencast, you can even include subtitles in your video using AI capabilities to auto detect voiceover that has been recorded.
Therefore, there is a solution for every need on  FlexClip,   and you can create free screencasts and amazing videos including stock video at no cost, or go as far as creating professional Full HD videos!
Recording A Video With FlexClip Online: Free Video Edit
---
About the author - Yoann Bierling
Yoann Bierling is a Web Publishing & Digital Consulting professional, making a global impact through expertise and innovation in technologies. Passionate about empowering individuals and organizations to thrive in the digital age, he is driven to deliver exceptional results and drive growth through educational content creation.
---
Explore Your Business Potential: Discover Our Range of Transformative Courses Today!
Unveil the power of knowledge with our diverse array of courses, from Operational Procurement in S/4HANA to SEO essentials. Elevate your expertise and drive success in your business ventures.
Get your course
---
---