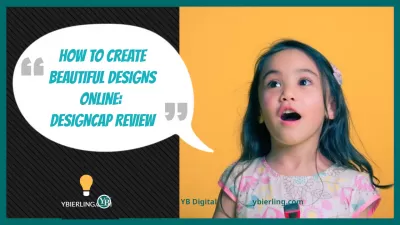 ---
---
DesignCap Review - This article is about graphic design and how you can speed up your creative process with simple tools.
A resource like DesignCap simplifies many of the graphic design processes. What does this resource offer for users?
DesignCap review suggests:
Templates and resources. The site gives you unique access to numerous templates and resources to develop your own creativity.
Saving time and money. Thanks to DesignCap, you can very quickly, and most importantly, absolutely free of charge, create unique designs that will immediately catch the eye of the target audience.
To work with DesignCap, absolutely no specialized skills are required, since the interface and all the actions offered for editing are intuitive, even for a simple user.
The powerful tools available in DesignCap allow the user to edit and customize the design however they want.
If you have used graphic editors such as Canva before, then working in Design Cap will not be difficult for you. Its library has a lot of the elements you need to work - lines, shapes, arrows, icons, callouts, modern and vintage design elements, abstract shapes and much more. You can customize the elements to suit your needs.
Create a thumbnail for YouTube
Anyone can create a beautiful YouTube thumbnail with the DesignCap service. Due to the fact that the service offers a huge number of free templates for this purpose, they can be selected for absolutely any channel with any topic.
The uniquely created thumbnail will help to some extent in promoting the channel on YouTube, as well as make it more visible and memorable.
What does the DesignCap review offer for creating a YouTube thumbnail?
First, there is a huge number of ready-made templates. With their help, you can get a huge amount of inspiration and create a unique miniature that will ideally fulfill the task of promoting and advertising a channel on YouTube.
Secondly, it is rich in resources. The quality of the design and content can be improved with a huge number of stock photos and short clips. It will also make a significant contribution to the development of the channel.
Thirdly, DesignCap offers a bunch of stylish fonts for lettering on miniatures. More than a hundred unique fonts are available for the user completely free of charge, which will help in creating a unique miniature and make it easily recognizable.
Fourth, these are powerful tools. The user doesn't have to read a ton of reference books and forums to figure out how to create a YouTube thumbnail in just a couple of clicks.
Add video thumbnails - YouTube Help - Google Support
Create beautiful infographics
You can also create beautiful infographics using DesignCap. By itself, infographics are needed in order to visualize information, especially if it needs to be presented beautifully. Moreover, with this resource, in order to do this, you do not need to have special design knowledge. To get a beautiful infographic, you need to use the provided free templates and all kinds of tools.
Beautiful infographics can even be included in the presentation, or can act as an information resource, for example, with the history of the company and important events in its life and in the lives of employees.
Why is it so convenient to create infographics with DesignCap? Everything is simple here.
Data visualization. You can talk about your ideas on a particular occasion using images and illustrations. This will help in attracting the target audience.
DesignCap offers its users a huge selection of professionally designed infographic templates. Thanks to this, users will never lose their inspiration.
Extensive elements placed in the library. A variety of icons, illustrations, and stock photos have been placed here. All of this is designed to help you design interesting and beautiful infographics.
It is easy to personalize the created infographics, you can add and correct images and illustrations, as well as informative text. All this is done at the discretion of the creator.
Why Use Infographics - 15 Powerful Reasons | Piktochart
Create a beautiful Instagram post
Creating a beautiful Instagram post is a whole art that even beginners can do thanks to DesignCap. In this social network, it is not so much textual content that is valued as visual content. That is why it is very important where this most interesting visual content can be created. So what does DesignCap offer to create a beautiful Instagram post?
Aesthetic templates. It is important to know that there are a huge number of them, and besides, everything is edited without any special difficulties.
A huge variety of elements. This includes icons on different topics, fonts and interesting shapes, which stimulates the creator of the post to creativity and flight of imagination.
Ease of use of the service. This is due to the fact that the editing menu is intuitively understandable even for a beginner in this business, and those who have been working with the service not for the first time will not face any problems at all to deal with editing and using the service.
Most importantly, DesignCap is a completely free service, you can use the full range of services and not worry about how much it might cost.
Make a great Instagram post with 19 tips and expert advice
Tariff plan
There are three pricing plans available for DesignCap users:
$ 0 per month. A limited number of templates are available with this tariff plan, and the image will be saved in the lowest possible resolution. You can save up to five designs.
4 dollars 99 cents a month. An unlimited number of templates are available with this tariff plan, as well as an unlimited number of stock images. The resulting image can be saved in high quality, and you can also save up to one hundred designs.
5 dollars 99 cents a month. An unlimited number of templates are available with this tariff plan, as well as an unlimited number of stock images. The resulting image can be saved in high quality, and you can also save up to thousands of designs. There are also thousands of uploaded images available.
Conclusion: how to create beautiful designs online for free
Thus, we can conclude that DesignCap is a fairly good resource for graphic creativity. It is tempting to have a free version - the user has the opportunity to try all the available functions, but with some restrictions.
How To Create Beautiful Designs Online For Free? DesignCap Review
---
---