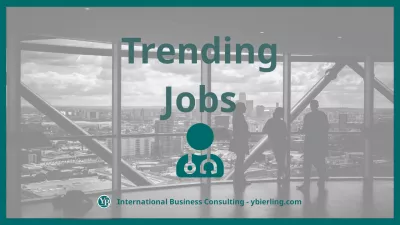 ---
---
Following the significant disruption the Covid-19 pandemic has caused, economies across the globe are trying to recuperate. Many of the people who lost their jobs during the initial lockdown have found new jobs in other high-demand industries. Things aren't back to normal yet but it's a step in the right direction. In the United States alone, there was a significant surge in the demand for workers in certain industries. This allowed thousands of people who lost their jobs to regain them even if it required reskilling. These are the most resilient jobs in the Covid-19 era:
1. Software Engineering
Software engineering is a field of computer science and technology that deals with the construction of software systems so large and complex that it requires the participation of well-coordinated teams of developers of various specialties and qualifications.
As you can see, this direction is justified to be in the list of jobs in demand after Сovid. Therefore, if you have a technical mindset, then we recommend that you pay attention to software engineering.
Do you know that employees in the United States posted 20,000 software development jobs on CareerBuilder between the 7 and the 13 of September? This doesn't take into account other sites that recruited software engineers during the lockdown. The surge in the demand for software engineers proves what everyone already knows. Learning a tech skill is a sure way to guarantee your survival in the future. Even if you don't become a tech billionaire, you can still make a significant amount of money from developing and maintaining software. In the United States, the average salary for software developers is $101,790. You can start learning software engineering from the comfort of your home on  Computersciencehero.com. ‌ 
2. Truck Driving
On CareerBuilder, the demand for truck drivers was even more than the demand for software engineers. More than 47,000 employers posted job openings for truck drivers from the 7 to the 13 of September alone. These truck drivers carry food, electronics, and medical supplies from place to place in the United States. So, you can understand why there has been an increase in the demand for experienced truck drivers. Not everyone who can drive can become a truck driver. You will need to apply for a Commercial Drivers Licence first after you've learned how to drive a truck. This license covers all heavy-duty vehicles in the United States. With the right qualification, you'll earn about $45,260 yearly as a truck driver.
3. Nursing
Even before there was anything like the Covid-19 pandemic, registered nurses were in  high demand in the United States. ‌  People migrating from other countries to the US tend to make themselves indispensable by becoming registered nurses. As the pandemic started, job opportunities for registered nurses surged. They have been trying to provide care for those infected with the coronavirus while helping patients with other health challenges at the same time. More than 33,000 job openings were posted on CareerBuilder by employers. You'll need to go to nursing school before you can become a registered nurse and you'll earn about $73,300 annually if you practice in the United States.
4. Personal Care Assistance
People who offer personal care aid attend to the daily needs of their clients. Their job description might include cleaning, cooking, dressing their clients, and anything else that is stipulated in the contract. In most cases, you'll have to be working with the elderly members of society but you might also work with young people. The good news is that you don't need a college degree or any fancy certification to become a personal care aid. Learning basic first aid might help boost your resume. You will not earn as much as registered nurses because personal care aides in the United States get an average of $25,280.
5. Digital Marketing
Digital marketing has been posing a threat to traditional marketing long before the Covid-19 pandemic. These marketers promote products and services over the Internet and through digital devices. Some popular forms of digital marketing are social media marketing, pay per click marketing, email marketing,  Search Engine Optimization ‌  marketing, and content marketing. As the virus spread and more people were forced to stay at home, they relied on the Internet for almost everything. Companies had to put their products out there and they needed marketers to do it. You'll earn an average of $58,000 in the United States.
Many companies are turning to multilingual recruitment‌ for their international digital marketing needs, to work with more affordable collaborators and expand their global business.
Conclusion
Most of the jobs that have remained resilient in the Covid-19 era will likely be in high-demand long after the virus has disappeared. If you're already in a similar field, you don't need to do much to dive into one of the above. Otherwise, learning a new skill might be a good idea for long-term benefits. Even if you don't want to leave your home, you can pick up many new skills from the right  bootcamp online. ‌ 
---
---
---
---