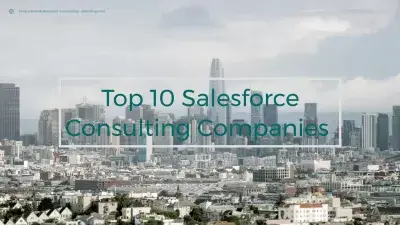 ---
---
Technology friendly businesses were the sole survivor of the rough and tough times induced by the pandemic. Even before that the market, be it of any product or services, had become acutely competitive as new players get added each day.
Today's digital era places customer's experience at the centre of the success chart for any company. Businesses try and test various strategies to create and deliver products or services which are equipped to increase customer's satisfaction. Salesforce makes it easy for any business to achieve this target.
Salesforce aims for a complete transformation of your working and reporting environment. These transformations have the latest technological innovations as the backbone. It works as a connecting link between all the departments and your customer.
You can customise these services depending upon your field of operations, employee base, target audience and other factors alike. To get to this goal, the strategic decision of who will be your salesforce partner is very crucial and a deciding factor.
Sales performance review
But before choosing the SalesForce consulting partner that will help you take your sales to the next level, make sure that your internal organization is properly organized, and will be able to manage the operational changes that are coming with processes streamlining.
The below list of SalesForce KPIs might be the ones you want to make sure sales team is accurately tracking – and that they are meeting at a regular and adequate rate to ensure optimal productivity.
To help you with your decision here's the list of the top 10 best Salesforce Consulting Companies:
1. Bluewolf
Founded in the year 2000, Bluewolf is an IBM Company that has hired the largest number of talented and certified salesforce personnel. It has a team size of about 1,200 experts.
The Company is based out of New York but has offices in Boston, Atlanta, San Fransico and London.
It caters to the needs of companies of all sizes and belonging to varied industries. It aims to provide simple yet robust services for its customers helping them fetch the maximum return on their investment in salesforce.
It also provides augmented intelligence-related services which stand out from the services of its competitors.
The Company has recently ventured into 12 different markets and has gained the trust of international and renowned clients like Linet, News Corp Australia and others alike.
Bluewolf
2. Hyperlink InfoSystem
Harnil Oza, a passionate entrepreneur, founded Hyperlink Infosystem in the year 2011.
It has been almost a decade since its inception and the journey has been extremely fruitful. It is one of the most famous service providers in the IT sectors.
The Company is based out of Ahmedabad, but it serves from its offices in the United States, United Kingdom and Australia.
Over the years it has managed to acquire clienteles from across the globe.
One of its most notable projects includes designing a mobile-based solution for a Hotel Group in HongKong.
The project got delivered before the deadline. In fact, the solutions designed by Hyperlink Infosystem helped the client monitor and drastically enhance the productivity of its hotel staff.
Hyperlink InfoSystem is considered one of the popular IT service providers. A professional company is tightly structured to offer more accessible results and solutions for use in various business areas facing challenges in the information technology sector.
Hyperlink InfoSystem in a very short time was able to become a top salesforce consulting company, grow into a mobile application development service provider with customers all over the world. The company provides software development solutions for applications, as well as website design and development.
Hyperlink Infosystem
3. VRP Consulting
Founded in the year 1998, the headquarters of VRP Consulting is situated in San Francisco.
It has a customer satisfaction rating of about 4.8 out of 5. Because of which it is recognised as a Platinum Consulting Partner.
Originally, the Company was started as an IT consulting but with the changing business environment it ventured into providing salesforce related services.
Since 2014, it has successfully delivered over 1,000 salesforce projects.
The Company has a team of about 500 individuals across 8 countries. These individuals possess expertise in delivering solutions for all types of cloud-based services.
VRP Consulting
4. Damco Solutions
Damco provides end – to – end services with an option of customisation to suit the needs and budgets of their client.
The Company has been in existence for over two decades, spread over major geographies providing solutions round-the-clock.
"Simplicity is the ultimate sophistication"- is the tagline and motto at Damco and it lives it to the teeth.
Damco
5. Dazeworks
Dazeworks, founded in the year 2015, has been able to create its remarkable presence in a short span.
Its headquarter is situated in San Francisco but it operates through its other offices located globally. The majority of its clients are small and mid-size companies.
With a team size of 70 employees, Dazeworks had created a benchmark while designing a solution to cater for a cab servicing company.
The clients saved a huge cost after availing the services and it had praised Dazeworks for its noteworthy services.
Dazeworks,
6. Cloudsquare
Cloudsquare has its offices in New York and Los Angeles from which it delivers world-class salesforce consulting services.
It aims to work in an environment that serves its client with the most satisfied business solutions.
Cloudsquare
7. Vertiba
Vertiba has its base in Boulder, Colo.
It was established in the year 2010. It majorly caters to client's software development and CRM & cloud consulting related needs.
Vertiba attained fame when it delivered desired results for government offices in Colorado.
The software installation aided these government offices to have a platform where they can communicate with over 3,000 officers at the same time.
The software had immensely boosted the productivity of its employees.
Vertiba
8. Avenga
Avenga has been in operation for more than a decade now and it has delivered over 100+ projects successfully.
It has a team of 120 salesforce experts and has 270 plus salesforce certificates in its name.
Avenga
9. Ledgeview Partners
Established in the year 2007, Ledgeview Partners provides all-around services related to CRM for its clients based out of the United States and Canada.
It was hired by a manufacturing giant to bring about a revolutionary change in the client's CRM system.
Ledgeview Partners got to task and designed a system that became an inseparable part of the client's manufacturing units.
Initially, the team was a bit apprehensive about the work assigned to Ledgeview Partners but the results left everyone content and spellbound.
Ledgeview Partners
10. CloudMasonry
CloudMasonry is a recent player in this field with over 3 years of experience. It has a small team size of about 10 employees working from Chicago.
The forte of the Company is providing rich CRM consulting services to its local as well as international clients.
CloudMasonry
11. ITechArt
As a Salesforce-certified partner, they harness the industry-leading CRM practices to entirely transform business strategy, connect all stakeholders, and empower people to generate more value. Their team consists of 80+ certified Consultants, Architects, Administrators, and Developers crafting customer-centered integrations and AppExchange solutions for companies of all sizes and industries — from fastest-growing technology startups to Fortune 500 enterprises.
ITechArt
The Takeaway
Given above are the top salesforce consulting companies operating globally. The customer reviews of these companies are top-notch.
However, based on your requirements, do your research before hiring any salesforce consulting company.
---
Explore Your Business Potential: Discover Our Range of Transformative Courses Today!
Unveil the power of knowledge with our diverse array of courses, from Operational Procurement in S/4HANA to SEO essentials. Elevate your expertise and drive success in your business ventures.
Get your course
---
---