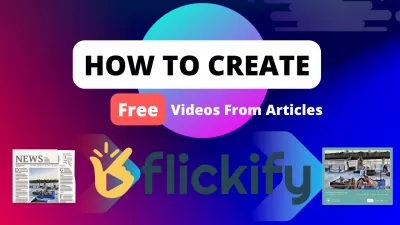 ---
---
The latest innovative technology from EZOIC is called FLICKIFY and will turn any of your blog article into an amazing video in a few minutes, and for free. Highly recommended!
What is EzoicFlickify?
EzoicFlickify is a visual drag and drop tool that allows the automatic selection of text from a blog article, in order to turn the text paragraphs into video slides, for which a voiceover is automatically added, music is played in the background, and image or video are displayed to illustrate the text.
The tool is free to use, and is the latest of the many free technologies offered to Ezoic web publishers, that are either monetizing or optimizing their websites with their technologies.
It has been released in October 2022, ahead of the Customer week, and is aimed at helping websites ranking higher on search engines, Web publishers getting more visits, earning more money with video and articles monetization, and also simply creating your own video hosting platform on your own website, with maximum ad revenue, and for free!
EZOIC Video player review: get your own video platform
There are several ways to create a video from an article, as you can either create the video from scratch and enter your article text yourself, or use the artifical intelligence to automatically select text paragraphs from your content, which is the preferred option to save time.
Importing an article text to transform it to a video
On the EZOIC FLICKIFY dashboard, paste the URL of your article into the corresponding form, and wait for the system to import your content.
Once done, the whole article text will be displayed on the left, and the paragraphs selected by the system will be displayed on the right.
You can add, remove, or update paragraphs there - each paragraph will ultimately be converted into a slide in the video.
Customize your video
On the right side, you will have access to media (imported from your articles or uploaded to the system, and stock images and videos) by default, or other options if you go to another screen.
In the center, the timeline from up to bottom will display slides created from your text, and you will be able to switch from one scene to another in case several scenes have been created in your video.
This is also where you will be able to visualize the slide, containing either the text paragraph, a picture or a video, on which the voiceover will be read by the system.
Finally, on the right side, the text paragraphs sequence is displayed.
If you want to change anything, simply select the slide to update and proceed with your action, or drag and drop a media from the left side to the target slide.
Selecting options: voiceover, background music, theme, and automatic media match
By clicking on the settings button, you will be taken to another menu in which you can change various settings, starting with voiceover.
A dropdown menu containing all available voices is the first setting to check, with voices from male or females and in various languages, with several voices for most languages.
By clicking on the small play button, a voice preview will be played, in order to decide which voice best translates your content into attractive storytelling for your viewers.
Right below voices, you will be able to add soundtracks to the video. It is recommended to use existing music, as they are free of rights.
Ideally, add at least one music per scene in your video, with a low volume to be played in background behind the robot voiceover.
You can also upload your own music tracks, but make sure that you are the right owner before proceeding.
You can also change the theme of the background illustration if you like, but the most amazing feature is yet to come.
With the automatch function, you can let the system automatically add stock pictures and videos on your slides, either on all your slides, or only the ones for which no media has been imported from your content.
Simple and fast, this amazing feature is already our favorite, and in a few seconds it turns the video into an attractive visual story.
After only a few seconds, the videos automatically selected will be added to your slides - you always have the opportunity to update them with your own selection of imported or stock media, by dragging and dropping them from the media library to the target slide.
Generating your video
Once you'll be done fine-tuning the article you transformed into a video, simply start rendering the video, before which you will be given the choice to preview the final video.
You will also be given the choice to be notified by email once the video generation operation has been completed, and to automatically publish the video on your own EZOIC video platform or not.
EZOIC HUMIX review: your videos will be published on monetized on EZOIC HUMIX
EzoicFlickify in summary
EzoicFlickify is a simple and easy way to turn articles into videos, or even to simply create videos that consists of slides with medias, with an amazing voiceover and a convenient tool to automatically assign media to content.
An amazing alternative to Lumen5 or other services, free for publishers, and going much deeper than competition!
★★★★★
Ezoic Flickify
 FLICKIFY, the latest free tool from EZOIC is an amazing way to create videos from text content, with an easy to use drag and drop visual interface to add visual and audio media to any video. The full free platform goes even further, with an automatic media matching feature to illustrate text slides, and the creation of your own video platform with no effort, along with maximum ads revenue sharing regardless of your audience size.
Frequently Asked Questions
How much does Ezoic Flickify cost?

This free tool from Ezoic allows you to automatically select text from a blog post to turn text paragraphs into video slides for which a voice-over is automatically added, music plays in the background, and an image or video is displayed to illustrate the

What are the benefits of EzoicFlickify?

EzoicFlickify is a free tool that can automatically select text from a blog post to turn text paragraphs into video slides for which a voice-over is automatically added, music plays in the background, and an image or video is displayed to illustrate the text.
---
About the author - YB Digital
Yoann is an International Business Consultant, facilitator and coordinator. He worked more than 10 years in global business, supply chain, financial, SAP ERP projects, Web and SEO optimization for various industries, such as logistics, cosmetics, consumer goods, beauty care, or fashion, in more than 30 countries around the globe. 
---
---