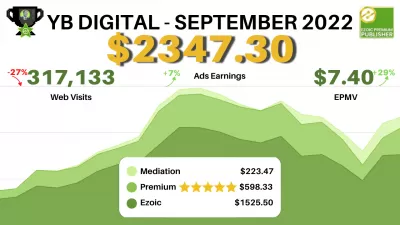 ---
---
After a slight increase in EPMV, web visits, and ad revenue in August compared to our lowest month this year, July, we saw a 7% earnings increase in September compared to August, thanks to a +29% EPMV increase, and despite a 27% decrease in Web visits. We can also thank our EZOIC 5 stars plan Premium upgrade, that nearly doubled our EZOIC Premium earnings last month.
In November next month, we expect higher earnings, the highest of the year due to Black Friday, but for now, let's have a detailed look at our earnings for the month of September, its evolution, and see why  Ezoic platform   is the best way to monetize a website.
YB Digital's network earnings with EZOIC in September 2022
The summer months, from June to August, are usually our lowest ones in terms of EPMV and global earnings from advertisment displayed on our websites, as most of our content is related to business and technology, topics that are mostly searched for in full business months, when our audience is in front of their computer at work.
Therefore, it is not a surprised to find out that our EPMV has grown in September, from $5.75 per thousand visits on our websites on average, to $7.40 per thousand visits, or a 29% increase that is due to advertisers valuating our business audience in these months.
This EPMV is also our highest global EPMV ever with EZOIC, up from $1 when we were using AdSense only to monetize our websites, to now more than seven times higher RPM than AdSense by monetizing with EZOIC, as we have already detailed in some older articles!
With about $150 more earnings last month in absolute value, this increase is not so high mostly due to a huge decrease in website visits, most likely due to latest Google core updates that happened in August, that focused on helpful content and leverages E-A-T scores, for which we have never been optimizing.
Therefore, in this month of October, we are planning on getting an EZOIC Premium website review with our dedicated Publisher Success Manager, and focus on improving this E-A-T score in the future.
In September, we have also performed two mass updates, one SEO update of around 400 articles updated, and one update of our French content on more than 50 articles, both thanks to the work of Freelancers from Ukraine that were working despite their local situation, and provided great results.
For the full month of September, according to the graph shown that has been extracted from EZOIC earnings reports, our revenue is divided as follows:
Not all our numbers went up, with 30% decrease from mediation advertising partners, 58% increase from EZOIC premium advertising partners, and the least spectacular one, a 1% earnings increase with EZOIC advertising partners, which is stil much appreciated, as we also got our lowest visits count for more than a year!
Thanks to these amazing numbers, we are again comfortable saying that the  Ezoic platform   is the best option to monetize content websites. Let's have a look at the revenue dynamics with extracted graphs to get a better understanding.
Revenue dynamics compared to previous months
Having a look at the earnings graph of our websites over the past year, we can clearly see the increase that went up until November 2021, and a decline starting from November, with the trend downards continuing until July, the lowest point of our past year for earnings.
A small pike appears in March, with coincides with the first quarter end, and the companies spending their budget for this occasion.
This hasn't happened in June this year for a specific reason, with the global events currently taking place, advertisers have been more careful in spendings their budget, and are probably holding back until the end of the year, probably the trend that we are currently seeing in the month of August, even exceeding our June earnings, and just a little behind May for us.
The upward trend that we can observe since August will most likely continue until November included, and be followed by a slight decrease in December.
Our EPMV evolution: from $5.75 to $7.4
Mostly reflecting the trend we saw in earnings, as they are largely driven by our EPMV increase despite a traffic decrease, our EPMV is up 29%, which can be attributed to advertisers unleashing the advertising budget they've been holding onto during previous months due to international news.
To make sure of that, let's have a look at the EZOIC ad revenue index.
Having a look at the ad revenue index
Looking at the EZOIC ad revenue index for the United States over the past year, we can see that the month of August ended at less than 50% of it's maximul level, during the BlackFriday in November last year, with an average 20 to 25% increase in the last month compared to the previous one.
If we step back and have a look at the global month of August on this index compared to the month of September, it seems like September globally had higher peaks and August had lowest lows.
Therefore, the increase in EPMV we noticed on our sites might also be linked to the niches that we are monetizing, and maybe not completely only to the global ad spendings.
Our achievements in September
In any case, we have been very active in September and did not take any vacation, but instead focused on creating new, useful and hopefully unique evergreen content for our websites.
SEO update of our articles
First of all, an SEO digital assistant hired for the occasion finished preparing an update for more than 600 articles that have been written externally.
Of these updates, three batches of 200+ updates have been delivered and are live on all our websites. The last batch have been delivered early in September, and if the results are satisfying, the assistant will keep working on our SEO updates for our most important articles, self written and the ones that are most technical but also earnings the most money - about 1000 articles on various topics.
However, it is still too early to ensure the return on investment of this SEO update, and it is still ongoing.
Update of our French articles
Explore Your Business Potential: Discover Our Range of Transformative Courses Today!
Unveil the power of knowledge with our diverse array of courses, from Operational Procurement in S/4HANA to SEO essentials. Elevate your expertise and drive success in your business ventures.
Get your course
In order to better focus on getting French Web publishers to join the  Ezoic platform   and make more money with their websites, we have translated all our EZOIC related articles into French, again using the services of an Ukrainian freelance worker that has already completed all these tasks.
As for an SEO update, however, it will also take tasks to how visible results, as the search engines might take time to pick up the changes and rank them accordingly in search results.
Let's have a look at the most important content we published on our network.
As we got upgraded back to 5 stars EZOIC Premium plan after been down during a few months to the 4 stars plan, we did write an article to explain the advantages of jumping on the opportunity to earn more money with hand picked selected advertisers for a lower extra cost than the extra income it brings.
This article has been completed by a YouTube video explaining the advantages of switching to the upper plan as soon as possible, or to adhere to the program when the opportunity arises.
As EZOIC just released the amazing FLICKIFY product that turns articles into videos using a visual editor, and with artificial intelligence to populate video content and read text voiceover, we did review this product that we had the change to access in beta test.
Simple to use and allowing for publishers to create videos with a few clicks, it is a great way for Web content creators to become video creators at a lower cost, and give a second life to their articles.
In order to deepen our partnership with uMobix, that creates apps to monitor phones from kids or spouses, we published a series of articles related to spying and hacking phones and social media accounts, in the purpose of monitoring your family.
This article itself, with a $9.5 RPM so far, is a good addition to our portfolio, and this evergreen topic will most likely bring in more visits in the next months, and possibly a few conversions through their uMobix recurring affiliate program.
After the release of the EZOIC HUMIX free tool for publishers, that allows any website owner to monetize his content with videos from other publishers that have imported their YouTube videos to the HUMIX content network for free, we wrote a series of articles explaining how to leverage this new technology, and earn money from a video network with more than 1.2 billion users, at no additional cost nor trouble for the web publisher.
All we have to do is to press a button, and our articles are directly monetizing with YouTube videos from other content creators, without more hassle! This article quickly dragged a small audience of 17 visits in a few days, with a $10.59 revenue per mille visits.
As we started investing a small amount into Quanloop, amount that we are ready to loose, as any investment present risks, and we do not know yet if Quanloop is legit or not, we did write an article explaining what we did.
This article get 46 visits in 10 days, with an RPM of $13.70, the highest one of our articles published in September so far, however without much data yet, as the article is recent.
As we started a partnership with STRIKINGLY, a tool to create landing pages or full websites visually and without any web knowledge, we published a series of articles and videos about the tool, from a simple product review to product comparison with their main competitors.
The article got a few views and a $10 RPM which is more than acceptable for a recent article.
Best performing articles published in August per RPM
Let's have a look with more than a full month overview of best performing articles per RPM that were published in August:
October plans
In October, we are planning on reviewing the new tools from Ezoic, such as FLICKIFY to turn articles into videos, and NICHEIQ that suggests topics for new website articles.
We will also create videos and write articles related to the suggested topics, and use these new tools to drag a new audience to our website, increase our positions in search engines, and propose more amazing content to our visitors.
On top of that, we are still working with various freelancers to update, translate and create more amazing content.
September conclusion
With ad rates going up, EPMV up, earnings up, and our upgrade to the EZOIC premium plan to the 5 stars plan, the month of September has been promising, and it was worth spending more time working and preparing our sites for the business restart in September, instead of taking long vacation that can easily be postoned to a time with lower prices, after the high season.
We will also keep most of our content creation efforts from new articles publishing to video creation and other media development, to either better illustrate current content, take our SEO up, and eventually drive future content creation towards end of the year.
Frequently Asked Questions
Is it safe to invest with Quanloop?

Yes, as it is a wholesale investment company, which allows its clients to invest in a range of asset classes. Investors can choose between low, medium and high risk plans depending on their level of risk tolerance.

What is the reason for the rise or fall of Ezoic EPMV?

The rise or fall of Ezoic EPMV, the results of which we have shown on our websites, may be related to the niches and destinations we monetize, and perhaps not only to global ad spend.
---
About the author - Yoann Bierling
Yoann Bierling is a Web Publishing & Digital Consulting professional, making a global impact through expertise and innovation in technologies. Passionate about empowering individuals and organizations to thrive in the digital age, he is driven to deliver exceptional results and drive growth through educational content creation.
---
---
Explore Your Business Potential: Discover Our Range of Transformative Courses Today!
Unveil the power of knowledge with our diverse array of courses, from Operational Procurement in S/4HANA to SEO essentials. Elevate your expertise and drive success in your business ventures.
Get your course
---