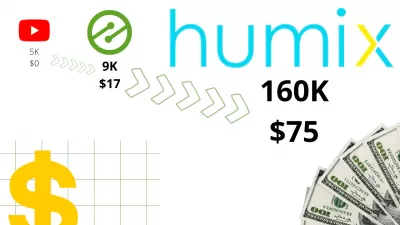 ---
---
Humix is a video content hub that enables video sharing across websites, allowing content creators complete monetization of video creations.
The video collaboration method used by Humix allows for more freedom when creating content, and offers creators the possibility to automatically share their videos on thousands other websites, and also to automatically integrate other creators videos on their websites, with full optimized monetization, without any entry requirement. The following Humix review provides an overview of the Youtube alternative platform and the benefits it can offer.
Humix is excellent at generating revenue through video collaboration, as this is its primary focus. Although making money is possible with several other content platforms, there can be instances when potential income is limited or stopped altogether.
In addition to maximizing the profits of video content, Humix allows creators to gain revenue using other methods. For example, if a video created is used by other brand or business on their website, the creator will receive payments for these views as well, as videos can be shared across Ezoic publishing network and monetization earnings are shared.
As well as more revenue potential using video collaboration, creators can also benefit from additional traffic due to the placement of the videos.
When writing the Humix review, it was apparent that the interface used has been designed with the best interests of creators in mind, something which can be in short supply nowadays.
There are two options available on Humix:
Grow - share videos: it will allow your videos to be shared on other web pages and make at least 3 times more money with your videos, simply by clicking on a button,
Auto Engage and Earn - display videos: it will display external videos on your own webpages that do not have videos, and will therefore let you earn at least the same from external videos as from your own videos.
Why Humix Complements Uploading Content to YouTube?
Humix complements uploading content to YouTube, allowing content creators access to new traffic. There are plenty of benefits when using YouTube, but being aware of the restrictions and rules means that content creators have more flexibility regarding where the video is hosted.
Humix can also be used as a backup or a second channel that offers different content from the main YouTube channel. Of course, some creators can fear there not being enough interaction on a platform they are unfamiliar with, but this isn't the case with Humix.
As well as benefiting from YouTube views, hosting videos via video collaboration platforms like Humix introduces the content to a network that accumulates as many as 1.2 billion users per month.
Can Humix Help with Customer Engagement?
Although there are plenty of options available regarding video hosting, not all of them will be the right fit for some content. The rules put in place by other video platforms means some creators do not obtain the credit or recognition they deserve.
While the content must be engaging, those who use Humix can enjoy complete expressive freedom when creating videos for the Humix platform,
Despite the popularity of YouTube, some of the recent changes mean that even viewers are starting to look elsewhere for their media consumption. While still being able to offer their support.
Not only does Humix allow creators to present videos in an engaging style, but it also provides insights into the views received so far. The information collected includes views from the Humix platform, as well as videos that have been embedded on other sites.
This ensures content creators can see which videos perform well and which may require editing. The information available ensures that content creators can produce content that will engage with the masses.
Can I Transfer Videos from YouTube to Humix?
Humix is an attractive platform mainly due to its ease of use. When uploading content to conventional video platforms, obstacles can be present.
Furthermore, those with a lot of video content may feel reuploading the content is too time-consuming.
Fortunately, those with YouTube channels can easily connect their accounts within the Humix dashboard and import media from all channels, allowing for a simple and fast transfer.
Should I Use Humix Instead of YouTube?
YouTube is a very successful platform, and many will find a lot of benefits in using it. However, there will be instances when another platform is a better fit for creators, and Humix can be more appealing for several reasons.
Many will know that there is some content that creators should avoid on social networks. However, some restrictions on YouTube mean that even those with entertaining content have to edit content to fit in with the rules of YouTube.
Humix understands that creativity comes in several forms, and while there are some rules to follow, those wanting to create content around their interest or niches can do so without hindrance.
Humix will also auto-generate a channel page, which in turn is indexed by Google. This allows content creators to use organic search engine optimization and advanced algorithms to ensure the right audience is met with relevant content.
Content creators who want to create videos for their website will also find Humix the perfect fit. In addition to obtaining revenue for views, those displaying content on their website do not have to be concerned about exceeding bandwidth, as the videos will be hosted on the Humix network.
It is difficult to reach the necessary YouTube monetization requirements that allows to run ads on them, and monetize the channel. On Humix, there is no such restrictions!
Any video content creator can monetize its video content, as long as it respects some basic rules, and the content create has a website on which he is using the Ezoic video player and other tools to optimize and monetize its website, regardless of audience size.
Humix video statistics
On top of monetizing your videos on your Website, getting your videos indexed directly by Google, and monetizing videos on a network of hundred thousands of other websites, you will be able to access detailed EPMV video earnings statistics in the Big Data Analytics.
How to get 30 times more video views than on YouTube?
By analyzing statistics, our channel which has 5000 monthly video views on YouTube, which aren't monetized, we now have more than 30 times more views of our videos, with 160,000 videos views on Humix and Ezoic network last week, simply by pushing one button.
In our case, we multiplied video earnings by 5 from Ezoic videos alone by fully using the Humix network: approximately two times more earning with the display of external videos on web pages, and an additional 3 times more earning with the sharing of our videos on other websites.
One more reason to recommend any video creator to upload and monetize videos on Humix for free, and also monetize them on his own website - if you're a YouTuber looking at ways to increase earnings, this is how!
Summary
Humix is a platform that gives creators an experience of owning their own online studio compared to other platforms. Whether used on its own or in conjunction with other video-sharing networks, Humix should be considered by all creators, especially those searching for easy content management and monetisation.
★★★★★
Ezoic Humix
 Humix is a platform that gives creators an experience of owning their own online studio compared to other platforms. Whether used on its own or in conjunction with other video-sharing networks, Humix should be considered by all creators, especially those searching for easy content management and monetisation.
Frequently Asked Questions
Is it really possible to youtube video earnings?

Humix is great for generating revenue with video collaborations as it is the main focus. While it is possible to make money with several other content platforms, there may be times when the earning potential is limited or stops altogether.

What is Humix?

It is essentially a video content hub that allows you to share videos between websites, allowing content creators to fully monetize the videos they create.
---
---