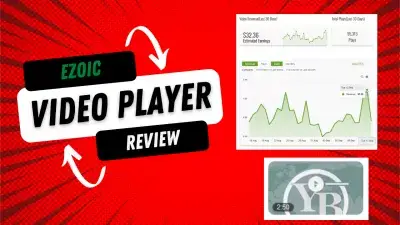 ---
---
This article tells about the functionality and benefits of Ezoic Video Player, as well as how using this platform you can make money on monetizing videos posted on your own website.
Ezoic Video Player Review
The Ezoic Video Player platform was created by the developers especially for those users who want to monetize their videos. Users receive income from the fact that other users watch the published videos.
Ezoic Video Player provides its users with the ability to upload their own video, as well as test it. The platform has successfully implemented artificial intelligence, which helps in promoting users' videos.
Artificial intelligence helps to embed videos on the pages where they will be really useful. It also helps optimize video views by finding out which users like, which don't, and which don't generate income. Ezoic Video Player gets traffic to videos as the system promotes videos and increases traffic to publishers' sites. Additional income can be generated from video monetization.
Publishing via Ezoic Video Player gives publishers the ability to upload their videos and host them on their website to earn money directly from advertisers creating competition for ad space.
Ezoic Video Player makes it easy to download and display videos on a user's website, indexing them as a result of a search.  artificial intelligence   of the system ensures maximum website engagement, search traffic and page views. This is very convenient in order to have a stable income.
To use Ezoic Video Player, you need to install an extension for the Google Chrome browser, then you can upload video content to any page and start earning income.
Video ads work on the basis of artificial intelligence, which knows when and where ads should appear, and which one will be suitable for each user individually.
Ezoic has been designed so that publishers can post videos on any page of their site with the corresponding videos uploaded to Ezoic. Publishers choose where, how and what type of video will be displayed on their pages. Ezoic is learning how to adapt to these preferences in order to increase website traffic, improve user experience, and increase video ad revenue.
Why you should upload videos on other websites than YouTube
Google has to show YouTube competitors in video searches, so it's easier to rank self-hosted videos than competing against other YouTube videos, and there are no penalties for posting the same videos on both YouTube and Ezoic - or also another video hosting services. But it still needs to be posted on YouTube in order to offer the video as next view and other suggestions.
Why is YouTube so bad now to host your videos?
Hosting your videos on YouTube only, would it be a podcast, informational videos, funny videos, or any kind of videos created with FlexClip or other video creation, is not necessarily good for your own business, as you won't make any money from your videos before you reach 10 000 subscribers and can get a share of the advertising revenue YouTube is making on your behalf.
On top of that, you will be subject to YouTube arbitrary rules – for example, they'll consider your videos as spam if you put external links to your own website in comment. And generating traffic for your own website with your own creations was probably the reason why you uploaded your videos on YouTube in the first place!
Using the Ezoic video player, you will be able to increase your video RPM or revenue per thousand video views, even if you have no subscribers – and access detailed video earning statistics to understand better how videos are generating income.
Is youtube a reliable source of income?
The answer to the question is YouTube a reliable source of income? Is simply a big NO. As explained above, you won't get any income before you reach a huge number of followers, more than 10 000, which mean already having reached a huge investment in terms of time to create and upload content, and even then, you will only get at best 50% share of the advertising displayed on your videos.
And also, YouTube might simply delete your channel without any warning at any moment, making you lose everything you've been working for so far.
Therefore, it is far better to host your videos on your own website, to monetize even with a lower viewership (starting with no audience at all!), to get at least 90% of the revenue generated by advertising, and to get more views by ranking higher on search engines for video results, as your website videos will be in direct competition with the whole content on YouTube, getting you higher chance of being viewed and a better monetiation with the free Ezoic video hosting for example.
Ezoic Video Player is the best YouTube alternative
An average user watches up to six hours of video a day on a variety of services. The most popular among them is YouTube. However, every year it becomes more difficult to achieve monetization of the channel due to changes in policy rules. Therefore, Ezoic Video Player is the best analogue of this service.
Ezoic Video Player is built on the basis of  artificial intelligence   and helps to achieve video monetization in a short time. The most important difference and at the same time advantage over YouTube is that the user can promote their videos and monetize them by posting video content on their own website.
In order to monetize a video on YouTube hosting, you need to fulfill two basic requirements: a thousand subscribers on the channel, four thousand hours of views of your own videos. It is very difficult to achieve such indicators on your own, however, with Ezoic Video Player you do not need to meet these conditions, you can immediately profit from monetization.
Ezoic vs YouTube: there are no requirements to monetize videos with Ezoic, against 1000+ subscribers with YouTube
The easiest way to ensure video views without YouTube, and even without Ezoic, is to make sure your videos have relevant metadata associated with them, because the algorithm takes that into account when ranking.
The video must contain:
How Ezoic Video Player works and how to become a partner of the platform
Currently, Ezoic Video Player is the best alternative to YouTube, since there are no specific requirements for videos, you can start earning income right away, just by registering on the platform. Any site can join the platform without any restrictions.
If your website has such requirements, then you need to start working with Ezoic as soon as possible. All the time that you do not start working with this platform, you lose potential profit.
For example, for a thousand views of the video, in fact, a regular slideshow with pictures of fashion, brought in income to the owner who posted the video $ 1.74. For this category of video, this is a normal price, but there are niches in which videos generate more revenue than other categories. Videos about business and finance generate the most revenue from monetization.
For Ezoic Video Player, absolutely any type of video is suitable - a slideshow with pictures to music, a video with yourself - for example, a story about an event from your life, absolutely everything that can be called a video clip.
How to start using Ezoic Video Player and get approved to start monetizing
Since Ezoic is an official certified Google partner, you need to get approval from AdSense before starting work. Without this, it is not possible to start working with Ezoic.
As simple as getting started, your blog or website does not need to meet any pageviews requirement. If everything is in order with your website, then you can safely proceed to a simple registration on the platform.
Benefits of Using Ezoic Video Player
By definition, Video Player is a computer program designed to play multimedia content files.
Ezoic is a service for increasing advertising revenue. On the site, you can make a so-called experimental search, which means combining impressions from several advertising products on the site, determining the most effective options in terms of user activity and creating an associative base, which greatly increases site traffic. To implement the above, you are always ready to help Ezoic support - qualified and understanding specialists.
Among all the possible platforms for video monetization, Ezoik ranks first because of the ability to immediately make money just by creating basic videos and posting them on your website.
The platform partner's website will receive inbound links to the partner's blog posts or article, because the video is not found anywhere else, but is being rated by Google at the same time. This is one of the first benefits.
Secondly, video ads are automatically played before the video starts, which brings additional income to the user.
★★★★★
Ezoic Video Player Review
 Ezoic Video Player makes it easy to download and display videos on a user's website, indexing them as a result of a search. Artificial intelligence of the system ensures maximum website engagement, search traffic and page views. This is very convenient in order to have a stable income.
Frequently Asked Questions
Is it difficult to use the Ezoic platform to monetize video content?

To monetize your videos, you can use Ezoic Video Player. To do this, you need to install an extension for the Google Chrome browser, after which you can upload video content to any page and start earning.
Benefits of Using Ezoic Video Player
---
---