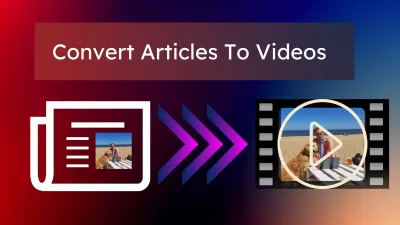 ---
---
Turning your article into a video is a great way to engage your audience longer, by either embedding the video into your article, and also to reach a larger audience from your content, from both the text and the video.
But is there a way to simply convert an article into a video for free online? The answer is yes, with the brand new Ezoic Article to video creator!
In this article, we will see how to do it for free in a few simple steps and get videos available on the Ezoic video network.
If you haven't done so yet, start by creating a free Ezoic account by submitting your website on their portal.
They are a platform dedicated to help publishers succeed in their content creation journey, first of all by monetizing their content correctly, with a much lower commission than other platforms (for example, YouTube keeps between 45% to 100% of all revenue generated by video channels), and by optimizing the earnings using the advertisement auction marketplaces to increase revenue. You can read our full Ezoic review to get more insight about them.
Beyond that, they also prodive a lot of free tools to optimize content, get it to rank higher on search engines, and get more traffic. Their recent tool to convert an article to a video for free online is the latest example of their technologies.
Convert article to video for free online
Step 1: enter the URL of the article to convert into a video
All you have to do is to logon your dashboard, and access the video tab on the upper half of the dashboard.
Then, scroll down to the Article To Video Creator section of the page, and click on get access now.
A popup will request you to read and agree to the terms of services.
Once accepted, click on the new video button, and enter your article URL in the corresponding popup - then proceed with the article to video creation.
Step 2: Customize your article video
The AI will have automatically imported your article text and illustrations, and will have created slides for you.
Some slides will show a paragraph of text, and some slides will show the corresponding illustration, according to the article text path.
You can reorder them, add more, remove some, and select stock images or videos to add into the video timeline.
Step 3: Add automatically generated reading and music
Before generating your video, make sure to visit the video settings to select the narrator's voice you'd like to use.
You can preview each individual voice by listening to it reading a short text, and voices are available from males and females for 20 languages and several local variations.
Also, add a soundtrack to your video, by selecting one music per scene that will be generated. The music will be engaging and quiet, playing in background of the reading voiceover.
You can also upload your own soundtracks if you got any, but make sure that you own the music rights.
Step 4: Preview, generate, publish your article to video
Click on the preview button on the top right corner, and when the video preview will be ready, you will be able to play it to preview it.
If everything is fine, click on the Render my video button, and choose if you want to be notified by email once the video rendering will be over, and if video should be published automatically when rendered.
The video rendering will be processed in the background. You can convert other articles to video meanwhile, and will be notified once the video will be fully processed.
Once the video processing will be over, it will be automatically published on your website, ranked on Google video results, and also included on the Humix network if it has already been activated.
★★★★★
Ezoic Ezoic Article to Video (Flickify)
 Ezoic Flickify is the best way to convert an article to video effortlessly and for free, using a visual drag and drop editor, with large selection of voices for voiceover, and access to a huge library of videos and images to illustrate the final video, on top of offering an easy way to monetize them.
Frequently Asked Questions
How can I improve the monetization of my content with Ezoic video?

With Ezoic's Flickify tool, you can turn your articles into videos. This way you will engage your audience by embedding videos in your article and you can reach a wider audience with your content.

What are the advantages of convert article into video?

Converting articles to videos with Ezoic tools will help you optimize your content, increase its search engine rankings and increase traffic. Their recent free online article to video conversion tool is the latest example of their technology.
---
About the author - YB Digital
Yoann is an International Business Consultant, facilitator and coordinator. He worked more than 10 years in global business, supply chain, financial, SAP ERP projects, Web and SEO optimization for various industries, such as logistics, cosmetics, consumer goods, beauty care, or fashion, in more than 30 countries around the globe. 
---
---