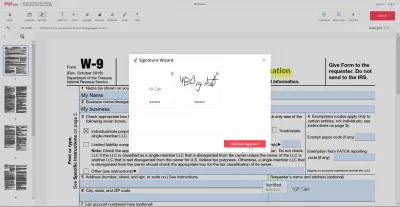 ---
---
There may be times when you need to use PDF forms in your daily life. They can be tricky to utilize and you might have trouble with them. That is why you need something that will make it a lot easier for you to get your PDF forms edited and signed online for free.
How To Edit And Sign PDF Online For Free
Finding a way to edit and sign PDF forms online for free may have been difficult for you to find until now. You can do so easily when you use the PDFLiner tool. Since this is something that many people are using at this time, it will be a time saver for you. Not to mention that you will not be as frustrated as you might be trying to use some other way to edit and sign your PDF forms.
What is the PDFLiner tool? By pushing on the link above, you will be taken to the website where you can upload your PDF forms to edit and sign them for free. the PDFLiner tool is an online platform that makes it very easy for you to do so.
PDFLiner 10% off coupon: ybdigital10
Steps To Use The PDFLiner Tool
Upload your document on the site. Then, you want to put in the document URL. You can do several things with the PDFLiner tool so decide what it is you want to do and start to edit and sign your PDF documents as soon as possible. It is the very best and easiest way to do so. The people that have been using the PDFLiner tool rave about it. They find it to make their lives a lot simpler when they need to use PDF documents. It has received numerous accolades and people review it well.
Try It For 5 Days Free
You can use the PDFLiner tool for 5 days free. After that, you can choose from 3 different plans starting at $9 per month for one user. Up to three users will cost $19 a month and for 5 users, it will be $29. Make sure that you take a look into it as soon as possible so that you will be able to solve all of your PDF problems easily and efficiently. You will be able to access all kinds of PDF documents so that you can edit, sign, and share them when you need to. Right now, it supports PDF, JPG, and PNG formats. This makes it a very versatile tool to use.
Customer Service That Cares
You will find that you will have the customer service that you need. If you have any questions, they will be answered by experts in the field. You can also get needed advice from them when you need it. Since you will also be able to tell them about any problems or issues that you might be having with the PDFLiner tool, they will be able to handle them in no time at all. They also welcome your feedback so that they can be sure to accommodate their customers in the best way possible.
Cancel At Any Time
You can cancel your membership with PDFLiner at any time that you want to during your 5 days free trial. Most likely, you are going to want to continue using it because it will help you in so many ways. Be sure that you take advantage of the 5 free days to utilize it for all kinds of PDF documents.
Going further: Draw your digital signature
Editing your PDF with your own mouse drawn digital signature can be useful to sign contracts and update PDF forms.
You can draw signature online for free on another website, and then include your signature in your PDF or any other document in which you can add a drawn digital signature.
Conclusion
Now, you can edit, sign, and share your PDF documents online easily. You want to definitely look at %%the PDFLiner tool%% so that you can access your PDF in the way that you need to. It will save you time and money when you use it to assist you with all types of documents that need your attention. Remember, the first 5 days of using the PDFLiner are free and then you can choose the plan that you want to go with. Make sure that you try it out now so that you can see how beneficial it will be for you to use on a regular basis. It will surely come in handy for you whenever you need to access your PDF documents online.
★★★★⋆
PDFLiner PDF Editor
 Simple tool to edit and sign a PDF file or any picture, with various possibilities to edit files beyond simple signature. The free version is enough for most use, and for a small fee the possibilities are extended to sharing and more.
Frequently Asked Questions
Why is the Pdfliner Tool platform good?

PDFLINER is an online platform that allows you to easily edit and sign pdf online free.
---
---