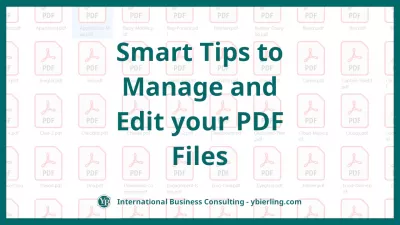 ---
---
If you want to manage pdf files and do not know how to do so, then you have landed in the right place. In this traction, we are going to tell you all about the best tools and moves that you need to use and follow for pdf management and manipulation.
PDF format has become the common standard these days; thus, you must know about the best ways in which you can treat this format. PDF files have many pros, but they also come with some cons which you can only manage if you use some reliable utilities in a very smart way. The smartest move is to select reliable and workable tools out of hundreds of free pdf tools found on the web!
Adobe acrobat reader
Adobe is the very platform that invented the PDF format; thus, you can manage your pdf files in a very simple way with it. One can often face trouble in reading pdf files in better quality, and so you can use the adobe reader tool for this purpose. The adobe reader can easily be installed on your device for free.
This is very easy to use tool with a lot of exciting features. You can enjoy the features which would help you highlight text on the file and also in adding sticky notes. The viewing experience can get a lot better if you use this reader tool. This tool is a considerably basic one, so you don't need any skills or experience to run it down.
Word to PDF converter by SearchEngineReports
Online word to pdf converters is important when you need to convert word files to pdf in your business needs. The  word to PDF converter ‌  by Searchenginereports.net is an incredibly famous online tool and not because it is free, but because of its quality and unlimited services. The most common type of file conversion today is the word to pdf conversion or vice versa. This free word to pdf converter made to provide stability and security to the file and conversions are often made from word to pdf to edit content in files. This online tool is amazingly easy to use and is workable on almost every device to convert word to pdf.
You have to open this word to pdf tool on your browser and insert the word files in the interface. After insertion, you have to click on the option that says, 'Convert to pdf'. The converter will complete its magic to convert word document to pdf in three to four seconds!
PDF to Word converter by Duplichecker
The pdf to word conversion as we have mentioned earlier is also quite common these days. If you want some smart moves to convert pdf files to word, then you need to hook up with duplichecker. One should know that the pdf to word converter by duplichecker is a simple and free tool. You don't need any skills to run this utility.
You need to open it on your device and use the inserting options to upload pdf files from your local or cloud storage. After insertion, you have to click on the 'convert to word' button. You do not have to worry about the quality and format of the file as it would not be changed or affected.
PDF compressor tool by SmallSEOTools
The pdf compressor tool by smallseotools is an exceptionally reliable tool and an important part of the pdf management of tools. The size of the pdf files can cause you a lot of trouble sometimes, especially when you are uploading pdf files on the web or inserting them in an email.
The pdf compressor tool by SST can easily help you in reducing the file size of the pdf so that you can enjoy easy uploading and transfer. The pdf compressor tool by smallseotools is a free tool that has no limitations. The best feature about this utility is that it keeps intact the quality of the file while compressing it.
PDF element
The PDF element is another online tool that can help you in the manipulation of pdf files. This tool can easily help you in not only converting pdf files to other formats and vice versa for better management, but you can also help yourself in splitting pdf files, merging multiple files, editing them, locking them with a password and also unlocking protected pdf files.
This is one of the most versatile pdf utilities that you can find online for management. If you need to make any changes in your pdf files or add content to them, then you can always use the editing feature of this tool for this purpose. The services offered by this tool are not only free but are very much accurate and reliable!
---
---
---
---