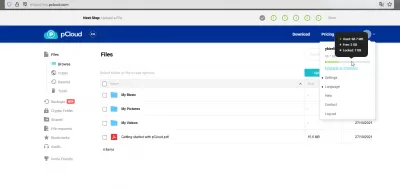 ---
---
In this age of information technology, it is very important to have secure cloud storage at your fingertips. This storage is pCloud. Why exactly this?
The first is Swiss data protection, as the company is based in Switzerland, which has literally the strictest laws when it comes to the security of people's data.
Secondly, pCloud can be accessed from any device, which is very convenient when there are several such devices.
Third, pCloud is very easy to use as it is a comprehensive and easy-to-use cloud storage solution built with the end user in mind.
Thirdly, all user data is stored in reliable and certified data centers located in the European Union.
Fourth, at pCloud, data security is a top priority, and the company is committed to providing top-notch security measures.
Fifth, with a few specially added sharing options, you can send and receive large files.
File management
It doesn't matter how many files and folders the user stores in pCloud, all data will always be at his fingertips. Regardless of how the user uses his space in the cloud - via an Internet browser, on a computer or mobile device - all his files are really easy to manage.
Search.
The search box can be found at the top of the pCloud web interface and in mobile apps. You just need to enter the name of the file or folder you want to find, and it will be found instantly.
Basket.
Files that are deleted from a user's pCloud account will remain in the Trash folder for a certain number of days, depending on the tariff plan used. For Free plans, this period is 15 days. Premium / Premium Plus / Lifetime users get 30 days. The user can independently empty the Trash at any time.
General access
Users can enjoy multiple file sharing options through pCloud app and web interface.
Mailbox invitation.
You can collaborate with your team using shared folders. To do this, you must use the Folder Invites feature to share your private folders with other pCloud users. You can control access levels by setting permissions such as View or Edit. Once other users accept the invitation, they can collaborate on files. You can manage existing folders via pCloud Drive, pCloud for mobile or my.pCloud.com. Also, the user can at any time stop access to any shared folder or change permissions.
Shared links.
You can quickly share large files with friends and family, even if they don't have a pCloud account. Anyone with access to the link will be able to view and download shared files from any browser. These links are dynamic, so they will always display the latest version of the files the user is sharing. For added security, you can password protect the shared link or set its expiration date.
When a user shares a link to a folder, they can also allow other pCloud users to upload files through that link to the folder.
File requests.
You can easily get files from anyone directly to your pCloud account using download links. Recipients will be able to upload files without gaining access to the user's account. Everything will be organized in one place for the convenience of users.
Direct links.
The Public Folder is a special folder in the pCloud user's file structure that allows you to create Direct Links to files and folders. You can use your pCloud as hosting for creating static HTML websites, embedding images or simple file sharing however the user wishes. All files that it will place in the Shared Folder will be available in the index directory.
Safety
To ensure the safety of users' files, pCloud uses TLS / SSL encryption, which is used when information is transferred from the device to the pCloud servers. At pCloud, data security is a top priority for the company and the team is committed to providing first class security measures.
With pCloud, the user's files are stored on at least three servers at different locations in the highly secure storage area. If desired, the user can subscribe to pCloud Crypto and his most important files will be encrypted and password protected. The pCloud team provides so-called client-side encryption, which, unlike server-side encryption, means that no one but the user has the keys to decrypt the file.
File version control
pCloud stores versions of the user's files for a certain period of time, so you don't have to worry if you suddenly need to find a previous version of the work. You can view the actions that have been taken and also easily track all your actions in the cloud.
Changes.
This option allows the user to preview their changes in files and restore previous versions if necessary. Changes can be accessed from the my page. pCloud.com by selecting the file and opening the Advanced Options menu (three horizontal dots). File versions are retained for 15 days for Free plans and 30 days for Premium / Premium Plus / Lifetime users.
Rewind.
pCloud will help the user to go back in time and see all previous versions of the digital collection from 15 days for a free plan, up to 30 days for everyone else. You can view your account for a specific time and date in the past, recover or download all your own unencrypted files or shared data that were accidentally deleted.
Extended File History.
With the Expanded File History add-on (effective from the date of purchase), the user will be able to record all changes to their files in their account for up to 365 days and easily restore data within a year after deleting or editing.
Backup
User can securely back up their computer folders to pCloud. Can store and restore older versions up to 1 year old.
When the user starts the backup, pCloud will automatically start saving the folders selected by the user to the cloud. Any changes made by the user will be applied to their pCloud account and device, without restrictions on file size or speed.
Access your PC or Mac files easily from any device. pCloud is available for desktop computers (Windows, Mac, Linux), mobile devices (Android, IOS) and via a web browser.
By default, pCloud keeps old versions and files in the Recycle Bin for up to 30 days. User can extend this time up to 1 year using Extended File History. This way, the user's files will be protected from theft, hard drive failure, or ransomware.
What's the difference between pCloud sync and backup?
The pCloud backup function automatically saves the folders that the user selects on his computer to his pCloud account. All changes made by him are synchronized in real time. If the user deletes the file from the backup, it will be deleted from his devices and moved to the pCloud account's trash bin.
Does pCloud support block-level sync?
Yes. If the user updates files from their backup, only the changes will be downloaded to reduce download times.
How often will pCloud back up PC or Mac folders?
The backups will run continuously in the background and are updated in the cloud in real time.
How do I set up a pCloud backup?
This requires:
Download and install pCloud Drive;
Open the settings and go to them in the Backup section;
Select the required folders and click Backup.
Digital asset management
The user can place his brand, which will appear in front of his clients every time the user shares large files. You can use branding to add your own logo, cover, and personalized message.
This allows you to save, organize and share files with personalized links from an easy and safe to use space.
Pricing
pCloud offers its users two categories of tariff plans - annual and Lifetime. Let's consider them in more detail.
Annual billing:
Premium 500 GB. The annual fee will be 49.99 euros.
Premium Plus 2TB. The annual fee is 99.99 euros.
LIFETIME billing:
Premium 500 GB. The one-time payment is 175 euros.
Premium Plus 2 TB. One-time payment is 350 euros.
Prices are final. No setup fees or any other hidden fees.
Frequently Asked Questions
What is pCloud transfer?

This is a great option for cloud storage of your data with Swiss protection and access from any device, which is very convenient when there are several such devices.
---
---