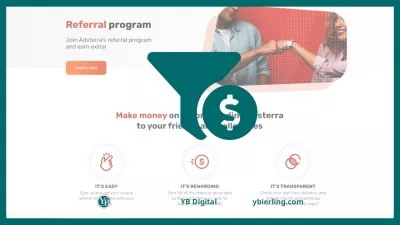 ---
---
With the help of the AdSterra affiliate program, publishers can earn residual income. The conditions for participation are quite simple. The online platform offers many benefits, including regular weekly payments.
Features of the Adsterra affiliate program
Adsterra is one of the best known premium ad networks out there. Traffic has been purchased and sold here since 2013. At the same time, the monthly volume is more than 25 billion impressions in 240 countries around the world. Advertisers will be able to get quality traffic through a three-stage check of Internet resources. These are just a few of the main advantages that this online platform offers. However, today we are interested in the AdSterra affiliate program, which allows thousands of webmasters to regularly receive income.
What is an affiliate program and what are the benefits of working with Adsterra?
The affiliate program is one of the forms of cooperation between the seller of services (goods) and partners. For the fact that the latter advertise and attract customers to the site, they receive a reward.
The new affiliate program provides direct access to exclusive offers. At the same time, you can receive large deductions from direct advertisers, which are not available in other affiliate programs. The list of proposals is constantly expanding.
Adsterra Cpanetwork works with a large number of promising advertisers, including:
Antiviruses.
Online casino.
Subscriptions (paid).
Internet dating.
Online Games.
Sweepstakes.
Software and more.
Each of the offers must be tested first on its own traffic and only then will it be included in the program. This is necessary so that partners are confident that the offers presented in the affiliate program will be in demand among users.
If the publisher already has an account in the Adsterra advertising network, then to start cooperation with the CPA network of the same name, you will need a new account. To register in the system, you must fill in all the required fields. It is not required to pass an interview and confirm the existing experience, as well as the sources of traffic.
Immediately after registration as a partner, the publisher will have access to most of the offers. Moreover, there is no need for additional moderation. However, there are some offers that can only be accessed with the help of a personal manager. Each of the partners has it. If necessary, you can use the help of technical support, whose operators are in touch 24/7.
The support team at Adsterra is really efficient and customer oriented. This is confirmed by positive feedback from users about how does Adsterra work.
At your request, they will help you set up a system of work, as well as provide additional information that will help you make a profit right away.
Support channels available:
live chat
Skype
Email
Detailed guides and instructions
The affiliate program can accept absolutely any legal as well as pure traffic, along with push notifications, banners, popunder, advertisements from Facebook and other social networks.
As the main technical capabilities of the system, it is customary to distinguish:
Backlink URL that can prevent the possibility of a leak of inappropriate traffic. In doing so, it will automatically be directed to more suitable offers.
Availability of quick postback setup.
The advantage is the ability to withdraw funds weekly. This happens automatically on Mondays. Withdrawal is available through the following systems:
Navigating Amazon Affiliate Success with WordPress
Start Your Journey Now: Grab Your Copy and Ignite Your Path to Profitable Online Ventures!
Get your eBook
The minimum withdrawal amount for WebMoney and Paxum is only $ 5. There are practically no such low thresholds anywhere else.
Studying the reviews of Adsterra CPA Affiliate Network partners in the network, we can say that the majority of users have a positive attitude to the service. This is facilitated by the convenience of the interface, quick resolution of issues, high conversion of offers.
Why AdSterra?
An AdSterra partner can be confident in this site for the simple reason that the network is focused on building long-term cooperation with advertisers and publishers.
To add a site to the affiliate program, you need to do the following:
Enter a name.
Find the right category.
Mark the type of advertisement you want.
Disable unwanted topics.
Click on the Add button.
Important! The site must be moderated. Only then will he be able to start generating income.
The amount of remuneration will depend on the topic of the Internet resource, traffic volume, as well as the types of advertising chosen. For example, if a webmaster has a website with about 2,000 regular visitors, and the resource itself is about business topics, then it will bring him high income. In order to increase income, it is advisable to include gambling advertising, because it is for this that advertisers offer good rewards.
Referral program
If a webmaster actively attracts new users to the system, for example, the same webmasters, then he will be able to earn up to 5% of the income of his referrals additionally. The target audience is partners who want to make money from generating traffic.
To copy a referral link, you need to go to the Referrals or Referrals section. It is recommended to shorten the link so that the refcode is not visible. This will increase your click-through rate.
Where to get traffic from?
There are several possible sources:
Subject forums. It is enough just to recommend a service on one of these resources. It is desirable that the moderation is not strict, otherwise such information will simply be blocked and no one will be able to follow the link.
If you have your own channel on the site, you just need to shoot a classic review on the advertising network and talk about the benefits of earning it offers for site owners.
Social networks and mobile applications. Traffic can be monetized using a format such as Direct Link.
Thematic sites and blocks on any of the sites. If a webmaster's site is dedicated to making money, then it's enough just to post a review article about Adsterra.
Briefly about payments
Publishers' payouts will be received regularly once a week on Mondays. The money will be transferred automatically to the user's account in one of the payment systems. When filling out the profile, you will definitely need to indicate exactly where payments will be credited.
Summing up the material presented in the article, you should give some digital data and reflect what the AdSterra partner can offer:
Impressions: up to 30 billion per month.
Coverage by territory: all states of the world.
Conducting over 130,000 successful campaigns.
More than 20,000 campaigns are running on the site simultaneously.
The number of direct publishers is from 13,000.
The number of advertisers, both direct and affiliate marketers, and media agencies is 9000.
Thus, the AdSterra affiliate program deserves 4 points out of 5. This is due to the intuitive interface, great opportunities, and regular payments.
★★★★☆
Adsterra Affiliate Program Review: Provides Passive Earning Opportunity
 Get 5% commission of any publisher referred to the platform, that can then monetize any type of content without pageview limitation, including niches that are not allowed in AdSense or other ads optimization networks.
---
---
Navigating Amazon Affiliate Success with WordPress
Start Your Journey Now: Grab Your Copy and Ignite Your Path to Profitable Online Ventures!
Get your eBook
Don't Miss Out: Launch Your Amazon Affiliate Success!
Get 25% OFF on the eBook - Navigating Amazon Affiliate Success with WordPress
Use Code: 25OFF and Embark on Your Digital Journey Today!
---