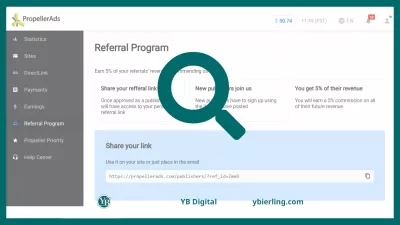 ---
---
This article explains about the PropellerAds Affiliate Program, its features, and how to start monetizing your website and content.
PropellerAdsAffiliate is an affiliate program that aims to earn 5 percent commission on new publishers.
By creating a free account, and referring publishers that will monetize their websites with PropellerAds display ads or by referring themselves other users, the affiliate will get 5% commission on what they are earning.
What is PropellerAds
PropellerAds is one of the largest ad networks. The platform specializes in selling and buying traffic from all over the world and it is the largest platform in terms of pop-under traffic. And not so long ago, the platform buys and sells traffic from push notifications. Today, the size of the base has crossed the mark of 300 million subscribers from 195 countries.
Examples of key areas for PropellerAds earning are games, gambling, finance, binary options, cryptocurrency, dating sites, etc. Important - the site does not sell or buy only adult traffic.
The PropellerAds program was created in order to make money on site monetization. Moreover, this opportunity is available for both marketers and publishers.
They are a native advertising system that offers website monetization for publishers, advertisement opportunities for advertisiers, and an affiliate program for anyone that wants to get lifetime recurring income by referring customers.
With PropellerAds, tools such as:
Benefits of working with PropellerAds:
The system has a global coverage, which allows you to monetize 100% of your traffic.
Thanks to the manual moderation system, which runs around the clock, every day, seven days a week, no viruses and other debris can leak out.
PropellerAds is an Adsense partner.
Thanks to modern technologies, advertising using PropellerAds can bypass blocking, and at the same time be completely unobtrusive.
The opportunity to earn money on the referral program. To do this, it is enough to recommend the platform to friends and acquaintances, the more people come through your individual link, the more passive earnings will be.
How to get started
To start working with PropellerAds, you first need to register as an advertiser. At the first stage of registration, contact details are required. At the second stage, the data of the advertiser. This includes an indication of the countries in which the advertisement will appear, a link to the site.
After filling out all the forms, you will need to confirm the profile, and then you can safely start creating advertising campaigns. However, it's best to take your time and familiarize yourself with the available ad formats.
About ad formats
Previously, the PropellerAds partner could only use advertising popunders. However, the larger the company became, the more it connected various types of advertising. There are currently four types of advertisements available with PropellerAds. These include:
Popunder. In short, this is a window that appears on top of another open window. Wherever the user clicks in this window, he will still go to the advertiser's website.
Push notifications. Regular toast notifications that are optimized for mobile phones, tablets and computers.
Native advertising. Appears as a recommendation on the site.
Ads that appear on top of the main content. The user can close the ad block on his own, or he can study, click on the banner and get to the advertiser's website.
How to start an advertising campaign
A PropellerAds partner can create a simple and advanced ad campaign. However, at present, the service has switched to creating only an extended version of advertising.
There are two buttons to create a campaign: either select Campaigns from the side menu and start creating in the window that opens, or at the top of the site, immediately click the Create Campaign button. You will need to specify the following points:
First is the title.
What will you need to pay for - for impressions, or for clicks. You can choose both options, but the latter is only available for push notifications and native ads.
Thirdly, you will need to provide a link to the required site or advertising product.
Fourthly, it is indicated how many times a day an advertising notification can be shown to one user. By definition, this is once a full day. This is done to ensure that ads are unobtrusive and not annoying to users.
When the specified points are determined, you can start creating the advertisement itself. For the advertiser, a page is opened to which he adds a picture, which will be the advertisement. The short name and the advertising text itself are also indicated. After completing these steps, you can see how the user will see the push notification, and if something is wrong, then edit either the picture or the text and title itself.
In PropellerAds, you can customize audience quality using dedicated tools. The first tool is Traffic An option with which you can enable or disable the display of ads for premium users. Currently, this service can be enabled only for push notifications. This option provides high quality and efficiency as well as premium accommodation.
The next tool is User Activity. With the help of it, the system determines how much a user is in the database - for push notifications, and for popunder, the indicator of the number of ads seen is taken into account.
Navigating Amazon Affiliate Success with WordPress
Start Your Journey Now: Grab Your Copy and Ignite Your Path to Profitable Online Ventures!
Get your eBook
Targeting is also available. A region is available for selection, and you can also specify several cities at once, if necessary. The cost of the advertising campaign is also indicated, you can set a limit if required. The ad display time is also indicated, and only after that you can proceed to the main targeting setting.
What's available for targeting:
Choosing a platform - a computer or a mobile version of the site
Any existing operating system, including Linux and Android.
Which browser
Advertising language
The choice of connection - Wi-Fi or mobile Internet.
When all the settings are selected, you will be able to see the estimated maximum cost of the advertising campaign.
How to view statistics
An ad campaign must be moderated before publishing. Only after that the shows will start. In order to optimize any advertising campaign, you need to rely on its statistical indicators.
In order to view the statistics, you need to go to the Campaigns tab, all active campaigns will be displayed there, as well as statistics on clicks, cost, type and format of advertising.
About budget replenishment and technical support
PropellerAds offers several ways to top up your balance. The most common is a bank card. The minimum amount for replenishment in this way is one hundred dollars. There is also one hundred dollars for the Skrill system. To pay from PayPal, you need to send a request to technical support.
The technical support itself is available either in the dialog box in the PropellerAds personal account, or you can write an appeal or question to an email address.
How to make money on the PropellerAds affiliate program
If the user has an interesting site, the PropellerAds affiliate program will help make money on it. Due to the fact that the company has been on the market since 2011 and has already managed to gain its trust among users, it has an excellent reputation. Ads from PropellerAds are seen by over 100 million users every day - an excellent performance compared to competitors.
The PropellerAds affiliate program was created to work with a huge number of advertising campaigns, so it can be useful even for a site with a narrow topic. With the help of PropellerAds, both webmasters and programmers who create software can earn money. You can earn money by attracting a stream of visitors from social networks (their list is very extensive), and PropellerAds also offers to monetize 404 pages.
Any user who does not violate the laws of their country with their content or topics can cooperate with PropellerAds. It should be noted that this affiliate program does not work with sites hosting adult content.
Also, PropellerAds has a referral program, the competent use of which can bring stable passive income. In order to start receiving such income, you need to invite new users to the system using your unique link. They will register for you, and for each of their actions on the platform - for example, for paying for services, you will receive your percentage.
With PropellerAds, 100% of your traffic is monetized, and billing ranges from $ 1.5 to $ 3 CPM. You can earn 5% from referral deductions, the minimum amount for withdrawing the earned funds is one hundred dollars.
★★★★⋆
PropellerAds Affiliate Program Review
 ProPellerAds affiliate program has one of the highest commission on the market with 5%, does not require any specific information to join except an email, and is free to use by anyone, with an easy link to share.
---
---
Navigating Amazon Affiliate Success with WordPress
Start Your Journey Now: Grab Your Copy and Ignite Your Path to Profitable Online Ventures!
Get your eBook
Don't Miss Out: Launch Your Amazon Affiliate Success!
Get 25% OFF on the eBook - Navigating Amazon Affiliate Success with WordPress
Use Code: 25OFF and Embark on Your Digital Journey Today!
---