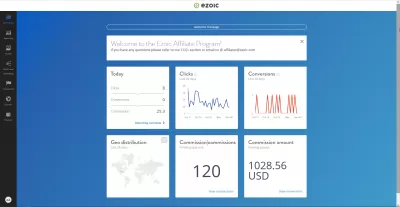 ---
---
This article tells about the Ezoic affiliate program, and how to generally make money on a referral link with this service.
Profit partner program review should begin with the definition and analysis of features.
An affiliate program is a form of cooperation in which you attract new customers to an existing business. For this, each program is given a reward - a certain percentage of the purchase. A special link is used to attract customers.
Working with affiliate programs has been gaining popularity lately. The essence of such programs is that its participants receive mutual benefit from cooperation. As a rule, an affiliate program is built on referral links. In other words, this is an invitation link for registering a new partner.
What Is Referral Link, Types and How Does It Work?
The most profitable option for making money on affiliate programs is making money through the Internet. There are two options: free - it is such because of the popularity of one or another site. You can promote a referral link in your own blog, any social network, the main thing is that the resource is popular among users. The paid method consists in the fact that a small investment is required, which will soon pay off.
The Ezoic affiliate program is intended for those users of the system who want to introduce their business acquaintances to this system. In order to interest publishers and offer them your referral link, you can prepare a short presentation in which you can tell about all the benefits of the system. If the presentation of the service was successful, and new users registered using the link, and also subscribed, then each participant of such a referral program will be entitled to a monthly commission. In this case, it will not be debited from those who have registered, but from Ezoic.
The more people register using the referral link and subscribe to the service, the more income the link holder will have.
Plus, registering to the platform is free and only takes a minute! So, why not try it out?
What is EzoicAffiliate
The Ezoic Affiliate Program is a versatile tool for online publishers, suitable for people looking to increase their ad revenue. Moreover, an Ezoic partner can start using the service completely free of charge - it only takes no more than 15 minutes to register. After that, the user will be able to work with Ezoic and increase from 50 to 250% its AdSense profit.
Ezoic Vs Adsense - Differences Worth Exploring
An Ezoic Affiliate will receive 3% of each publisher's total revenue from all traffic that goes through the platform. Moreover, the commission will be charged immediately as soon as the registration and payment by the new user is completed, and it will be possible to receive it next month.
In addition, Ezoic referrers receive direct support from Ezoic's sales and executive staff to help meet new website owners and publishers. In addition, account managers will help ensure that new users are properly instructed and fully knowledgeable to use the platform.
What is the Ezoic affiliate program
The Ezoic affiliate program is a completely new system for those who want to earn money by promoting the platform among other Internet users.
To make money in this way in this service, you need to share your referral link to various thematic resources. The system automatically recognizes all users who have registered for you.
You will be able to earn 3% from the publisher for the entire time they use EzoicAffiliate. Moreover, this commission is charged from the platform itself, and not from the new publisher.
On top of that, you will be able to earn 1% from subaffiliates that you brought to the EzoicAffiliate Platform, and that brought themselves new publishers to the website and display ads optimization platform.
What about earnings?
EzoicAffiliate has the ability to calculate the profit that each site receives approximately on a monthly basis. To do this, the total number of sites is divided by the total revenue. Based on calculations, each site brings its owner about one and a half thousand dollars a month, and 3% of this amount is considered. This is income from only one site. The more referrals there are, the more passive income will be.
How much can I earn with Ezoic affiliate? You can earn $750 per month with Ezoic affiliate after having referred a hundred websites
EzoicAffiliate does not have a limit on the number of affiliates listed in the system. However, there is one small limitation - the minimum conversion amount should be $ 20. The conversion is the amount that the publisher begins to receive using EzoicAffiliate. In this case, it does not matter at all when the site was registered, the income will go in any case.
If the income was received in the month of January, then the money will be sent at the end of February.
Making more than $500 passive income a month takes a bit of work, but only necessitates a website, some personal hobbies, and the will to talk about it on your blog.
The best way to bring other users to the  Ezoic platform   to optimize their website speed and page delivery time is to use it for yourself, however you can register for free on the EzoicAffiliate program and promote it anywhere you are able to share a link.
If you are an influencer, you can add links to emails, share on your Facebook business page or your Instagram profile if you have more than 10000 subscribers, in the description of your YouTube videos or channels, or even on Telegram channels and any other means of communication – but it will all work better if you are actually using the product yourself (reminder: it is totally free of charges), and show others how they can do the same as you.
Many people are looking at various ways to  make money online   in order to reach financial freedom and eventually retire early – or at least be able to work on what they like.
The EzoicAffiliate program is one of the very few legit MLM businesses, as there is no charge to pay ever, all trainings are free and provided to all Ezoic publishers online, and you can only make money.
In my case, I managed to make more than $1000 passive income a month from commissions coming from other publishers using  Ezoic platform   to monetize their website after 2 years on the program, having referred more than 250 affiliates, with actually 120 of them being active users of the platforms, and optimizing their websites speed and advertising.
If you do join – let me know, and I'll be glad to promote your sites using the  Ezoic platform   and link to your related content!
How conversions are tracked
Conversions are tracked through a third party provider. Each link contains a unique tracking ID and cookies that allow you to track who owns the link and access your Ezoic account. If a potential Ezoic user clicks on such a link, he is automatically redirected to the service website. Accordingly, if he signs up and starts using the functionality of the service, the link owner will receive money for the conversion.
URL Tracking – Sprout Social Support
It should be noted that cookies are stored for 14 days. If the potential customer does not register within this period, then the cookies will expire, and in this case the link holder will not receive any income. In addition, if someone signs up within 14 days, you will still receive a commission if you were credited with money for their initial registration. If they ever start using Ezoic, the link owner will still receive 3 percent.
Partnership obligations
There are some conditions and requirements for participating in the affiliate program. The site will not be able to become a partner if:
It promotes sexual content
Violence is advancing
It contains discrimination based on race, sex, religion, nationality, disability, sexual orientation or age
There is information about illegal activity
Generally, any type of content that is not allowed on AdSense, will most likely not be allowed to be monetized with Ezoic, as they are working with the Google AdExchange ads marketplace, on which advertisers are not bidding on such categories.
AdSense Program policies
EzoicAffiliate service evaluation
The service is great for working with affiliate referral links. On a scale of one to five, users give the highest possible rating, considering the convenience of paying out money, inviting new publishers, and generally working with the system as a whole. It is also highly appreciated that you can start using Ezoic for free, view the functions and then pay for Ezoic services.
★★★★★
Ezoic Affiliate Program Review: How I Make $1000+ Passive Income Monthly
 The Ezoic Affiliate Program is a versatile tool for online publishers, suitable for people looking to increase their ad revenue. Moreover, an Ezoic partner can start using the service completely free of charge - it only takes no more than 15 minutes to register. After that, the publishers will be able to work with Ezoic and increase from 50 to 250% their AdSense profit, while the affiliate will earn 3% from referred publishers, and 1% from subaffiliates.
Display ads subaffiliates program
Frequently Asked Questions
What is the Ezoic minimum payout for publishers?

The Ezoic Affiliate Program is a really good way to generate passive income. You will be able to earn over $500 per month, but to do this, you must have a lot of unique and high-quality content.
---
---