Discover how to convert Google Photos memories presentations into captivating TikTok videos with our step-by-step guide. Elevate your content and engage viewers by repurposing cherished moments on the popular platform.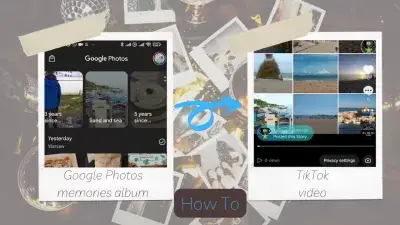 ---
---
TikTok has become a popular platform for sharing entertaining and engaging content, allowing users to showcase their creativity through short video clips.
Google Photos memories presentations can be a treasure trove of moments that can help you create unique and captivating TikTok videos.
In this detailed guide, we will show you how to convert your Google Photos memories presentations into video and especially in engaging TikTok videos, allowing you to share your cherished moments with a wider audience and make your content stand out.
Step 1: Select Your Google Photos Memories Presentation
Begin by opening the Google Photos app on your device and locating the memories presentation you'd like to convert into a TikTok video. Browse through your memories and choose the presentation that best represents the theme or story you want to share on TikTok.
Step 2: Use the Google Photos Sharing Option
Once you've identified the memories presentation, tap the 'Share' button and select the images you'd like to include in your TikTok video. By selecting the photos individually, you can control which memories are featured in your video and create a more cohesive story.
Step 3: Share the Selected Photos to TikTok
After choosing the desired images, share them directly to TikTok. If TikTok isn't listed as a sharing option, save the selected images to your device's gallery first. Then, open the TikTok app and tap the '+' icon to create a new video.
Step 4: Import the Photos into TikTok
In the TikTok app, tap the 'Upload' button and navigate to your device's gallery. Select the saved images from your Google Photos memories presentation and import them into the TikTok video editor.
Step 5: Customize Your TikTok Video
Arrange the imported images in the desired sequence, and adjust the duration of each photo to create a smooth and engaging video. Enhance your TikTok video with various effects, filters, and transitions offered within the app to make it more visually appealing.
Step 6: Add Music and Text
To further elevate your TikTok video, add music and text overlays. Choose from TikTok's extensive library of royalty-free music or upload your own audio file. Text overlays can provide context, humor, or additional information to your video.
Step 7: Preview and Share Your TikTok Video
After completing your edits, preview your TikTok video to ensure everything flows seamlessly and aligns with your vision. Make any necessary adjustments before exporting your video. Finally, share your Google Photos memories presentation as a TikTok video, using relevant captions and hashtags to maximize visibility and engagement.
To have the video generated by artifical intelligence from your GooglePhotos memories turned into a TikTok video story, simply repeat the process, and use the story option to create the TikTok video as a story!
Conclusion
Converting your Google Photos memories presentations into captivating TikTok videos is a creative way to repurpose your cherished moments and share them with a broader audience. By following this detailed guide, you can create engaging content that resonates with your viewers and helps you stand out on the ever-popular TikTok platform. So, start transforming those memories into share-worthy TikTok videos today and watch your online presence flourish!
Using the same process, you can also turn Google Photos memories into Instagram stories using the Instagram Reels tools.
---
---