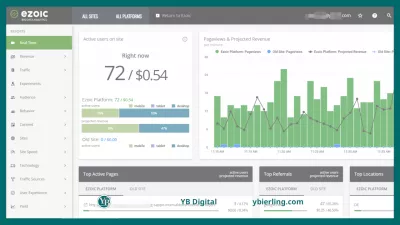 ---
---
This article describes a system for big data analytics, and what are the benefits for the user from working with this system.
Ezoic BigDataAnalytics Review
Ezoic BigDataAnalytics is a  Big Data Analytics   system. Thanks to this system, you can find out what kind of content posted on the site is most popular with users.
Big Data or big data is structured or unstructured data arrays of large volume. They are processed using special automated tools to be used for statistics, analysis, forecasts and decision making. Ezoic Big Data analytics is a team of super professionals who process complex and voluminous sets of different information in seconds.
Ezoic BigDataAnalytics has the ability to link income to everything on the site - with every article or ad placeholder on any page. It is simply unrealistic to carry out such a volume of work manually. Thanks to the system, you can see the income in real time - it will change when a new user visits your site. You can also find out which articles and authors are generating the most revenue for your site. Another important function is to find out which countries and resources generate the most income.
Thanks to Ezoic BigDataAnalytics, you can connect to Google rankings, you can really find out what the audience visiting the site likes, and you can also find out where readers go and at what point they have the worst content experience.
Google's Search Algorithm and Ranking System – Google
Ezoic BigDataAnalytics helps you to earn three times more on ad and content analytics, this is a very profitable investment that will pay off very quickly. Every time a user visits the site, Ezoic BigDataAnalytics downloads one of the experimental layouts and analyzes whether the visitor liked this option. The advantage of this program over humans is that the program is an artificial intelligence machine, it is capable of performing very complex tasks and calculations in a huge volume. A person can only analyze the data obtained and draw conclusions, improve his site. Another plus of Ezoic BigDataAnalytics is that when the intelligence collects enough data, it will offer users the layouts that they like the most, and it is due to this that income increases.
In addition to excellent ad testing, Ezoic BigDataAnalytics has other benefits as well. For example, this is excellent analytical data. There are really a lot of them, which allows you to thoroughly study your own site. The analytics navigation panel is very convenient, everything is laid out on the shelves. You can view reports on a specific parameter for a specific day, you can only view a specific page for a specific time - it's just incredible!
With Ezoic BigDataAnalytics, you have complete control over your ads. You can customize its design, size, where it will be located, and the machine will do all the analytical work for you and help you increase the income from each visitor coming to the site.
Also, the service has excellent technical support, which responds within a maximum of a couple of hours, sometimes even ten minutes. It is very convenient and helps to deal with emerging issues promptly.
Ezoic BigDataAnalytics can analyze even inappropriate content, which is not ad-friendly. This can include adult products, gambling, and in some cases, even foul language.
Ezoic BigDataAnalytics Review: Disadvantages
Of course, any program or service can have both pros and cons. The first drawback is that if you do not want to pay for a subscription to the system, but want to work with it, then Ezoic BigDataAnalytics will place its small banner at the end of the page. This is not entirely pleasant, but almost imperceptible. If you want to remove the banner, you will have to pay Ezoic BigDataAnalytics 5% of your income.
Is Ezoic free to use? Yes, Ezoic is free to join and use – they only keep a percentage of you increased ads earnings if you use the monetization capabilities
However, this only applies if you use the monetization capabilities of Ezoic – otherwise, you can simply use the Ezoic BigDataAnalytics and other products such as Ezoic LEAP free of charge, and increase your site monetization whenever you like, in which case they would keep a small part of your increased earnings.
What are the requirements to join Ezoic? There is no page view limitation! All you need is a website
Also, someone will consider it a disadvantage that your site's DNS needs to be tied to the DNS of their server. However, if this is not a problem, then the support will promptly suggest how it can be done.
What is DNS? | How DNS works
Within 30 days from the start of cooperation, you may not notice the result, and even vice versa - the site's performance may not deteriorate for a long time, but this is only for the time when Ezoic BigDataAnalytics collects data, then things should go uphill.
Effective analytics with Ezoic BigDataAnalytics
With Ezoic BigDataAnalytics, there are a lot of interesting features that you can use to analyze data and improve your site.
The most basic task is tracking site visitors. This is a very important analytics, without which it will not be possible to adequately consider website promotion and earnings on it at all.
Basic analytics Ezoic BigDataAnalytics includes data on the number of site visitors, how many views a particular page has on the site - so you can understand where users visit most often, as well as the bounce rate.
The number of visits is calculated as follows - artificial intelligence considers information about visitors only from those browsers that do not use bots. However, the machine can sometimes still allow a slight error in calculating these data.
Analytics Tools & Solutions for Your Business - Google Analytics
The number of page views can exceed the number of visitors, which is quite normal, because Ezoic BigDataAnalytics counts every page opening on the site, even if it is opened several times by the same visitor. If this indicator is significantly higher than the number of visitors, it is possible that something is wrong with the analytics and you need to contact support.
The bounce rate is pretty straightforward too. It shows how many visitors immediately left the site without viewing anything on it. The lower this indicator, the more visitors are really interested in the posted content, respectively, the more income from advertising and visits will be.
What indicators should you pay attention to?
The Ezoic BigDataAnalytics system comes with many useful reports, that are going well beyond what other website analytics solutions such as Google Analytics for example can do. Let's see a few of them in details – they keep being updated with amazing new featured!
Earning per content category
Of course, the most basic metric is content categories. It helps to determine what content users like the most, based on this, you can work towards such content.
3 Website Types That Earn the Most Money with Google AdSense
Earning per landing page
Another metric is the landing page. This indicator helps to understand from which specific page on the site the most income comes.
35 High-Converting Landing Page Examples + Lessons You Can Learn from Each
Earning per content length
Also a significant indicator is the length of the content. It helps you understand how many words a web page needs to have to generate the most revenue. Let's look at the numbers.
1000 to 2500 = 56% visits and income
2500 to 5000 = 22% visits and income
750 to 1000 = 10% visits and income
500 to 750 = 5% visits and income
250 to 500 = 3% visits and income
0 to 250 = 2% visits and income
More than 5000 words = less than 2% of visits and income
How to do a word count: 15+ expert tips
Earning per author
Another indicator is to find out the name of the author who writes the content for your blog, which is the most successful. You can also recognize an author who turned out to be not as good as he presented himself at the beginning of work. In any case, this is also a very important indicator.
The Complete Guide To Writing Guest Posts For SEO (+ 6 Secrets To Get Backlinks)
Conclusion: is Ezoic BigDataAnalytics good for you?
Based on all that has been written, we can conclude that the review on Ezoic BigDataAnalytics came out quite complete, and everyone who reads this article will be able to decide for themselves whether it is worth working with this platform or is it too early.
On top of that, with the Ezoic AccessNow program, any website can now apply for free to Ezoic and use the Ezoic BigDataAnalytics system free of charge – and increase their website earnings if they want to try out the artificial intelligence advertisement optimization functionalities.
Free to use
Advanced earning reports: per author, category, landing page, word count, …
Real time reports
Free CloudFlare protection
Can be used along Google Analytics
Necessitates DNS integration
Reports are available after 48h
Computing time
★★★★★
Ezoic BigDataAnalytics Review
 Ezoic BigDataAnalytics has the ability to link income to everything on the site - with every article or ad placeholder on any page. Thanks to the system, you can see the income in real time - it will change when a new user visits your site. You can also find out which articles and authors are generating the most revenue for your site. Another important function is to find out which countries and resources generate the most income.
Frequently Asked Questions
Is regular earning report analytics important for my site?

This is very important as Ezoic BigDataAnalytics analytics will help you track the number of site visitors and page views on the site. You will be able to track your traffic and increase your profit based on this analysis.

How much does the Ezoic Big Data Analytics feature cost?

Don't worry, as any website can apply for Ezoic for free and use Ezoic's BigDataAnalytics system for free - and increase their website revenue if they want to try the artificial intelligence ad optimization features.
---
---