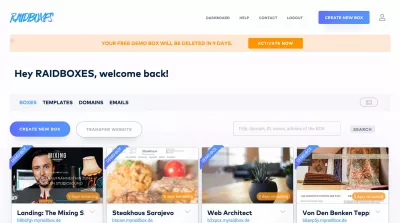 ---
---
Raidboxes - WordPress hosting
Raidboxes is a unique WordPress hosting service you can count on. It is one of the fastest, safest and most convenient WordPress hosting, with which you can save a huge amount of time and money. In this article we will give a brief overview of Raidboxes, talk about the advantages, features and tariffs of this hosting, as well as discuss a few frequently asked questions related to this service.
Content:
Raidboxes Overview - Service Brief
Raidboxes is a high performance managed WordPress hosting that has been designed and tuned specifically for this platform. In simple terms, out of 10 pages, 8 will work faster on the servers of this hosting. If you want to move your site to them, you can do it for free and without obligation. They will clearly show you the difference in download speed in a performance test. Fast WordPress hosting comes with a number of benefits such as automatic updates or centralized management. In addition, this hosting service has specialized tools to make your job easier. We will consider all this in more detail below, in the next block of this article.
Benefits and features of hosting
So, let's take a closer look at all the advantages of this hosting service, as well as features in the form of special tools.
Fast WordPress hosting Raidboxes has the following benefits:
Automatic updates and centralized management. The service fully takes care of updating your WordPress core, all required plugins and themes. So, you will be able to completely direct all your attention to the development of your own projects;
Download speed. Pages load much faster than with any other hosting. This can be verified using a special performance test;
Saving. Hosting will save you a lot of money and your personal time;
Availability of special tools. We will talk about this point in detail below.
The peculiarities of this hosting service include the presence of unique tools that make your work easier and more convenient. These functions will significantly save your precious time in the amount of 2-3 hours per month. This is evidenced by the statistics of the service. You get maximum efficiency when working with this hosting.
What tools are available:
The ability to permanently save selected backups as templates;
SHH access, allowing you to achieve maximum productivity while managing your projects;
Direct access to SFTP and database;
Free development for WP service providers;
Quick copying and saving of templates.
This is not the entire list of tools, as it is very large. To analyze all the features of this hosting, you need to write a separate article just about this. Our article is still about a brief overview of Raidboxes, so we will focus on this list of tools and move on to reviewing the tariffs.
Tariffs
Managed WordPress hosting Raidboxes offers the following rate blocks:
Individual rates;
Bulk tariffs;
Woocommerce;
High-perfomance;
Enterprise;
You also have the option of purchasing domains and mailboxes.
The cheapest individual rate is 15 euros per month, and the most expensive 300.
It is worth noting that there is a special rate for agencies and freelancers engaged in web design and website development, which is given out absolutely free of charge. How it works? You develop a site and transfer it to the client for further placement on the hosting. In addition, you will also receive a commission after invoicing the client. Quite a lucrative offer for developers.
All WordPress hosting solutions on Raidboxes have a free trial, include free SSL certificates, automatic WordPress updates, SSH + WP-CLI & Git included – and SSD storage space is expandable
In addition, there are also other tariffs for companies, mass and so on. You can study all this in detail on the hosting website.
| Raidboxes WordPress hosting plans selection | Image | Price | Buy |
| --- | --- | --- | --- |
| WordPress Starter hosting for blog: 1x WordPress, 2GB RAM, 1 vCore CPU, 5GB SSD | | 15€ | |
| WooCommerce Pro hosting: 1x WordPress, 4GB RAM, 2 vCores CPU, 20GB SSD | | 50€ | |
| High-traffic/WooCommerce Business hosting: 1x WordPress, 12GB RAM, 6 vCores CPU, 30GB SSD | | 150€ | |
| WordPress Webdesigner hosting: 5x WordPress, 2GB RAM / site, 1 vCore CPU / site, 5GB SSD / site | | 60€ | |
| WordPress web agency hosting: 22x WordPress, 2GB RAM / site, 1 vCore CPU / site, 5GB SSD / site | | 200€ | |
FAQ
Raidboxes Managed WordPress Hosting always supports its customers, so they try to answer all frequently asked questions. We have selected two, the most popular in our opinion:
1. Can I migrate my WordPress site to hosting?
Yes, you can. The service support perfectly understands all the nuances of  the WordPress ‌  platform and knows how difficult it is to switch from one hosting to another. Fast WordPress hosting Raidboxes invites you to do it quickly and for free.
2. Will my site run faster?
According to statistics, 80 percent of sites that switched from other hosting services began to work at least 4 times faster. Then it's up to you to decide.
Raidboxes performance study
Conclusion
So if you are looking for a good web host for your WordPress project, Raidboxes hosting might be the right choice for you. The company offers you fast and personalized hosting solutions as well as a reliable support team. It's not for nothing that big companies such as Aldi, Mercedes Benz and the University of Leipzig trust Raidboxes Webhosting.
Raidboxes' review revealed the following: it is a unique service that offers excellent conditions for freelancers and web design agencies. Also, if you have your own online store, you should also consider this hosting service. Today it is very important that website pages load faster than those of competitors. And this service will allow you to significantly upgrade this parameter.
---
---
---
---