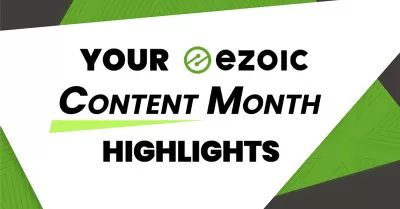 ---
---
With ongoing content month in August 2022, Ezoic has released interactive highlights that can be accessed for free by all publishers using Ezoic to optimize their websites, and it contains great insights into page views success.
Let's have a look at them in detail, and see where you can learn more about some of these amazing statistics, and get some of them for your own websites by trying Ezoic with no commitment and optimizing your sites for success!
Ezoic Content Month Highlights
Totals - 209 weeks with Ezoic
Visitors - more than 10 million visits
Since we joined Ezoic...
Revenue - more than $60,000
Our content has brought us in over $60,165. That's enough money to stay in a five-star hotel for 140 nights, or buy 120 new TVs.
How Can You See Your Websites Real Time Earning And Visits?
Category - most visited is SAP GUI
When our audience is browsing our site, they head to SAP GUI category most. We must be onto something!
How To View EPMV Per Website Articles Category / Subject?
Landing page - over 100k views and $1000
Our top-earning piece of content of all time is SAP How to export to Excel spreadsheet, with over 111,978 views and $1,134 earned. Can we sign a copy for you?
Landing Pages EPMV: How To Find The Most Profitable Visit?
Traffic - over 2000 traffic sources, more than 8 million from Google
Our audience is accessing our content from all over! We had a total of 2,258 traffic sources. Our top traffic source was google.com with 8,268,242 pageviews.
Which traffic sources give the highest EPMV?
Social media - 15,489 views from Facebook this year alone!
We're kind of a social butterfly. We got 15,489 views from facebook.com this year so far!
Video - 426,004 total views
Views of our video content totaled 426,004. If each view were a person, that's enough people to fill up 14,200 buses!
Ezoic Humix Review: YouTube Video Views Multiplied By 30, Earnings By 4!
Viewing time - 257,554 minutes of total viewing time!
People watched 509 of our videos, a total of 426,004 times. That's 257,554 minutes of total viewing time! We could watch 2,861 back-to-back movies in that time. They'll bring in the popcorn!
International reach - viewers from 237 countries
If we could visit every country that accessed our content, our passport would have 237 stamps. Packing our suitcase!
Geolocation EPMV. How do I see EPMV differently in different countries? What are the best EPMVs for each country?
Top percentile - Top 4%!
We're killing it as an Ezoic publisher! We've entered the top 4% of publishers for pageviews.
Ezoic Premium Review – Is It Worth It?
Congratulations
Congratulations on all our growth and accomplishments on our websites! Share your own highlights with #ezoiccontentmonth !
Frequently Asked Questions
What is the use of interactive Ezoic reviews?

These reviews give you a lot of statistics that, if properly analyzed, will help you optimize and improve your site. It is the statistics from Ezoic that will give you a complete picture of your success.
YB Digital Ezoic Content Month Highlights: In The Ezoic Top 4% Publishers!
---
About the author - YB Digital
Yoann is an International Business Consultant, facilitator and coordinator. He worked more than 10 years in global business, supply chain, financial, SAP ERP projects, Web and SEO optimization for various industries, such as logistics, cosmetics, consumer goods, beauty care, or fashion, in more than 30 countries around the globe. 
---
---