Many people are wondering if it is possible to make money online blogging as this new type of occupation is not a standard job, is highly volatile, but yet can become more rewarding than any other career choice. This is the story of how I managed to earn $50,000 with my blog content and an amazing technology partner!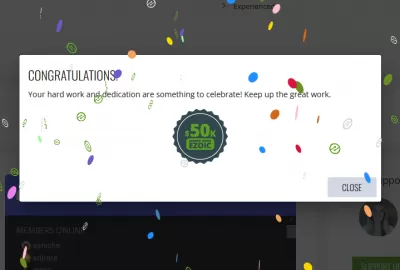 ---
---
While my network of 25 websites, YB Digital, now earns more than $2,000 passive income every month from display advertisement only, with more than 400,000 unique monthly visitors, the journey to get there took over 10 years. If you are considering blogging, leaving your job, and chasing invisible stars as I did, my story might inspire you to try, and also warn you to be prepared for an enormous amount of work. In any case, good luck to you!
The origins: an online CV for job search
It all started on this website, ybierling.com in 2010, when I created the domain name as I was looking for a job after the 2008 economic crisis cost me my previous one, in order to show off some of my Web/PHP skills and have a kind of online CV to share with potential recruiters.
While I don't know if it is for this Website that hosted my online CV or not, I landed a great job as consultant for Accenture Switzerland, where I have been working more than 7 years.
Creating a business blog with unique content
Working as an International SAP SCM consultant during all these years, in all positions possible from data analyst to project manager, I've had many opportunities, including the chance to solve various never-documented-before technical problems, that sometimes took me days if not weeks of Internet research and reflexion to be solved.
Years after having first opened my website, and never using it for more than my CV, and after solving a few tricky problems that have never been explained online, I got this idea: if no one ever explained the solutions, and I found it myself... I should be the one publishing this solution on my own personal blog!
So I started to do so, in my free time, turning my online CV into a business blog, using WordPress at the beginning to save time, writing a few articles per year.
My first ever article, now moved to another specialised domain name, being as simple as How to change color in SAP GUI with less than 200 words and a few low quality screenshots, that barely dragged a few visitors per year.
Fast forward 11 years later, this first blog post alone earned more than $400 with my technology partner, the  Ezoic platform   that now optimizes my network of 25 websites with more than 400,000 unique monthly visitors.
The big dive: Leaving corporate world
In 2017, after more than 7 years working for this corporation, not seeing any possible evolution in my current career as I already reached the top, I noticed something that gave me an idea: my business blog somehow was having more than 1,000 visits per month!
While these numbers are low, they gave me the push I needed to leave my corporate job for a whole new adventure, turning my blog into a company that could sustain at least my basic needs.
So did I, using more and more of my free time to create more content and think about future, opening at the same time my second website, Where Can I FLY, a travel blog that I aimed at covering my future year long world tour, after I would have left my job.
Growing a blog to 10,000 visits per month... and a disappointing $10 revenue...
As I left my job and was able to work full time on my blogs, writing good blog articles, updating my existing articles, and generally applying all the basic SEO advice, I also used the time, along with my development skills acquired during my studies and professional experiences, to stop using WordPress platform, and create from scratch my own CMS, the system that handles my data and publishes it into web pages.
Within a few months of hard work, my main website reached the huge number of 10,000 unique visitors per month, which seemed huge to me!
However, even though my blogs started to attract a little more visits, I was barely making a few dollars per month, monetizing mostly with display advertisement from Google, and a few affiliate links that I had no idea how to share them properly. I had no idea at that time that some AdSense alternatives existed and could help me grow faster, for free, with real human contact! I was just a lonely blogger working day and night on his passion side hustle.
And that's actually when a simple email out of nowhere, and a quick half hour Skype call would literraly change my life.
The unexpected helping hand
Explore Your Business Potential: Discover Our Range of Transformative Courses Today!
Unveil the power of knowledge with our diverse array of courses, from Operational Procurement in S/4HANA to SEO essentials. Elevate your expertise and drive success in your business ventures.
Get your course
If there's one call with a stranger I'll never forget, it is this one, in July 2018, between two games of the Football World Cup 2018. A woman called Hannah, contacted me out of the blue, invited me to a Skype call, to discuss my website earnings.
Well, why would anyone want to do that, while my website earned at best $10 per month?! Although the traffic was slowly increasing.
With this quick call, she introduced me to their main product - and, at that time, one of their only products - the Ezoic monetization technology, an artifical intelligence platform, connected to the Google AdExchange marketplace, that would find the highest paying ads from hundreds of advertising platforms and display them as best as possible to the right visitors based on hundreds of criteria such as local weather, time of the day, or visitor behavior...
I did not understand what it was about at the time, nor why should I used their product, and was wondering if it wasn't simply a scam.
But since I've left my corporate job, after more than 6 months working full time alone, it was the first time that someone cared enough about what I was doing to propose me to make it even better.
So, I gave it a try, and started monetizing my website with them, not really sure why I should do that, and not understanding at that time the point of measuring and monetizing EPMV instead of RPM - I even had no idea what it means.
Turning a passion into a possible income
While I was working as a consultant, our goal always has been to deliver high performance, and I wasn't seeing any of that since I was working alone, but mostly a lot of frustration. But that's exactly what they did, delivering high performance far beyond my wildest expectations!
Using their monetization optimization technology, I multiplied my earnings by 3 within a month of use, and all of that for free!
After a few months, they invited me to join the Ezoic Premium program, that allowed me to grow my earnings even higher, with the same visits on my websites, and putting the same effort in my passion, creating free content that educates the world and helps other solving their own problems.
This was only the second of many other exciting technologies created by this partner that would help my websites growing!
The dream becoming a company
And here we are, 12 years after my first website creation, 11 years after turning it into a blog, 4 years after the world's best technology partner found me, and having turned my online CV into YB Digital, a small company with two FTE, a self-sufficient and so rewarding occupation!
Summing up these 4 years of collaboration, these are the main steps - all thanks to Ezoic:
August 2018, starting the collaboration - turning $10 into $100/ month
December 2019, joining Ezoic Premium program - starting to earn $200 / month
March 2019, joining Pubtelligence event in New York - slowly going up to earning $500 / month, while accomplishing another dream: completing a year long world tour
2020, right after reaching $2000 monthly earnings, Coronavirus took it all down to $500...
2021, with new technologies such as Site Speed Accelerator later upgraded to LEAP, EzoicLEVELS, and many other amazing grounbreaking technologies, my websites network went back to $2000 monthly earnings
January 2022, elected Publisher Of The Year Runner-Up among 35 nominees out of hundred thousands of other independent Web Publishers
March 2022: more than $50k passive income from blogs monetization earned with Ezoic alone!
In short: Thanks Ezoic!
Thanks to the  Ezoic platform   I became a successful independent Web Publisher. I recommend every blogger to persevere, and try their websites optimization technology as fast as they can!
Frequently Asked Questions
Why use Ezoic for blogger?

If you are a blogger of any level, then Ezoic is the platform that will help you monetize your favorite business. Their technologies for implementing and optimizing advertising on the site will help you have a stable high passive income.

How to earn 50000 dollars per month on a website?

With Ezoic Premium, you will be able to earn $50,000 per month on the site. The algorithms of the program will help you analyze the activity of your site and optimize it. All you need is patience, hard work and enthusiasm.
---
About the author - Yoann Bierling
Yoann Bierling is a Web Publishing & Digital Consulting professional, making a global impact through expertise and innovation in technologies. Passionate about empowering individuals and organizations to thrive in the digital age, he is driven to deliver exceptional results and drive growth through educational content creation.
---
---
Explore Your Business Potential: Discover Our Range of Transformative Courses Today!
Unveil the power of knowledge with our diverse array of courses, from Operational Procurement in S/4HANA to SEO essentials. Elevate your expertise and drive success in your business ventures.
Get your course
---