To increase your audience, a simple way is to create videos that are indexed on YouTube, but also create text articles hosted on your website and indexed on Google that are embeding these videos. But you can even go further by hosting yourself your videos, to have your content competing with YouTube directly, and get audience from a third search engine, the Google videos search - which is separate from text search and YouTube own index.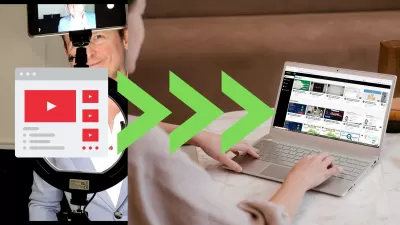 ---
---
Using the quadruple dip strategy you can easily increase your audience by simply making sure your content is indexed and available on various search engines indexes, with a minimal effort to do so.
In this article, we'll see how to simply create your own video platform, to get the videos you've created for your YouTube channel indexed by search engines, as if they were hosted on your website, while a free external service is doing it on your behalf and helping to rank as high as possible, all with only the push of a button!
First step: Register your website on EzoicAds platform
The company that makes it all possible is the  Ezoic platform   that makes many technologies, including the possibility to create your own video platform, free and accessible to all its customers.
Start by submitting your website to be able to create an account - if you do not own a website yet, but only create videos, then we strongly recommend you to also create some text content, for various reasons.
First of all, having your own platform will ensure that you are able to use any and all possibility to increase your reach, audience, and earnings, and be independent in case of problems - for example, YouTube can decide any day to close your account and stop monetizing your videos.
With your own platform, this wouldn't happen - and in case of problem with any of your partners, you can simply switch to another one, for example use one of the AdSense alternatives instead of only this monetization service.
Then, having your own platform will give you full control and allow you to double your chances of getting an audience, as you will be present on various search engines.
Second step: Create your Humix account
Once your account have been approved, you will be able to add your websites and create a Humix video hosting platform for each of your websites.
If you already have a YouTube account, the process is very simple to get your videos hosted on your own video platform, monetized and ranked on video search engines!
Start by connecting your YouTube account, in the Channel YouTube settings. Then, you will be able to use the Import from YouTube button on Humix dashboard.
If you have more than one channel connected, you'll first have to select which you want to use.
Step three: Enter video details
After having loaded videos from your channel, you will be able to selected which videos you want to import.
The import process might take a few minutes, depending on video length and various technical reasons.
Once done, most details will already have been imported from your YouTube video: title, description, thumbnail, keywords.
If you are uploading the video from scratch, you will have to fill in these details manually, which are pretty important for a better indexing of your content.
All you have to do, and each step is optional, is adding the videos to some of your playlists, add tags for your own classification, add links that will appear on top of the videos, and add IAB categories for the video to appear in corresponding searches on the Humix platform and also in your own video channel.
Step four: Access your own video hosting platform!
Once the videos are uploaded, you will be able to access the video hosting platform that has been automatically created for you by the Humix platform: simply add /humix/ at the end of your domain name, and you'll be there!
Our Humix video hosting platform
By default, your video hosting platform will offer a dashboard with four sections: playlists direct access, the most viewed videos, the most liked videos, and the latest videos.
For example, see our most liked video: Ezoic SEO Broken Links Checker Review: Free Tool To Check Broken Links In A Website on its dedicated page on our own video hosting platform created by Humix technology!
Step five: share your links and check indexation!
Once this is all done, all you have to do is to sit and wait for your content to be indexed on search engines, and getting more traffic from Google, the Humix platform as a whole, and your own content, if you've embed some of your videos in your articles!
Share the links around, for example on your social medias or any platform you may own, and get more visibility from the same content that you've originally created for YouTube only!
★★★★★
Ezoic Humix video hosting platform
 The Humix video hosting platform is a great and simple way to create your own video hosting platform for free, and have more control over the content you create, while getting more chances at reaching a larger audience.
Frequently Asked Questions
How to create your own video platform?

Build your video platform with Ezoic. To do this, register your site on the EzoicAds platform, and create your Humix account. Next, enter your video details and access your own video hosting platform. You just have to share your links and check the indexing.
---
About the author - YB Digital
Yoann is an International Business Consultant, facilitator and coordinator. He worked more than 10 years in global business, supply chain, financial, SAP ERP projects, Web and SEO optimization for various industries, such as logistics, cosmetics, consumer goods, beauty care, or fashion, in more than 30 countries around the globe. 
---
---