Discover the latest earnings report for a website using Ezoic in February 2023, including the total earnings of $1,423.77 from 188,711 visits. Learn about the breakdown of earnings from Ezoic partners, Mediation partners, and Ezoic premium, as well as the EPMV for the month. Find out how the website performed compared to the previous month and gain insights into the website's revenue streams.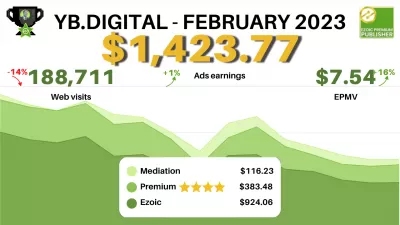 ---
---
In February 2023, YB.DIGITAL's Media Content Network websites received a total of 188,711 visits, resulting in earnings of $1,423.77. This is a slight decrease from January 2023 in terms of visits, where the network received 218,269 visits, but an increase in earnings, as it earned $1,416.61 in January.
The website's earnings for February 2023 were broken down as follows:
The websites network's EPMV for February 2023 was $7.54, which is an increase from January's EPMV of $6.49 - read also what is EPMV if you are not familiar with the concept.
EzoicAds partners continue to be the main source of revenue for the website, accounting for $924.06 in earnings. Mediation partners contributed $116.23, while Ezoic premium earnings added $383.48 to the total earnings for the month.
The increase in EPMV is a positive sign for the website's potential earnings in the future. The website's consistent traffic also suggests that it continues to attract visitors and maintain its relevance in its niche.
Overall, the website's performance in February 2023 was encouraging, with steady traffic and earnings from its various revenue streams. The website's reliance on Ezoic partners for the majority of its revenue is a common trend among publishers using the Ezoic platform, but the diversity of its revenue streams should help to sustain its earnings in the long run.
Our activities in February: website acquisition, social media, rebranding, FAQ updates
acquiring a new EzoicAds approved website, infogrocery.com
We acquired Infogrocery.com for $4000 as we saw it as a smart investment opportunity for the right buyer. The website provides information on grocery products, such as reviews, ratings, and comparisons, as well as featuring cooking tips and other helpful information for grocery shoppers. As online grocery shopping becomes increasingly popular, Infogrocery.com can serve as a valuable asset for those looking to tap into this growing market.
At $4000, Infogrocery.com was a relatively affordable investment to buy on MotionInvest websites marketplace. However, before making the purchase, we conducted due diligence on the website, analyzing its traffic, revenue, and potential for growth. We also considered ongoing costs such as content creation, marketing, and website hosting fees.
Our goal was to make the lowest investment possible to make more than $100 passive income per month with a website, as in the detailed case study on how to make $100 a month of passive income with a website.
After conducting our due diligence, we determined that acquiring Infogrocery.com, an EzoicAds approved website, could be a great investment. With the right strategy and execution, the website has the potential to generate significant revenue through advertising and affiliate partnerships.
It took us about 18 days to start earning money from that website using EzoicAds, with the following steps:
Day 4, finishing signing contracts
Day 6, money received by their team
Day 6, contact with the transfer team that takes care of everything technical, starting with accounts access codes
Day 14, site added on Ezoic account, website approved by Google AdSense, waiting for Google AdManager approval
In summary, we believed that purchasing Infogrocery.com for $4000 was a smart investment opportunity for the right buyer. We conducted our due diligence, assessed the website's potential, and had a clear plan for growing and monetizing the site, with monthly earnings of $111 that could easily be increased by $30 per month using EzoicAds Premium program in which we are already enrolled.
Rebranding as yb.digital
We bought the premium domain name yb.digital to simplify our communication, and have the same name for all our social media, and for our main portal yb.digital !
This change of communication has led us to reprint new business cards, designed, printed and shipped using CANVA design website in a very simple way, and also shortens our emails, as the same phrasing can be used for our brand, our main site, our company name, our Media Content Network designation, and our social media.
Rebranding our social media as ybdotdigital
Thanks to this rebranding, we were able to rename all our social media in English in a consistent way with the handle @ybdotdigital:
This consistency gives us more confidence on communicating widely and sharing this handle, which we keep doing in five languages with below Social Media calendar.
A social media calendar is an essential tool for businesses, brands, and individuals who use social media platforms to promote their products, services, or content. Here are some reasons why we need a social media calendar:
Consistency:
A social media calendar helps to ensure that you are consistently posting high-quality content at regular intervals, which can help increase engagement and build a loyal following.
Planning:
Explore Your Business Potential: Discover Our Range of Transformative Courses Today!
Unveil the power of knowledge with our diverse array of courses, from Operational Procurement in S/4HANA to SEO essentials. Elevate your expertise and drive success in your business ventures.
Get your course
A social media calendar allows you to plan your social media strategy in advance, which can save time and reduce stress. By planning ahead, you can ensure that your content is relevant, timely, and aligned with your overall marketing goals.
Collaboration:
A social media calendar can facilitate collaboration and coordination between team members, ensuring that everyone is on the same page and working towards the same objectives.
Analysis:
A social media calendar can help you analyze your social media performance over time, enabling you to identify trends, measure the effectiveness of your content, and make data-driven decisions to optimize your strategy.
Overall, a social media calendar is an essential tool for anyone looking to effectively use social media platforms to engage with their audience and achieve their marketing goals. It can help ensure consistency, improve planning and collaboration, and enable data-driven analysis and optimization of social media content.
We enhance our articles by adding an FAQ section, which not only improves user experience but also boosts SEO
Adding an FAQ (Frequently Asked Questions) section to articles can be very useful for both readers and publishers. Here are some reasons why:
Provides valuable information:
An FAQ section can provide readers with additional information and clarification on topics discussed in the article. This can help readers better understand the content and engage more deeply with the article.
Improves user experience:
Adding an FAQ section can improve the user experience by providing a more complete and informative resource for readers. This can increase the likelihood that readers will stay on the page longer, and even share the article with others.
Enhances SEO:
Including an FAQ section in an article can enhance SEO (Search Engine Optimization) by providing relevant and valuable content that search engines may use to understand and rank the article. This can help the article rank higher in search engine results pages and attract more traffic.
Reduces support inquiries:
If the article is related to a product or service, an FAQ section can help reduce support inquiries by providing answers to commonly asked questions. This can save time and resources for the publisher and improve customer satisfaction.
Overall, adding an FAQ section to an article can provide many benefits for both readers and publishers, including improved information, user experience, SEO, and reduced support inquiries.
This is the reason why we have a full time virtual assistant freelancer working full time on this for us.
Our plan for March: help others investing in websites
On top of continuing our own efforts on our content, we are helping others invest in Web in March, after having shown them how to successfully invest in websites to generate consistent passive income.
Our first project of this kind is with the website All Food And Nutrition that has been acquired by a beginner investor in Web properties.
The website has been bought on MotionInvest websites marketplace that offers a large choice of Web properties to buy for various needs and possibilities.
If this first project is successful, it would mean that we would be adding a fifth activity to our passive income sources:
---
About the author - Yoann Bierling
Yoann Bierling is a Web Publishing & Digital Consulting professional, making a global impact through expertise and innovation in technologies. Passionate about empowering individuals and organizations to thrive in the digital age, he is driven to deliver exceptional results and drive growth through educational content creation.
---
---
Explore Your Business Potential: Discover Our Range of Transformative Courses Today!
Unveil the power of knowledge with our diverse array of courses, from Operational Procurement in S/4HANA to SEO essentials. Elevate your expertise and drive success in your business ventures.
Get your course
---