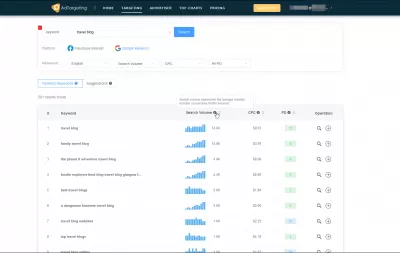 ---
---
Targeting is the selection of potential customers to whom a business wants to sell products or services. Targeting strategy includes market segmentation, selection of suitable segments and specific products that will be offered in each segment.
Without the right targeting strategy, your product promotion is doomed to fail. To sell successfully, you need to know who you are selling to and then choose the most appropriate strategies and methods for each segment.
With an effective plan, you can achieve the following goals:
Attract quality leads.
Target only potential customers who are most likely to be interested in your product. This way, you won't spend extra money and effort on advertising to a wide audience.
Stay competitive.
The more accurate your targeting is, the more competitors you leave behind. Customers always choose brands that have relevant offers.
Improve your product and service.
To develop an effective targeting strategy, you need to analyze your audience. You will get to know the needs and desires of your customers. This information will help you improve your product and service.
Segmentation, targeting, and positioning are three essential elements for promoting a new product.
The first stage is segmentation. This is dividing your entire audience into small groups - segments. They are made up of users whose needs and interests coincide. Without proper segmentation, you cannot successfully move to the next stage.
The second stage is called targeting. Now that your audience is segmented, you can develop strategies and tactics that will help you communicate with people more effectively. Analyze each segment, create a customer profile, and then work to create the best deals for each group.
The last step is positioning. This stage is extremely important, as your place in the market depends on its success. Your job here is to convince potential customers that your brand is the best choice. You must create an image of your company in the minds of customers. Tell them the benefits of using your product and try to meet their needs.
What is targeting engine?
Audience analysis occurs during the collection of information. At this stage of targeting, the marketer tracks consumer preferences, finds out which stores they visit, what actions they take on the Internet, what they are interested in, and so on.
The information analysis stage allows you to draw conclusions about the preferences of your target audience, their tastes, communication methods, as well as their purchasing behavior based on a large amount of data received from users. Accordingly, you should focus your marketing efforts on the people who are most likely to interact with your brand based on the information you get from your analysis.
At the next stage, you can profitably present your product or service to the target audience. After defining the audience, you should create a promotional message.
Advertising is placed only on those information resources that are visited by a potential audience (specific sites, pages, sections of stores that are most relevant to your target audience).
Targeting types:
Thematic targeting.
Demonstration of advertising messages on a specific topic.
Contextual targeting.
Demonstration of messages on the interests of users.
Geo targeting.
This is one of the most promising types of targeting. The essence of behavioral targeting is to implement a mechanism for collecting information about user actions: travel routes, favorite places to visit, purchasing behavior, and so on.
Socially demographic targeting.
This is targeting based on age, gender, income, and social status.
AdTargeting.io is a specially designed keyword targeting tool. In its arsenal, it has more than 500 thousand different keywords, 40 categories, as well as more than ten thousand clients.
This tool offers google keyword analysis. This will help you target your audience and, moreover, steal traffic from your competitors.
The program has a special search that will help with the list of Google keywords. After a successful search, you can analyze them. This is necessary in order for the user to be able to follow the advertisements of their competitors.
AdTargeting.io has many categories, including Shopping and Fashion, Entertainment, Business and Industry, and Technology.
How To Make Money On A Travel Blog
The tool allows you to use a special Google Keyword Planner. This is necessary in order to successfully find the required keyword.
As for pricing, the instrument has three tariffication options, and you can pay both once a month and annually, and in the second case there will be a saving of 50 percent.
The first tariff plan is Basic. It costs $ 5 a month, or $ 59 annually. It allows you to make 20 queries per day, it also has access to interest / keyword searches, as well as audience analysis and keyword suggestions.
The second tariff is Professional. It costs $ 33 a month, or $ 399 a year. It includes the functions of the first tariff plan, as well as advertiser rating, advertiser statistics, hit parade and online support. You can try it for $ 1, or buy it right away for the full price.
The third tariff is a VIP enterprise. The price of the issue is 2-10 thousand dollars per year. This package includes: more ad sizes; deeper analysis of advertising; more data about the ad platform; competitors' advertising information; personalized service.
Improve your sales funnel with Google ads targeting!
Once you'll have found out your ideal Google keywords, and setup your Google Ads campaign with a budget that suits you, the next step is to create a full sales funnel that will accurately track, improve and convert the traffic generated by these Google ads you will be running.
A great way to get there is to target your ad campaign to a high-converting landing page that will compare various variants to find out how to better convert this generated traffic into sales.
Knowing the exact value of a Google ads generated conversion is the next step to finetune your sales funnel. Depending on the real final cost of a conversion, you will be able to adjust your whole funnel accordingly, and take the right conclusions, eventually improving your keywords selecting or adjusting your ads budget.
★★★★⋆
AdTargeting.io Google keywords targeting
 AdTargeting.io allows you to make audience comparisons between two keywords, or look for differences between two keywords. This will help you decide what works best for your product or service.
Frequently Asked Questions
В чем смысл Googld trends?

Trends are a great targeting option. The essence of behavioral targeting is the introduction of a mechanism for collecting information about user actions: travel routes, favorite places to visit, shopping behavior, and so on.
---
---