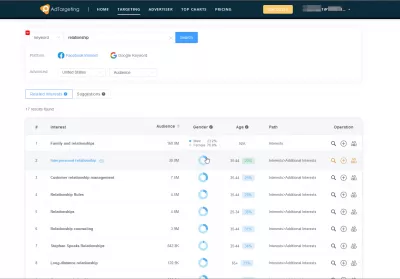 ---
---
Targeting makes it possible to efficiently use the marketing budget and get the maximum benefit from advertising campaigns.
The main goal is to create an advertising message for the target audience and increase its effectiveness.
Targeting is used in search engines, contextual advertising, banners and social networks. In each of these services, you can set the necessary parameters by which the target audience will be selected, taking into account its interests.
Why targeting?
To reduce advertising costs due to the fact that these ads will be shown only to those users who may be interested in your product;
Increase website conversion. When switching from an advertising message to a site, a person who belongs to the target group is more likely to purchase the product;
As a result of the increase in conversion, the website promotion in search engines improves;
The use of targeting relieves the unnecessary burden on staff.
How does targeting work?
Information about the user is collected using cookies and stored in the profile. Based on this information, you can study the tastes, needs, interests and capabilities of the user.
Data analysis is carried out and the target audience is identified, which may be interested in certain products.
At the third stage, all data about the group is automatically recorded and presented in the form of diagrams, graphs for the convenience of monitoring information.
At the fourth stage, an advertisement is created and placed, taking into account the characteristics of the target audience and the frequency of visits to certain sites.
Types and tasks of targeting
Thematic - displaying advertising messages on those sites that correspond to a specific topic;
Contextual - showing messages to the target audience according to their interests. This type of targeting is also called contextual advertising;
Geographic (geo-targeting) - advertising for a group of people limited to a given geographic region;
Time targeting - advertising at a specific time of the day or days of the week, according to the preferences of the target audience;
Socio-demographic targeting - targeting gender, age, social status of the target group of users;
Behavioral targeting is a mechanism for collecting information about all user actions on the Internet, his places of visit, views and purchases.
AdTargeting.io is a dedicated tool designed to target Google and Facebook keywords.
This tool has a huge number of keywords in it that will help in identifying hidden interests. This will help target your audience and drive traffic to your website.
The tool has a special search, thanks to which you can get a list of Facebook interests. This is made possible by keyword searches.
You can get ad-hoc analysis of Facebook advertisers. This feature will allow you to literally spy on competitors' ads in order to steal their traffic.
The tool gives you the ability to get a summary by categories such as Shopping & Fashion, Entertainment, Business & Industry, Technology.
AdTargeting.io allows you to make audience comparisons between two interests, or look for differences between two keywords. This will help you decide what works best for your product or service.
Thanks to this thoughtful tool, you can find the interests of Facebook and the target audience of competitors. To expand and discover more interest, don't make assumptions for interest targeting reasons. You can target the fans of your competitors' Facebook page using Interest Analytics.
To reduce the time spent searching for leads, you can add the collected leads to a special package. In such a package, you can get the most relevant keywords and use them not one at a time, but in batches.
You can open advertisers 'pages in order to successfully "follow" the competitors' ads on Facebook. In order to find more advertisers' pages and get their analysis, the program must include the following sections:
Advertising trend;
Hot words;
Geographic distribution;
Platform location;
Type of creatives.
How To Make Money On A Relationships Blog?
As for the payment for the AdTargeting.io tool, both a monthly subscription and an annual one are possible. Moreover, in the second case, there is a 50% discount.
In total, the instrument has three tariffs:
1 Basic.
The payment is $ 5 per month, $ 59 comes out annually. Allows you to make 20 requests per day. It opens the possibility of searching by interests, or, by keywords, as well as audience analysis and keyword suggestions.
2 Professional.
The payment is $ 33 per month, $ 399 comes out annually. Allows unlimited queries, as well as search by interests or keywords. The opportunity to analyze the audience, keyword suggestions is opened. There is an access to the rating of advertisers and their statistics, as well as a hit parade and online support. You can try for $ 1 or buy at full price.
3 VIP offer.
The payment is equal to from 2 to 10 thousand dollars per year. For this money, the user gets: more ad sizes; deeper analysis of advertising; more data about the ad platform; competitors' advertising information; API integration support; personalized service. There is a demo version.
Improve your sales funnel with Facebook ads targeting!
Once you'll have found out your ideal Facebook ads criteria, and setup your ads campaign with the budget that suits you, the next step is to create a full sales funnel that will accurately track, improve and convert the traffic generated by these Facebook ads.
A great way to get there is to target your ad campaign to a high-converting landing page that will compare various variants to find out how to better convert this generated traffic into sales.
Knowing the exact value of a Facebook ads generated conversion is the next step to finetune your sales funnel. Depending on the real final cost of a conversion, you will be able to adjust your whole funnel accordingly, and take the right conclusions.
★★★★⋆
AdTargeting.io Facebook interests targeting
 AdTargeting.io allows you to make audience comparisons between two interests, or look for differences between two keywords. This will help you decide what works best for your product or service.
Frequently Asked Questions
Why do I need to find out the interests of Facebook Ads?

If you can figure out the interests of Facebook Ads, then you will be able to use your marketing budget wisely and get the most out of your ad campaigns.
---
---