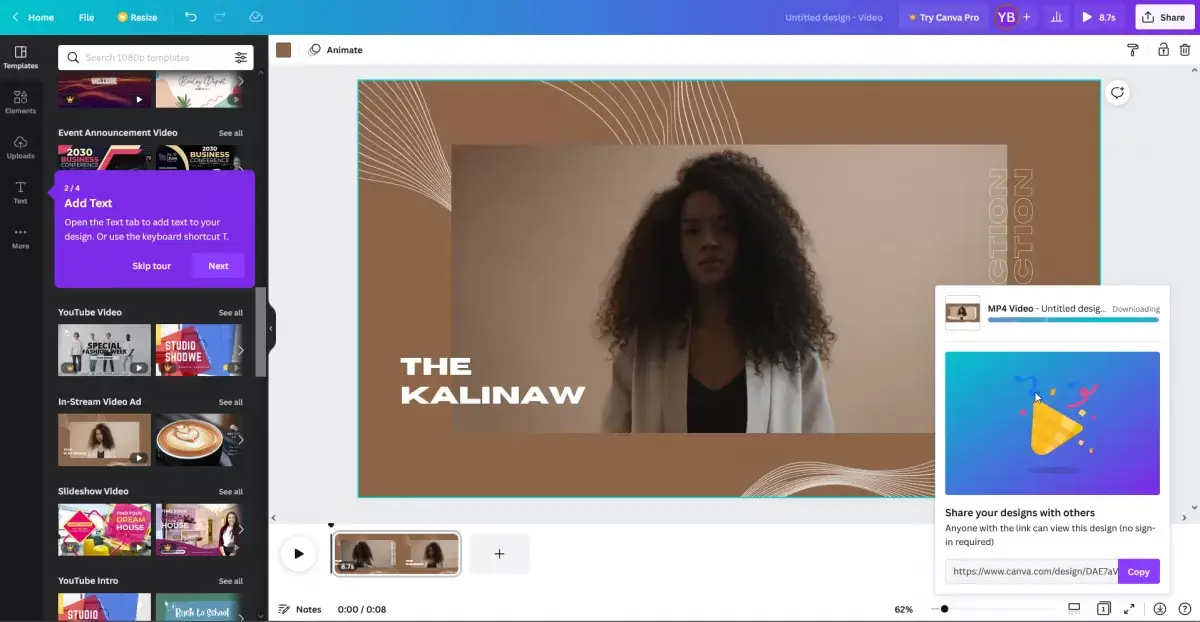 ---
---
Are you seeking alternatives to Piktochart? If so, you aren't the only one in this race. Many folks look for Piktochart alternatives for one or the other reason. Some designers want to enjoy better features, whereas businesses seek a cost-effective tool. No matter the reason, there are many alternatives on the market. All you've to do is check the best options to make the right choice.
Alternatives to Piktochart
As mentioned above, you'll find a slew of options. While that leaves you with so many choices, your selection becomes extremely difficult. As a  WISE ‌  designer or business professional, you may want to explore the topmost alternatives to Piktochart‌. Here are the popular choices that should help out.
Canva has quickly become a hot favorite in the design world. You can make any visual using Canva. Read also our Canva vs Piktochart‌ detailed article.
Canva Pros
The templates in Canva come in a wide variety and are highly attractive.
As a designer, you get options for various topics, campaigns, holidays, and concepts.
You should find multiple design elements inside the editor to add your personal touch or make designs from scratch.
Canva Cons
You may apply animations for designs.
However, the customization options are limited.
You can choose the type of animation you want, but you can't animate each element to make better animations.
The platform also lacks a quality data visualization engine.
Who is it for?
If you want to make reports, infographics, and presentations that carry low data visualization, then Canva makes a better choice for you. This tool is your perfect option for designing visuals that pop.
Corporate infographics, reports, and presentations are data-heavy. Canva isn't suitable for such purposes. However, the platform is ideal for other design chores.
Pricing
Canva has been one of the popular accessible tools for design on the net. Lately, they're getting away from the old version. Now, you're in a better position with their Pro version.
The Pro plan starts at $12.95/month for one user. You can go for the enterprise plan pegged at $30.00/month for additional features.
Score
★★★★☆
Canva Piktochart alternative
 On a score, of 1 to 5, Canva grabs 4 stars with ease of usage and a simple interface.
2. Visme - A multi-functional advanced tool
Visme isn't just a graphic design tool, but it's more like a complete workshop for your work or brand. And it's one of the most recommended alternatives to Piktochart.
Visme Pros
With Visme, it's easy to create a vast variety of design projects.
Whether you need presentations or any visual asset, the tool comes in handy.
You may exploit its productivity integrations with popular tools such as Mailchimp, Hubspot, and Slack.
Use the interactivity and animation functionalities to make in-depth, professional-looking designs.
Plus, the user-friendly interface streamlines the whole design process and lets you make beautiful presentations, infographics, proposals, and reports, even if you lack design skills.
Visme Cons
The only downside is the price.
It may not suit the budget of starters.
Still, it's endorsed as one of the top alternatives to Piktochart.
Who is it for?
The tool is meant for all! If you want to make visual content, look no further than Visme. If you run a venture or work for someone, the platform is perfect for making all types of visual assets.
Visme is also an ideal platform for freelance design creators. Brand kit options and folders for organizing let you handle multiple clients at the same time.
From reports, presentations, and infographics to certificates, social media visuals, invitations, video ads, and much more, Visme is the right workshop for your design chores.
Pricing
The free account on Visme includes everything needed to get started with visual content.
The standard plan comes with more features and lets you access premium assets and infographics for $15/month. However, the business plan is the best; it includes unlimited projects and a brand kit for $29/month. If you want something more customized, request enterprise plans.
Score
★★★★★
Visme Piktochart alternative
 On a score, of 1 to 5, Visme grabs 5 stars with its multi-functionality.
3. Adobe Spark - A tool with vivid features
It's the little sister of Adobe Illustrator and Photoshop. Adobe spark is a pandora's box from Adobe in a small pack.
AdobeSpark Pros
The templates are well-designed and straightforward.
Short videos and social graphics are their main offerings, but you may also design presentations and infographics.
You'll come across various design elements inside the editor.
Those elements let you make appealing creations. There are pre-built blocks (customizable) and a huge selection of fantastic backgrounds.
Also, collaboration features let you invite other users to make edits to the project.
AdobeSpark Cons
The platform doesn't offer much in its free plan.
Even the paid plans come nowhere close to Visme or Design Cap.
Who is it for?
If you intend to create simple presentations or infographics that are similar to slideshows, look no further than Adobe Spark. It's effortless to make good-looking content on this wonderful design tool online. Even their slideshow creator looks simple enough for any user.
Adobe Spark makes an obvious option for content creators that use Adobe resources and Creative Cloud. But you need other platforms such as Design Cap or Visme for creating a professional report. When case data visualization becomes essential in your design creation, Adobe Spark doesn't fit well.
Pricing
You may access Adobe Spark's team plan with their Creative Cloud subscription. Alternatively, you could pay for the tool alone. The free version allows you to see how the platform works, with accessibility to free templates.
Then there's the Individual plan that includes more options such as collaboration with other users. This plan is slated at $9.99/month. Finally, you've the team plan for brands at $19.99/month.
Score
★★★★☆
Adobe Spark Piktochart alternative
 On a score, of 1 to 5, Adobe Spark grabs 4 stars with its vivid features, which is why it finds its place among the best alternatives to Piktochart.
4. Easel.ly - The most affordable infographic maker
It's an infographic maker available online. The templates are meant for educational endeavors for students and teachers. Technically, you may create other kinds of visual content. However, they aren't intuitive as desired. Infographics come available in their template library.
Easelly Pros
The moment you open the tool, the templates you find first are the ones created by users on Easelly.
You must get inside the design editor to find professional designs.
The difference between the two is easily noticeable.
You can use whatever you prefer to design the infographic.
Easelly Cons
If you plan to create reports, infographics, and presentations, this isn't the tool you should use.
Easelly doesn't measure up quite as one of the top alternatives to Piktochart.
Who is it for?
In case you're searching for easily customizable templates, Easelly might be what you want. This is even more correct if you're making them for school or a blog.
You'll get better results by trying Visme, Canva, or Design Cap (mentioned below). Easelly doesn't provide data visualizations and professional charts besides the basics. So, those templates aren't enough for your business setting.
Pricing
When it comes to pricing, Easelly is one of the most affordable infographic tools. Although there isn't a free plan, you may try it out for free.
The Student plan comes at a price tag of $2/month. For more features, you may explore the Individual plan at $4/month. The Business plan should be your obvious choice. It includes real-time collaboration at $5/month.
Score
★★★☆☆
Easel.ly Piktochart alternative
 On a score, of 1 to 5, Easelly grabs 3 stars with limited features.
Creating graphics and visual content is as simple as a piece of cake using Design Cap (read our full DesignCap review‌). In addition to this, Design Cap is an effective tool for making infographics for formal and informal purposes. So, it makes one of the best alternatives to Piktochart. Whether you're a designer or not, the tool is the right solution to help you craft a masterpiece irrespective of your experience level. Design Cap's infographic maker allows you to use its unique perks to create a wonderful outcome that can turn heads.
DesignCap Pros
Creating and completing the infographics take a few minutes right from start to finish.
Use any readily available template, introduce the content, and get the end product as expected within a matter of minutes.
Design Cap is exceptionally handy when you're out of time and need a design quickly.
After finishing your work, you may download it, print it, or share it online on other platforms.
DesignCap Cons
The tool lacks some features like Visme, but it makes one of the best alternatives to Piktochart at an affordable price.
Who is it for?
The tool is perfect for designers of all levels. Whether you're learning or testing your skills, Design Cap is the way to go. Even experienced and advanced professionals endorse this handy tool. Essentially, it's a one-stop solution for all.
Pricing
The free plan lets you access limited templates. If you're just getting started with graphic design, choose the free plan. The basic plan seems to be a better bet for intermediate users.
Pegged at 4.99 dollars a month, the basic plan seems perfect for anyone who's getting some clients. The basic plus plan, priced at 5.99 dollars a month, is ideal for professional designers. You can access as many templates as you want. Plus, you get immense support from the team.
Score
★★★★★
DesignCap Piktochart alternative
 On a score, of 1 to 5, Design Cap grabs 5 stars with ease of usage and professional features.
The most simple photo editing tool available, as it does not even require to create an account to start editing your pictures on their website for free: all you have to do is to go on their website, upload your picture, and start playing with their various options, as shown in our Colorcinch full review‌ in which we tried several options.
You will be able to use preset photo editing filters, such as the cartoonizer to make your picture look like a cartoon, the sketcher that will make your picture seems like it has been hand drawn, the painting filters to make it look like various type of painting with different techniques, and finally the digital art filters that will take your picture to the digital age.
ColorCinch pros and cons
Can be used for free without having to create an account
Many easy to use preset filters to edit pictures in different styles
Easy to use and fast user friendly web interface
Need to create an account to download photos edited with free filters
ColorCinch pricing
Colorcinch can be used for free to simply edit a picture. However, to access the full features, you can choose between an annual plan that costs $5 a month, or a monthly plan at $9 per month, that both can be ended at the end of the term.
ColorCinch score
★★★★★
ColorCinch Piktochart alternative
 Colorcinch is so simple to use that you don't need neither an account nor knowdledge to start editing your picture. Their various pictures styling filters will be sufficent for most pictures cartoonizing needs.
Concluding words
The above alternatives to Piktochart are enough for any person. Whether you're a design enthusiast just getting started or a professional designer, these tools can come in handy for your situation. Each of the tools has its pros and cons. However, Design Cap and Canva outsmart others on many fronts. Take a look at the features of each tool in view of your requirements. Also, go through the pricing of alternatives to Piktochart to make the right decision.
---
---
---
---